This is the end. My only friends, the end. Just like that, the season is gone. After this week, at least.
For those of you in championships, we losers salute you. But you haven't won yet and there's one more weeks to make some pickups and close things out.
We'll be doing this roundup of point league happenings every week here at RotoBaller, with waiver-wire targets and streaming pitchers being evaluated in terms of the different scoring systems of ESPN, Yahoo, CBS, and Fantrax. Player values can vary wildly from platform to platform, so we'll make sure to highlight where players are the best and worst fit at. We know point players get neglected and we're here to help. Let's get to Week 6.
Editor's Note: Love the strategy of season-long fantasy sports? Live for the short term gratification of DFS? Try Weekly Fantasy Sports on OwnersBox - a new weekly DFS platform. Sign up today for a FREE $50 Deposit Match. Offer expires Thursday night!
Sign Up Now!
Playing For Points Through a Pandemic
While the number of games has changed, the way that points are scored on each platform has not. You must account for, as precisely as possible, how a player performs under your particular scoring system. Don't be fooled into believing you can just make rough adjustments in your head, bumping up guys with high on-base percentages and low strikeout-rates. Every point, in every category, counts. For example, ESPN and Fantrax are virtually identical in their scoring for hitters and roster size. The only difference is that stolen bases are worth one more point on Fantrax and ESPN subtracts one point per strikeout. That's the difference over Ronald Acuna Jr. being a top-five batter versus a top-25 batter.
If your league uses standard settings, then great! Turn to page 94 and you can skip ahead to the leaderboards. If you play with custom settings, it'll still be fine. Go back to page 43 and look below at the scoring systems of the four major platforms. I bet there's a chance that you'll find that your league's scoring is very similar to one of the four (well, not Yahoo's), even if it's not the platform you actually play on. For example, my home league started on a now-defunct platform before moving first to ESPN and is now at Fantrax. But our scoring is basically ESPN standard but with two points for stolen bases and a handful of other minor adjustments.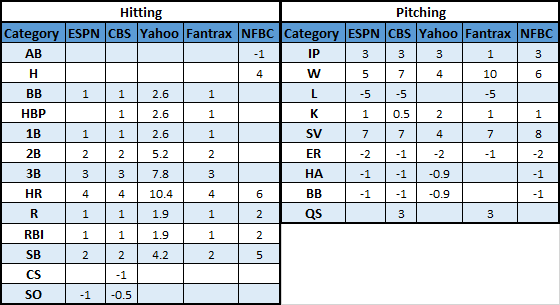 If you look above, you'll likely find a suitable mirror to your own system. While every point counts, as long as they aren't seismic changes you can get away with some "close enough". IE. If everything is the same except for HBP (or something similar), you're probably fine.
All of the following charts are updated prior to Saturday's games, on stats and ownerships. Clicking on a chart will open a new page with a magnified version.
First Base Leaderboard
First Base Waiver Wire
Add in 12-Team Leagues
Second Base Leaderboard
Second Base Waiver Wire
Add in 12-Team Leagues
Third Base Leaderboard
Third Base Waiver Wire
Add in 12-Team Leagues
Shortstop Leaderboard
Shortstop Waiver Wire
Add in 12-Team Leagues 
Outfielder Leaderboard
Outfielder Waiver Wire 
Add in 12-Team Leagues
Catcher Leaderboard
Catcher Waiver Wire
Add in 12-Team Leagues
Relief Pitcher Leaderboard
Relief Pitcher Waiver Wire
Add in 12-Team Leagues
Starting Pitcher Leaderboard
Starting Pitcher Waiver Wire
More Points Leagues Analysis
Win Big With RotoBaller
Be sure to also check out all of our other daily
fantasy baseball articles
and analysis to help you set those winning lineups, including this new RotoBaller YouTube video:
Other Streaming Matchups