Bold predictions can be the key to fantasy seasons. Predicting players who will outperform or underperform expectations by extreme amounts can win leagues. Bold predictions can also be entirely unhelpful, speculative thoughts that are just fun to consider.
With that in mind, I do think that each of these predictions has a legitimate chance of occurring this year. Not all of the predictions are going to be correct, but they do shed some light on how I feel about certain players coming into the season.
The 2020 MLB season isn't starting on time this year, so here are 10 bold predictions to consider while waiting. One caveat to note is until there's more clarity on how many games will be played I've kept away from numerical predictions
Editor's Note: Love the strategy of season-long fantasy sports? Live for the short term gratification of DFS? Try Weekly Fantasy Sports on OwnersBox - a new weekly DFS platform. Sign up today for a FREE $50 Deposit Match. Offer expires Thursday night!
Sign Up Now!
Franmil Reyes leads the Majors in homers
How many players (with at least 100 batted ball events) had a higher average exit velocity than Reyes? Three. He clubbed 37 homers in 150 games in 2019 and his home run projection was for more of the same (in fewer games). According to Statcast, each of Reyes' expected statistics were higher than his actual stats (batting average, slugging percentage, and weighted on-base average).
Only 24 years old, Reyes reported to Spring Training having lost 18 pounds over the winter and is in the best shape of his life. The results looked to be paying off after hitting five homers in his ten spring games with a .444/.483/1.148 slash line. He'll get to face the pitching staffs of the Detroit Tigers and Kansas City Royals more often than most, a luxury any Major League hitter would love to have. Progressive Field plays slightly above average in home run factor, so everything points towards Reyes unleashing more of his power in 2020.
Justin Smoak is a top-10 first baseman
In 2017, having turned 30, Smoak lived up to his former top-prospect hype, hitting 38 home runs for the Blue Jays with a .270/.355/.529 slash line. The two seasons which followed weren't nearly as impressive and Smoak only mustered a .208 average last year despite hitting 22 homers in 121 games. Smoak still maintained his excellent plate discipline and had a career-high walk-rate of 15.8% in 2019, leading to a .342 OBP. His BABIP of .223 was a career-low however so we can expect his batting average to climb further away from the Mendoza line in 2020.
Smoak's xwOBA (.366) was also in the 86th percentile last year among hitters and now getting to call Miller Park his home, if Smoak can work his way near the top of the order and hit in and around Christian Yelich and Keston Hiura, the counting stats will be plentiful too. A renaissance three years after his breakout season isn't beyond the realms of possibility.
Jake Fraley is a top-40 outfielder
I had Fraley pegged as an outside bet for a 20/20 season (or the equivalent if the season is shortened). In 99 games across Double-A and Triple-A last season, Fraley hit 19 homers and stole 22 bases before a disappointing 12-game stint for the Mariners. In Fraley's first minor league season, he managed to steal 33 bases in 55 games in Low-A ball, showing off his speed potential.
With the Mariners having little to play for this season other than their long-term rebuild project, Fraley should get ample opportunity to find his feet with his excellent defense in the outfield being enough to keep him in the lineup. Fraley's excellent minor league season last year also saw him hit .298/.365/.545 across the two levels, highlighting an all-around hit tool. Fraley could turn into a five-category contributor, albeit on a weaker than average lineup.
Jansen is currently going as the 20th catcher in ADP on NFBC. Outside the top tier of catchers, which consists of five names if you include Mitch Garver and Willson Contreras, things get wild and it wouldn't take much for someone to statistically break into the top-five. Jansen hit 13 homers in 107 games last season, his first full year in the Major League and was in the midst of an outstanding spring.
Jansen was leading the Blue Jays with four homers (tied with Bo Bichette) in just eight games and was hitting .529/.600/1.353 before spring training was cut short. Just two years ago, Jansen was considered a top-three prospect in the Blue Jays system behind the aforementioned Bichette and Vladimir Guerrero Jr (according to MLB Pipeline) so still comes with the pedigree of being a breakout star ready to happen. That breakout could be a very real possibility in 2020.
Starlin Castro is a top-five second baseman
Castro signing with the Washington Nationals this offseason was a move which went very much under the radar. With the departure of Anthony Rendon, the reigning World Series Champions signed Castro to a two-year deal and looks set to be the Nationals' everyday second baseman, with top prospect Carter Kieboom manning third base. News broke prior to the spring shutdown that Nats Manager Dave Martinez plans on having Castro bat third in the order, a prime spot in any offense. Hitting in the midst of Adam Eaton, Trea Turner, and Juan Soto, Castro will have a chance of accumulating 100+ runs and RBI (based on a 162-game season).
After making his Major League debut in 2010, Castro has played all 162 games twice (including last year) and has averaged 147 games a season. With opportunity and reliability, Castro also finds himself playing at a position lacking depth in fantasy. His season-long averages over his 10-year MLB career are below and even though he's averaged less than four steals over his last six seasons, his 22 homers last season were a career-high so a bit more power and fewer steals will still boost those counting stats too.
| | | | | | | | |
| --- | --- | --- | --- | --- | --- | --- | --- |
| Games | Runs | HR | RBI | SB | AVG | OBP | SLG |
| 147 | 66.4 | 13.3 | 63.6 | 8.9 | .280 | .319 | .404 |
Now consider he's probably in the best spot he's ever been in during his career (in regard to playing time and lineup spot) and is still only 29 years old. Castro's signing could end up being the best free agency move this past winter in all of baseball and he's certain to offer value way above his ~265 ADP on NFBC.
Emilio Pagan's trade to the San Diego Padres meant the Rays' 2019 saves leader was no longer part of their team. Someone has to get saves in Tampa Bay and the assumption is Nick Anderson will be the main guy for the ninth inning. That's understandable given Anderson's insane 41.7% strikeout rate (K%) last year. But the Rays' pitching approach is hardly conventional and while Pagan led the team with 20 saves last year, ten other players recorded at least one save. Anderson was not one of them.
Castillo, on the other hand, was second in saves with eight and despite some struggles, still managed to put up a 3.41 ERA and 27.9% K%. With the changes to relief pitchers' usage, Anderson figures to be used much more in the high leverage roles whether that's in the fifth inning or the ninth. With 20 saves to fill in from last year, Castillo figures to have a good shot at claiming a significant portion of the chances and can earn the role of being the Rays de-facto closer. At the very least, he has the swagger for the role.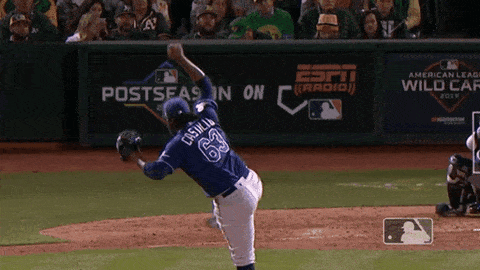 Seth Lugo leads the Mets in saves
On the subject of saves, I also believe there's a very real chance that Seth Lugo ends up with the most saves for the New York Mets. Given the struggles Edwin Diaz experienced last year (something I've covered previously here), the signing of Dellin Betances this offseason should act as an insurance policy if they decide to make a switch in the ninth inning, assuming Diaz struggles in 2020. Betances is coming back from an Achilles injury suffered late last season having just returned from a lat strain. His lone spring outing saw him hit just 90 MPH with his fastball, significantly down from his ~98 MPH average prior to 2019.
Lugo's 2.70 ERA across 80 innings last season was the perfect followup to his 2018 season where he had a 2.66 ERA over 101.1 innings. The move to the bullpen has seen Lugo flourish as his numbers as a reliever are far superior than as a starter.
| | | | | | | |
| --- | --- | --- | --- | --- | --- | --- |
| Role | IP | ERA | WHIP | K% | AVG | OPS |
| as Starter | 168.1 | 4.06 | 1.307 | 19.25% | .268 | .748 |
| as Reliever | 178.1 | 2.52 | 0.953 | 28.31% | .197 | .558 |
Having a curveball spin rate in the 100th percentile across all of baseball is obviously a useful tool to have and Lugo is the next best option to take over the closer role should Diaz struggle and Betances not get back to his former self. While both those things aren't likely, these are bold predictions after all.
Ken Giles is the No. 1 reliever in fantasy
Rounding off the reliever portion of my bold predictions, I'm going to tell you that Giles ends the season as the No. 1 reliever in fantasy baseball. Saves are more volatile than ever and at any point, a reliever can take over their team's closer role and become a fantasy star. In Giles' case, he already has the role of closer, is on a sneakily good team who should be able to take a step forward with their young stars in 2020. If you take a glance at Giles' stats since his Major League debut in 2014, you will see a pitcher who can be very good or very average. But look a little deeper at his underlying stats, and you will see six years of excellence. Well, technically five years of excellence.
| | | | | |
| --- | --- | --- | --- | --- |
| Year | IP | ERA | SIERA | K% |
| 2014 | 45.2 | 1.18 | 1.51 | 38.6% |
| 2015 | 70.0 | 1.80 | 2.80 | 29.2% |
| 2016 | 65.2 | 4.11 | 2.48 | 35.7% |
| 2017 | 62.2 | 2.30 | 2.81 | 33.6% |
| 2018 | 50.2 | 4.65 | 2.96 | 25.0% |
| 2019 | 53.0 | 1.87 | 2.49 | 39.9% |
For those of you unaware, SIERA stands for Skills-Interactive Earned Run Average and takes into account the complexities of pitching. The formula for calculating a pitchers' SIERA is more complicated than my brain can work out but is regarded as the most accurate statistic for truly working out a pitchers' performance. A SIERA of 2.90 or below is considered excellent and below 3.25 is great. By that reasoning, Giles has been excellent for five of his six years in the Majors and still great in his worst statistical season. Another year of excellence can be expected and with enough save opportunities to make Giles the best relief pitcher in fantasy this year.
Mike Foltynewicz will be a top-10 starting pitcher
I've written a lot about Foltynewicz this offseason but for those of you who haven't seen anything I've said, here's a summary:
In 2018, Foltynewicz was excellent. To start 2019, Foltynewicz was hurt. In the first half of 2019, Foltynewicz was bad. In the second half of 2019, Foltynewicz was excellent. More on that can be found here. If we break down what Foltynewicz has done in the last two years, it might give you a better picture of what we can expect.
| | | | | | |
| --- | --- | --- | --- | --- | --- |
| Season | IP | W-L | ERA | WHIP | K% |
| 1st half 2018 | 101.2 | 7-5 | 2.66 | 1.11 | 28.9% |
| 2nd half 2018 | 81.1 | 6-5 | 3.10 | 1.05 | 24.9% |
| 1st half 2019 | 59.1 | 2-5 | 6.37 | 1.42 | 19.2% |
| 2nd half 2019 | 57.2 | 6-1 | 2.65 | 1.08 | 23.8% |
If we afford Foltynewicz a mulligan for the first half of 2019 due to his shoulder injury, we're looking at a top-10 starting pitcher already. Foltynewicz is going outside the top-50 starting pitchers throughout the draft season but has the pedigree of a sub-3.00 ERA pitcher on a team capable of offering up 20 wins (or the pro-rated equivalent in the event of a shortened season), something which would make him a top-10 pitcher at season's end.
My final prediction is predicated on the season being shortened, thus reducing the impact of an innings limit for some young pitchers. In the event of a 120-game season, the margin for error would be even less for teams wishing to make the playoffs and while team's aces are reaching 140-150 innings, that would be pretty much what the young trio of Puk, Luzardo, and Urias would be looking at on an innings limit. Luzardo's stellar spring has already seen him jump up draft boards with an ADP on NFBC now sitting at ~123 (42nd among pitchers). His teammate Puk has been battling to return from injuries and the extended break before the season starts could well see him at 100% by Opening Day (whenever that will be).
The Dodgers will be more pressured to make the playoffs than anyone else and in a division with the Diamondbacks and Padres both looking to reach the playoffs, they might not have the luxury of mixing around their starters too much and will need to maximize Urias' starts. All three are on playoff-contending teams supporting their win potential and with the prospect of now featuring in 90% of a shortened regular season as opposed to 75% of a normal regular season sees their value is greater than ever.
More Fantasy Baseball Analysis