The season rolls on and we have more data to digest by the day. Since many regular starting pitchers have taken at least three or four turns in the rotation, I will focus on Statcast data for those who have faced a minimum of 50 batters so far. This narrows the field to 101 pitchers, nearly all of whom are fantasy relevant, in order to find the most surprising names on the top and bottom of the leaderboard for xwOBA.
While roto fantasy baseball leagues simply deal with ERA and WHIP, wOBA is one of the most telling statistics in determining how a pitcher earns his ratios. Statcast goes a step further with expected stats. While these are not meant to be predictive, they offer insight as to what statistical outcomes a player "deserves" based on a variety of factors. For a more detailed explanation of xwOBA, read here.
My goal with this column each week is to identify pitchers whose progress, or lack thereof, in certain Statcast metrics can make for actionable advice in fantasy leagues. This isn't strictly-speaking an add/drop list, but an invitation to dig deeper into each player's profile to decide whether further consideration is warranted.
Editor's Note: Love the strategy of season-long fantasy sports? Live for the short term gratification of DFS? Try Weekly Fantasy Sports on OwnersBox - a new weekly DFS platform. Sign up today for a FREE $50 Deposit Match. Offer expires Thursday night!
Sign Up Now!
Early xwOBA Studs
Statistics taken from baseballsavant.mlb.com current as of August 12, 2020.
The extreme rise (and sudden absence) of Zach Plesac has somewhat obscured Civale's excellence. Only former Indian Trevor Bauer has a lower xwOBA among SP to face at least 50 batters. Civale's fastball sits at a mere 92 MPH but it has above-average spin along with his curveball that averages nearly 2800 RPM. His Major League body of work extends to just 76 2/3 innings but he continues to show a propensity for avoiding hard contact and staying in the zone. Since his debut in 2019, Civale has walked 18 batters and allowed five barrels, resulting in an excellent 6% walk rate and 2.3% barrel rate.
Some teams simply know how to develop pitchers and Cleveland is certainly one. We've seen Mike Clevinger and Shane Bieber turn into aces while Plesac looks to be on his way. With turns against the Tigers, who are bound to stop hitting at this rate, and the Pirates on tap this coming week, Civale should be rostered in far more than 71% of fantasy leagues.
At this point, I'm resigned to the idea that Bundy is going to win the AL Cy Young award. This isn't problematic other than the fact that I avoided him as a trendy preseason sleeper and must now eat crow.
Bundy is coming off another spectacular outing, blanking the A's for seven innings while striking out 10 for the second straight start. He hasn't allowed more than four hits in any of his four games started this year. This is why his WHIP sits at 0.63 and his .234 xwOBA ranks third among pitchers with at least 50 PA against.
It is jarring to see a pitcher who turned in a .363 wOBA and allowed a league-high 41 HR just two years ago turn things around so dramatically. There is a reason for his newfound success, other than leaving Baltimore. Bundy has finally started to rely less on his mediocre four-seamer and is utilizing his slider more.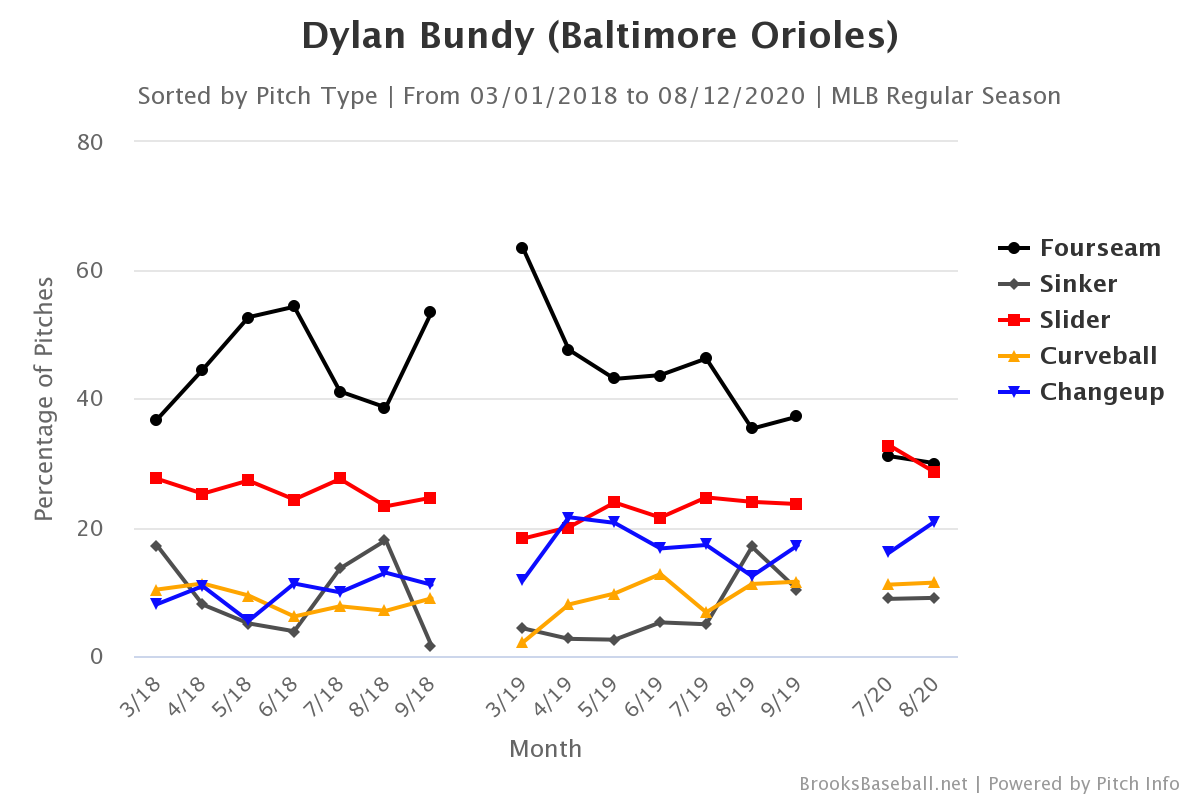 It also doesn't hurt that he's gone from the laughing stock of the American League to a legit contender in L.A. and doesn't have to face AL East lineups any more. Bundy is a former first-round pick (fourth overall) and prime breakout age (27), so everything points to this being far from a fluke.
According to xStats, Milone should be 26 points lower on his .291 wOBA, 67 points lower on his .389 SLG, and .49 lower on his 3.21 ERA. Yes, 33-year-old journeyman Milone, who rarely breaks 87 MPH on the radar gun and is on his sixth team in the past five seasons, is dominating in 2020. Because, of course he is.
It's just a three-start sample size and everything in his past profile screams negative regression but ever since his terrible .382 xwOBA in 2017, he's been steadily lowering than number each year. He's always posted a walk rate below league-average and has found a way to increase his whiff rate recently as well.
Trusting Milone may be a hard task but with the myriad of injuries and disasters among the starting pitcher ranks (see below), it's worth a shot to stream him as long as his good run lasts.
Early xwOBA Duds
Statistics taken from baseballsavant.mlb.com current as of August 12, 2020.
Top prospect Kyle Wright struggled mightily in his two MLB stints, allowing 22 earned runs in 25 2/3 innings. The long ball was an issue but lack of command was the trigger, as he walked 16% of batters. That figure remains the same in 2020 and the outcome could be worse, as he's outperforming his actual wOBA by 37 points.
If there's one positive, it's that he's only been truly bad in his first start against the Rays where he gave up five runs in 2 2/3 IP. He then shutout the Mets for three frames in his next outing. In his third start, he allowed four ER over six innings to Philadelphia, but posted a 30% CSW% and allowed an average exit velocity of 88.5 MPH. I'm not saying he's necessarily on the right track yet (pun intended) or rosterable in anything other than dynasty leagues, but it's too early to give up on him for this season. With Mike Soroka out for the year and Sean Newcomb and Bryse Wilson being sent down to the alternate training site, Wright keeps his rotation spot a while longer.
Robbie Ray, Arizona Diamondbacks
Last week's column tore into Luke Weaver and Madison Bumgarner, so now it's Ray's turn. By the way, have you noticed how terrible the D-backs' rotation has been? Arizona is dead-last in the majors with a 5.87 team ERA thanks to pretty much everyone outside of Zac Gallen.
Ray's issues are nothing new. He's always been a high-K, high-BB pitcher. Supposedly, he made some mechanical adjustments this offseason in order to streamline his delivery. They... aren't paying off. Ray now sports a 10.59 ERA, 2.12 WHIP and ranks in the bottom-12th percentile for xwOBA, xERA, xSLG, Hard Hit%, and more. Hey, at least he's still getting those strikeouts!
His Zone% has been dropping for four straight seasons and currently sits at a career-low 40.4%. Guess we could have seen this coming.
There are 3 guarantees in life; Death, Taxes, and Robbie Ray being up over 80 pitches in the 4th inning. #ARIvsCOL pic.twitter.com/nU9c9cJ88o

— Patrick LeGrady (@trickskicks) August 11, 2020
Berrios owners are non-plussed with his start to 2020 to say the least. With an ADP of 66 in NFBC leagues, he cost most 12-team league managers a fifth or sixth-round selection and was likely their "safe" SP2 during a tumultuous season. Ha ha, joke's on you Berrios owners! It's 2020!
Facing the weak Central divisions was supposed to make this year even better for his ratios while he piled up wins behind an explosive offense. He didn't waste time tanking fantasy teams' ratios, giving up five runs on seven hits on Opening Day to the White Sox. He rebounded well over his next two starts but then looked rough against the Royals.
Good news is that the schedule is still mostly favorable and it's unlikely that he is reverting back to his rookie form when his .401 wOBA was nearly worst in the majors. If Berrios can induce more whiffs, he can come crawling back to the fantasy circle of trust. He gets a chance to redeem himself at home versus the Royals in his next turn and should probably remain in lineups for now.
Win Big With RotoBaller
Be sure to also check out all of our other daily
fantasy baseball articles
and analysis to help you set those winning lineups, including this new RotoBaller YouTube video:
More Statcast & Fantasy Baseball Analysis