The 2020 NFL Draft is right around the corner.  This draft class is headlined by a Heisman Trophy-winning signal-caller and a beastly Buckeye defender. There's a potential franchise-changer with durability concerns and a true shutdown cornerback. Deep at wide receiver and offensive tackle, the 2020 class features more future stars than usual.
The purpose of my top 50 is to rank prospects based on how I would set up my draft board if I were an NFL General Manager. These rankings have nothing to do with where I expect players to be drafted. The rankings are original and homemade, as I don't read any other scouting reports before watching the film of each prospect.
My rankings are based on critical film study, research, and statistics. I'm a lifelong draftnik with NCAA coaching experience. My assessments don't always agree with the general consensus, but every opinion is rooted in thorough study of each prospect. Here is my first top-50 list for the 2020 NFL Draft.
Editor's Note: Get any full-season NFL Premium Pass for 50% off. Exclusive access to our Premium articles, rankings, projections, 15 lineup tools and daily Premium DFS research/tools including our Lineup Optimizer, Research Station and so much more!
Sign Up Now!
Top 10 NFL Draft Prospects
1. Joe Burrow - QB, LSU
The Tiger King is the best quarterback prospect since Andrew Luck. He throws a beautiful deep ball, is terrific against pressure, and has the athleticism to be dynamic with his legs. His production speaks for itself and his command of Joe Brady's offense was nothing short of masterful. A minor nitpick is that he does hold on to the ball too long at times. He had personnel and coaching advantages at LSU, so with a level playing field, the game won't be as easy for him. Joe Burrow projects as a franchise-changing player and potential league MVP with the right supporting cast.
2. Chase Young - EDGE, Ohio State
Six years ago, Jadaveon Clowney was billed as a generational pass-rushing prospect. Chase Young is better. His quickness and balance are outstanding, and his fast and dismissive hands stand out on film. He wrecked the Wisconsin game and showed some inside moves that were just bananas. He can look human against offensive tackles with length, but college offensive coordinators did not want to leave him 1-on-1 for good reason. All-Pro selections are in his future.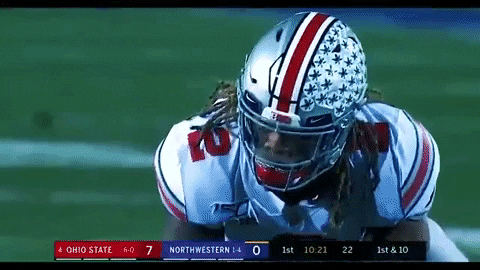 3. Justin Herbert - QB, Oregon
Justin Herbert gets more unfair criticism than any prospect in recent memory. There are legitimate concerns about his inconsistency with ball placement, but he has nearly everything you want in a franchise quarterback. Herbert is huge and athletic with a great arm but misses high a lot, a la Cam Newton at Auburn. Coming from Oregon's spread offense will be a transition, but by all accounts, Herbert is extremely intelligent. Some scouts have pointed to his intelligence as a possible negative for being "too smart", which is ridiculous. Others think he underachieved in the leadership department with the talent around him.
The film shows all the physical traits – size, athleticism, arm strength, eye manipulation, ball-handling. More impressive was how much his coaches trusted him, and on certain plays how well he read the full field. Keeping his eyes downfield, throwing on the run, and hitting targets outside the numbers were all positives. Get him a tight end with some height and he's a potential franchise QB.
4. Isaiah Simmons - LB, Clemson
Isaiah Simmons is the definition of do-it-all defender, making plays at safety, cornerback, linebacker, and nickel for Clemson. He's a terrific tackler with an uncommon blend of fluid hips and speed for his size. The only question is what position room he'll be in on day one of minicamp.
5. Ceedee Lamb - WR, Oklahoma
CeeDee Lamb is a run-after-catch master. He is slippery and elusive with the ball in his hands and might be the best RAC receiver I've scouted in 15 years. With terrific hands and a nose for the end zone, Lamb should seamlessly transition from a WR1 in college to a WR1 in the pros.
6. Jeffrey Okudah - CB, Ohio St.
Jeffrey Okudah is the premier cover man in this year's class. He has excellent instincts and football intelligence, and the necessary swagger for a shutdown cornerback. He's not perfect as there are instances on film of giving up some separation, but all the tools are there to live up to a high pick.
7. Kenneth Murray - LB, Oklahoma
Kenneth Murray's best attribute is his tackling technique. He applies the clamp, finish, and roll to perfection when bringing ball carriers to the ground. His play speed and instincts are also outstanding. He's not a perfect player as sometimes he'll be a little out of control, but he's a better prospect than Devin White was last year.
8. Patrick Queen - LB, LSU
Some NFL teams won't have Patrick Queen on their board due to outdated, rigid size requirements. At just 6-0, 229, he won't stand a chance against most pro linemen in a phone booth. However, his ridiculous speed allows him to mess up offensive line angles and get to spots quicker in the run game. He's adept in coverage with uncommon ankle flexion and had tremendous tape versus Texas (two goal line stops) and Clemson. His Auburn tape wasn't up to par but for a run-and-hit linebacker, the traits are there to be a difference-maker in the NFL.
9. K'Lavon Chaisson - EDGE, LSU
K'Lavon Chaisson is a classic boom-or-bust prospect. He has all the tools to be an outstanding pass rusher, but his college production just wasn't typical of a top prospect. He's raw and thin with an above-average burst and the highly coveted ability to bend around the edge. As you can see below, he showed power against Oklahoma's left tackle and got to the quarterback on a stunt starting from the C-gap to the A-gap.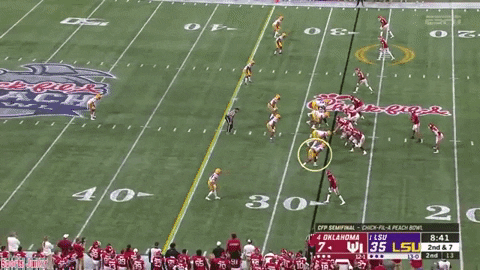 He also executed a spin move multiple times. He had a few highlight hits and was terrific at showcasing his ridiculous athleticism in pursuit. It's important to separate college performance (just 6.5 sacks) from projecting traits. He's oozing with upside at only 20 years old.
10. Mekhi Becton - OT, Louisville
Scouting NFL prospects is about evaluating player traits rather than college performance. Mekhi Becton is a mammoth ball of clay that a good NFL offensive line coach can mold into an All-Pro. His foot-quickness for his size is unbelievable. 360-plus-pound humans should not be able to move like him. He's raw but a dream to work with and his film shows obvious promise. I'm not as high on this offensive tackle class as most, but Becton is my No. 1 due to upside. Keeping his weight in check will define his career.
NFL Draft Prospects #11-20
11. Tua Tagovailoa - QB, Alabama
Tua Tagovailoa's injury history is horrifying. Fans don't realize how much NFL teams value availability and durability. Yet at some point, it's simply worth the risk. Tua has special film and displays the ball placement skills of a franchise quarterback. He is intelligent, audibling at the line to get numbers in the run game. He displays textbook mechanics and he showed well against LSU in a loss. However, it is fair to wonder how he'll react to a transition from a dream-world Alabama offense to the more difficult NFL.
His tape wasn't flawless, including a terrible interception versus Tennessee and a few awkward off-target screens. His success will be defined by his ability to stay on the field. If I was picking in the top five, I would be simultaneously scared to pass on him and terrified to take him due to durability concerns.
12. Jerry Jeudy - WR, Alabama
Jerry Jeudy is a route-runner-extraordinaire who understands breakpoints and different types of cuts at the top of routes better than most receivers. Linebackers and safeties can't touch him with his quickness and he has legitimate deep threat speed. He has easy natural hands and tracks the ball well. Jeudy lacks ideal size and physicality, especially for an outside receiver, and dominated mostly from the slot at Alabama. It's fair to wonder if a transition to outside receiver full-time would come with some struggles in beating press and working against physical NFL corners.
13. Tee Higgins - WR, Clemson
Tee Higgins has two major question marks. First, his tape against Jeff Okudah and Ohio State is underwhelming. Second, he had some injury issues and seemed to pull up lame way too often with this slender frame. Fortunately for him, most of his tape is outstanding, and teams should know that Okudah is probably a top-five NFL CB in his rookie year. Higgins plays fast enough and has outstanding ball skills. His highlights feature incredible catches, including toe-tapping in the end zone and winning contested catches on the boundary. Higgins has all the tools of a WR1, the key for him will be staying healthy. His film shows a natural, unteachable ability to receive footballs on gameday. It will translate well to the pros.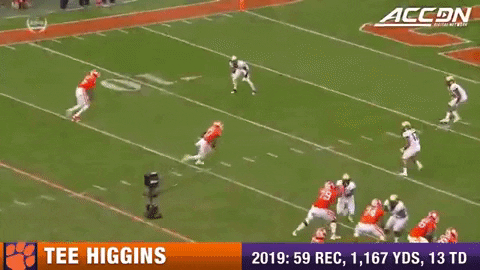 14. C.J. Henderson - CB, Florida
C.J. Henderson has the feet and eyes of a shutdown corner. He showed the ability to look-and-lean against Justin Jefferson from LSU. He knows how to jam at the line of scrimmage. The major flaw in his game is missing tackles. Defenses that are sound against the run would welcome Henderson with open arms. He can cover inside and outside, just don't expect much help in the run game.
15. A.J. Epenesa - EDGE, Iowa
A.J. Epenesa is twitchy, big, long, and strong. He's probably more of a left end than right end in the traditional sense, as his speed rushing chops aren't elite. He knifes into the backfield frequently on film, and walks back offensive linemen in the run game. He's an easy NFL starter.
16. Javon Kinlaw - DT, South Carolina
I'm always leery of fun, penetrating interior defensive linemen, especially those with inconsistencies on film. They do all of their work against interior offensive linemen who are the relative worst players on the field in college football. Still, Javon Kinlaw has the traits of a great pro. He's powerful and plays his gap well in the run game. When his get-off is on time, it's terrific. He can push back guards, get his hands in passing lanes, but has a lot of reps where he's stonewalled. My personal favorite play on film was the blocked field goal versus North Carolina. He can definitely start in the NFL.
17. Bryan Edwards - WR, South Carolina
Last year, I ranked Deebo Samuel in the top-16 when most had him in the 40-50 range. Bryan Edwards will make it two years in a row with a South Carolina receiver ranked much higher than the consensus. Edwards broke his foot last season and was unable to perform at the combine, but his film is outstanding. Besides his health, he plays a little high, has poor ball security, and a bunch of miscommunications with his quarterback while working the boundary. That's about where the negatives end.
Edwards has terrific quickness for his size and is the prototype WR1 in terms of traits. His hands are excellent, he's above average at tracking the football, and his blocking and run-after-catch prowess separate him from most other receivers in this class. He's going to be a major steal if he can stay healthy.
18. Jalen Reagor - WR, TCU
Jalen Reagor had a rough combine showing. Drops and missed hand placements in the drills were especially concerning. Many expected him to run sub-4.4, so his 4.47 was disappointing to most. However, running that "slow" is more a reflection on his lack of preparation for the test rather than a damning revelation that he's not that fast. 4.47 is plenty fast enough, but he plays faster on film. Reagor has play speed that typically leaves Big 12 defenders in the dust and an uncommon ability to win contested catches at his smallish stature. He can leap, track the football, and has the innate playmaker trait. There's little evidence on film of him beating press and running advanced routes, but his play style is reminiscent of Antonio Brown.
19. Josh Jones - OT, Houston
Josh Jones moves well for his size and has steady tape. He's not flashy and didn't have the marquee matchups against the best pass rushers in the country, but did his job well against his competition. He can vertical set well, finish plays, and shows some mobility on frequent screens in the Houston offense. Simply put, he wins his matchups. He should be a pro for a long time.
20. Henry Ruggs III - WR, Alabama
Henry Ruggs III displays his 4.27 speed on tape, especially after the catch as he routinely cribs slants. He's not a one-trick pony as his large hands and body control allow him to make high difficulty and diving catches on film. He's a decent blocker with some nastiness to his game and most believe he'll be more productive as a pro than he was in a crowded Alabama receiver room. As with most receiver prospects, it's fair to question his ability to beat press and run NFL routes. There just isn't much evidence of those two skills on film.
NFL Draft Prospects #21-30
21. Jeff Gladney - CB, TCU
Jeff Gladney is my No. 3 CB mainly due to his standout physicality. Scheme fit is important for most corner prospects, and Gladney would likely excel in a more zone-heavy defensive system. He does a tremendous job as a cover-two corner, getting depth on drops and making plays in the hole on the boundary. Although he's not a technician, his foot quickness is well above average. He's constantly communicating on film and shows great effort. His tools remind me of Jalen Ramsey but his flaws remind me of Justin Gilbert.  He plays bigger than 5-10, 191. Get him in a zone scheme and coach him up.
22. Brandon Aiyuk - WR, Arizona St.
Brandon Aiyuk has the innate playmaker trait. He's a little clumsy and has some sloppy releases at the line, but he's plenty fast enough for his playmaking to translate to the NFL. Aiyuk has strong hands and knows how to get in and out of breaks at the top of routes. He projects as a solid route-runner with some power in contested catch situations. His style is reminiscent of Dez Bryant.
23. Andrew Thomas - OT, Georgia
Andrew Thomas is a quality football player, but it's fair to wonder how well his traits translate to the next level. The main concern is his lack of knee bend and how high he plays, even just in his stance. He's a mauler, but he's not quick at all. He's a high-character and steady player, but his best fit might be at right tackle.
25. J.K. Dobbins - RB, Ohio St.
Some guys are easy to scout. It would be shocking if J.K. Dobbins wasn't a quality NFL back. He's a hammer who runs with low pads and has a great burst. I love his stiff arms and ability to be creative when the hole isn't obvious. Not wearing gloves in bad weather is just icing on the cake when scouting a tough runner like Dobbins. There is fantasy value in his immediate future.
26. Grant Delpit - S, LSU
Grant Delpit's 2018 film was better than his 2019 film in large part due to a high-ankle sprain. He still did enough to help his team win the National Championship and put himself in the conversation for best safety in the draft. Delpit's feet aren't super quick and he too often slips and is off balance. Given the ankle injury, it's not surprising that he's a little sloppy and all over the place. Directly from my notes: he just gets it done. He'll be a starting safety in the NFL.
27. Jedrick Wills Jr. - OT, Alabama
Jedrick Wills Jr. is ranked much higher on most other boards. The film shows issues with his technique that brings up bad memories of scouting Erik Flowers. Some of his winning reps show him grab and pull down smaller ends. He's off-balance with his punch too often. It's jarring when a possible top-ten pick gets jolted back by smaller defenders. Wills does a good job to reset and moves well laterally, but he's not a slam dunk franchise left tackle. Shoulder blocking and lack of every down alertness are also concerns. His best fit is in a gap-scheme heavy running attack.
28. Derrick Brown - DT, Auburn
Beware the lovable penetrating interior defensive lineman. Most have the disruptive Brown ranked in their top five, but there are some issues on film with consistency and control. Brown is a gigantic force who, when he plays with good technique and low leverage, impacts both the run and pass game. However, a lot of his positive plays just don't translate. He's going up against weaker interior linemen, many of whom won't sniff the NFL. Upon entering the league, he'll be up against former tackles and the best guards in the world. Some of his splash plays on turnovers and hustle sacks just aren't transferrable to the next level.
Some point to his stoutness against double teams as a huge positive, yet there are many clips against Oregon and Alabama where he struggles. There's a chance he hones his craft and lives up to a top-10 selection, the film shows flaws. He could be a nose tackle in the NFL, which isn't great positional value in the first round. And yes, the pile-driver tackle versus UCF was sweet.
29. Tristan Wirfs - OT, Iowa
Tristan Wirfs is tough to get a grasp on because his athletic traits don't always marry up to his football traits. For example, his timed foot speed for his size is amazing, yet he labors at times and struggles dealing with quick players shooting gaps in the run game. He displays an excellent ability to mirror, but too many times shows below-average play strength and gets jolted back in pass sets. A lot of his Michigan film is rough. His handwork is on-point and he has loads of potential, but the film doesn't show great balance which is one of the first things that scouts look for in an offensive lineman prospect.
30. Jacob Eason - QB, Washington
Jacob Eason clearly benefited from a tremendous offensive line, but decision-makers will still love how quickly he gets the ball out of his hands. Coaches will love some of the pro concepts he threw and how well he handled the ball from under center in terms of play-action and footwork. His arm talent is excellent and he loves fitting in his slants. His balls have energy on the back-end.
With his lack of mobility outside the pocket, Eason has a much smaller margin of error than quarterbacks who can make plays with their legs. However, some of his film is very promising and shows an ability to deal with pressure well. Against Oregon, Eason looked like a first-round pick. But his issues with deep ball placement in other games is Dwayne Haskins-like and could cause him to go in the second round.
NFL Draft Prospects #31-40
31. Xavier McKinney - S, Alabama
Xavier McKinney is a classic second-round safety who has the potential to start in the NFL for a long time. He is more comfortable in the box than deep but he is a very opportunistic player and most importantly, a great tackler. His 4.63 40 speaks to the main question – does he have the range to be a Pro Bowl player?
32. Denzel Mims - WR, Baylor
Denzel Mims has all the traits teams want and is outstanding at high-pointing the football. He's physical with great hands and showed flashes of brilliance at Baylor. There's some risk though, as he's raw with sloppy technique and rounds a lot of his cuts. His WR1 potential is undeniable based on his traits.
33. Clyde Edwards-Helaire - RB, LSU
Clyde Edwards-Helaire is the second coming of Maurice Jones-Drew. NFL teams will love his skills in the passing game even more than his ability as a runner. He is somewhat of a short-stepper who didn't show too well against the future pros on Georgia's defense. But his film versus Alabama was sensational. He showed some nasty tackle-breaking and pile-pushing against the Crimson Tide, highlighting his feistiness and fire. His competitiveness shines on tape – an underrated trait to look for when scouting.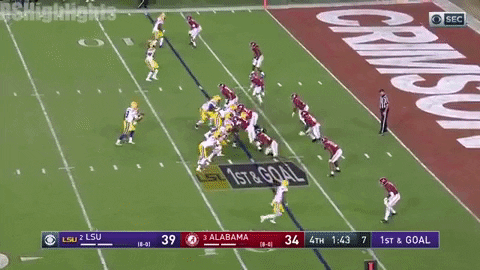 34. Justin Jefferson - WR, LSU
Justin Jefferson's production and skillset make him a probable first-round wideout with potential fantasy stardom from the jump. His performance versus Oklahoma was legendary, and he ran faster at the combine than most thought he would. However, looking deeper at the tape there are legitimate reasons to question the smoothness of his transition to the NFL. Jefferson played mostly from the slot at LSU, and his coaching staff did a masterful job putting him in situations to just run slot fades and be better than inferior corners, safeties, and linebackers. He made a killing working the middle on RPOs and had some issues with reaching on speed cuts in the quick game. Drafting Jefferson to be an outside WR will take a leap of faith in teaching him better technique and essentially a whole new position.
35. Bryce Hall - CB, Virginia
Bryce Hall needs a medical check but his film shows a potential NFL starter. He's violent and physical with active hands that he'll need to learn how to fight with and not get flagged. He executed a late look-and-lean and got his head around to break up a pass along the boundary against Duke. They loved blitzing him at Virginia and he made a ton of splash plays. He's a long playmaking corner in the Chris Gamble mold.
36. Trevon Diggs - CB, Alabama
Trevon Diggs' evaluation is simple. His best fit is in a cover three scheme, and he's going to have his struggles in man coverage. Diggs may have graded out well at Alabama, but it's fair to question how well he can cover pro receivers. He plays too high and mistimes his jumps when the ball is in the air. His length and history as a wide receiver make him a worthwhile project, but expect him to get beat a lot early in his NFL career.
37. Tyler Johnson - WR, Minnesota
Tyler Johnson is a gifted natural receiver. He may not be amazing at creating separation, and he's not the otherworldly athlete some of the other receivers in this class are. But from a ball-skills, suddenness, and confidence perspective he's on the Tyler Boyd-to-Larry Fitzgerald spectrum. His timed speed is unknown and he isn't a dominating physical presence but a team will be lucky to add a pure football player like him to their receiver room. His highlight tape is a clinic in difficult catches.
38. K.J. Hamler - WR, Penn St.
When a player's only glaring question mark is size, he can be a tremendous value due to outdated positional requirement philosophies. Tarik Cohen comes to mind, and K.J. Hamler is a similar offensive weapon. Hamler is tiny and it's fair to wonder how much he can produce as a body-catcher who shouldn't be taking too many hits. His tape is impressive, and his best game came against Ohio State in 2018. He knows how to run slot fades and made some tremendous difficult catches on film.
39. Yetur Gross-Matos - EDGE, Penn St.
Yetur Gross-Matos has some pop in his hands and sets the edge nicely. He's more linear than quick and bendy but can be a plus run defender. The film shows some good inside rip moves but not much in translatable edge pressures. There's a lot of hustle sacks that just won't translate to the next level, but he has the potential to add to his pass-rushing arsenal as he develops in the NFL.
40. Ross Blacklock - DL, TCU
Ross Blacklock's film screams traditional nose tackle, but he only weighed in at 290 pounds at the combine. He fires out of his four-point stance with great leverage and shows the strength to play his gap. He has a nice rip move inside that he showcased against Purdue, but generally struggled to display much juice as a pass rusher versus Texas. He's a pro interior defensive lineman for sure.
NFL Draft Prospects #41-50
41. Zack Baun - LB, Wisconsin
Zack Baun is a terrific pure football player but doesn't have the film of a top edge rusher. His projection is based on a defensive coordinator putting him in positions to use his football intelligence and athleticism to wreak havoc and make plays. He may be better suited as an off-ball linebacker because he is too often stifled on the edge versus technique-sound tackles like those at Michigan State. His edge-rushing might not translate to the next level, but his tape against Nebraska shows a penchant for being disruptive. He might get blocked by tight ends and driven back by one-arm punches from stronger tackles, but his athleticism makes him a worthwhile defensive chess piece.
42. D'Andre Swift - RB, Georgia
D'Andre Swift is an elusive back with decent contact balance who excels best in open space. He's a natural playmaker with added value as a passing game asset as a blocker and receiver. The game comes easy to him as he shows some creativity that can't be taught including a spin move in the backfield to get away from an unblocked defender and a crossover on a safety to break his ankles in the open field.
While his upside is undeniable, his projection is tricky. He's more Sony Michel than Nick Chubb in terms of physicality and inside running style, and backs who are more comfortable with a space advantage against slower college players sometimes struggle to be more than situational players in the NFL. Swift has high upside but more risk to underwhelm than J.K. Dobbins.
43. Kristian Fulton - CB, LSU
Kristian Fulton is another example of a prospect with a track record of great college performance but not necessarily that best traits. Fulton got it done as the boundary corner for the best team in college football, but his sloppy technique and inability to get his head around when defending verticals could scare some teams off. He's athletically gifted but not super strong, getting beat in the red zone too much. There are better corner prospects in this class.
44. Laviska Shenault Jr. - WR, Colorado
Laviska Shenault is Cordarrelle Patterson with better natural receiver skills. Dynamic at Colorado, he has uncommon strength and explosiveness for an outside receiver. His coaches trusted him on 4th-and-2 end-arounds and he was generally the best player on the field in most games. However, his film shows an unpolished player with flaws in his game. He had a few bad offensive pass interference penalties, struggled at times to track the deep ball, and a few concentration drops. The ability is there, but when you add durability concerns with his lack of polish, you get a high-risk prospect.
45.  Jordan Elliot - DL, Missouri
Jordan Elliot ran an impressive 5.02 40 at 302 pounds at the combine. He flashes the ability to shed blockers and make plays in the run game. However, his testing results don't match the film. Elliot is not big enough to have average-to-below average quickness. He's too reactionary and didn't flash much of a pass-rushing arsenal on the inside. His film looks more like a Day 3 than Day 2 pick.
46. Jordan Love - QB, Utah St.
Jordan Love's physical tools and upside compare favorably to Patrick Mahomes as a prospect. He spins it as well as anyone with tremendous velocity and the ability to create and throw on the run. His awareness and projected ability to read defenses is promising on film as well. The glaring negative is his inconsistent ball placement. He has decent accuracy (think a baseball pitcher's control) but his placement (think a baseball pitcher's command) is all over the place, missing easy screens and quick game way too often. For what it's worth, I had similar concerns with Mahomes coming out. Love's upside is enormous, but the placement issues might be too much for him to live up to it.
47. Jonathan Taylor - RB, Wisconsin
Jonathan Taylor is an instinctive runner with the natural ability to change speeds and use his vision to find creases. He has home-run speed and incredible college production. However, it will be difficult for teams to go all-in on a player at the most replaceable position in football with his history of fumbling, lack of value in the passing game, and so much tread on his tires. Those who defend him will point to his workload as a positive for being so durable. He's simply not special enough to ignore the question marks. His film, particularly versus Illinois, is more solid than spectacular.
48. Cesar Ruiz - C, Michigan
Cesar Ruiz is an easy pro center with a long career ahead of him. He showed some confusion early against Iowa, but overall, his awareness is solid. He gets up to linebackers on combo blocks well and keeps square and stout in pass protection. It's unlikely he develops into an all-pro, but his floor is very high.
49. Ashtyn Davis - S, Cal
Ashtyn Davis is ranked highest of the second-tier safety prospects in this class behind Grant Delpit and Xavier McKinney. He's smooth and instinctive with the speed to break on the ball from his center field spot. He's versatile and strong enough to show some pop as a blitzer. There are some instances on film that make you question if he has what it takes to be a starting NFL safety, including a bad angle on 4th-and-1 to give up a TD against Washington. He also didn't run a 40 due to a groin injury, which will impact his stock.
50. Kyler Dugger - S, Lenoir-Rhyne
Kyle Dugger barely edges out Antoine Winfield Jr. for the final spot in my Top 50. The former Division II star has 4.49 speed that plays in the NFL and a special teams floor that NFL coaches will love. He is not on a professional level fundamentally, but as a ball of clay, he can become a starting safety with good coaching. His film shows him moving at a different speed than other D-II players.
More NFL Draft Analysis