If you missed the first installment of this 2020 NFL Draft review series, you can read the NFC North review here. Every year after the draft, I write a way-too-long review of each team's draft. The purpose of this draft review is to give predictions for the careers of each team's drafted players. I've watched film of each player I'm commenting on. Draft grades are overly optimistic and unrealistic. Unlike the majority of post-draft coverage out there, I will pick busts. Keep in mind that 23.4% of all first-round picks bust.
Let me preface this by saying: predicting the career of an NFL draft pick is a ridiculous exercise. There is so much unknown that goes into whether a player succeeds or fails at the next level.  I can make educated guesses based on team situation, supporting cast, and research about the prospect's character and work ethic, but there's a reason teams make so many mistakes every year. You simply don't know for sure how a player will react to being a pro. Injuries are also a huge factor in the fate of a player and impossible to predict accurately. I still write this long prediction article for three reasons:
1 - No one else does it.
2 - It's more interesting than draft grades.
3 - It's fun to try to get things right.
Overview
Like NFL teams, I'm going to get things wrong. The greatest football mind in history drafted Ryan Mallett and Chad Jackson. I also like to argue against the consensus when my evaluations allow me to. That has gotten me in trouble with some unpopular predictions that turned out to be hilariously wrong. On the flip side, I don't think anyone else predicted Lamar Jackson would be the best quarterback of his draft class. All of my picks are rooted in comprehensive film study and a mathematical understanding of what drafts typically produce (spoiler: draft grades are unrealistically generous).
Before we start, here are some of my general thoughts on the 2020 NFL Draft.
Quickly on the broadcast - they did a great job given the circumstances. The production quality was great and they did more actual analysis than usual. My main gripe with draft coverage every year is that they don't show incredible highlights (they somehow didn't show the Aaron Dobson catch in 2013). This year, they showed more footage of actual football and I appreciated that. The only two negatives for me were the constant tragic stories and Booger McFarland.
Oh, and if any poor soul bet on Justin Jefferson Under 21.5 draft position, ESPN should apologize to you. They showed him on the phone celebrating right before cutting to Goodell announcing the 21st pick - Jalen Reagor to the Eagles. Jefferson was of course on the phone with the Vikings, who took him at 22. Brutal beat.
As for the draft, remember this tweet about mock drafts being "wronger" than ever? Funny, this was probably the chalkiest first-round ever in the internet age. Nothing was truly shocking to me, including the Packers trading up for Jordan Love (more on that here). I had Damon Arnette in the first round in my first mock draft this draft season. I wrote an article lauding Jordyn Brooks as an undervalued commodity. Noah Ibinoghene going in the first was surprising, I suppose. But there was no Clelin Ferrell at No. 4 or Tyson Alualu at No. 10. It speaks to how the media and internet scouts might be catching up to, or God forbid actually influencing the teams.
So here is the first installment of my annual draft review. Each player will receive their career prediction in parentheses following their name. For example: Joe Burrow (5). Here's how the picks break down:
5 – All-Pro: Starter who has performed at an elite level at his position.
4 – Above-Average: Starter who has been among the best at his position.
3 – Solid: Starter or valuable back-up with significant positive production.
2 – Replacement Level: Below-average starter or back-up who made minor contributions.
1 – Bust: Player who didn't amount to anything positive.
Next up, the AFC North.
Cincinnati Bengals
The Bengals have historically been pretty good at drafting despite having the smallest scouting staff in the league.  With the first pick in each round, they would have had to try to mess this up.  Instead, they had the single best draft in the entire league, drafting the No. 1, No. 14, No. 52, and No. 69 (nice) players on my board.
Joe Burrow lacks the ideal competitiveness after transfer- just kidding.  The Tiger King just had the greatest season in the history of college football, capped off by a dismantling of a Clemson defense with multiple day-one picks.  Joe Burrow (5) is going to be a franchise quarterback and Zac Taylor is a lucky man.  Joe Exotic is being praised everywhere for his poise, accuracy, touch, and athleticism.  What stood out to me on film was his ability to create outside the structure of the offense.  He is dynamic in that he can scramble to run or throw - a defensive coordinator's nightmare.  LSU even ran him on designed quarterback draws, an indication they were comfortable with his durability.
Burrow's 2018 obviously wasn't great (57.8% comp., 16/5 TD/INT), but it's not smart to question his ball placement after his 2019 film.  His offensive supporting cast was amazing, but it was overwhelmingly obvious that the game moved extremely slowly for him at the highest level of college football.  When the NFL bullets start flying even faster, Burrow will have an easier time adjusting than most quarterbacks.
Tee Higgins (4) may have been the best value in the entire draft.  Higgins' perceived draft status on the internet was just odd.  From WRU with 28 career touchdowns and undeniably impressive film, Higgins was widely accepted as the 5th-8th best receiver in this class.  Why?  I don't care much about his lack of timed speed (4.54) as he played fast enough and has other dominant traits.  The only legitimate reason for the lack of respect is his thin body as it relates to durability.  He came up lame a lot on film, and NFL teams are spooked by medical issues.  I am not going to be shy about endorsing this pick.
Tee Higgins has unbelievable hands, body control, and ball-tracking ability in a 6-4, 216-pound frame.  He didn't look great against Jeff Okudah and Ohio State but was clearly banged up.  There's also no shame in struggling against Okudah, who's probably a top-five NFL corner right now.  Joe Burrow to Tee Higgins will be the premiere QB-WR connection in the league by 2023.
Logan Wilson (3) was one of "my guys" and Akeem Davis-Gaither was close (No. 69 on my board).  Wilson was arguably the best coverage linebacker in the draft and is probably not terrible at tackling, considering he tallied 409 (!) of them at Wyoming.  His film was fun to watch, as an off-ball linebacker with ten career picks.  As for Akeem Davis-Gaither (3), he's light but lightning fast.  His floor is a contributor on specials, but in a pass-happy league with Lamar Jackson running around, his speed plays on defense as well.  He's not going to take on blocks in a phone booth but he made some wow plays at Appalachian State, constantly finding the ball and getting tackles-for-loss on the edge from his Sam position.  Doubling up on linebacker with two talented prospects was a great strategy.
The Bengals aced this draft.  Loading up on defense will be the priority for the next few years, as they have one of the best young offensive cores in all of football.
Baltimore Ravens
The Ravens always draft well and this year was no different.  They selected my No. 11 overall player at 28, my top-ranked running back at 55, and four other players in my top-100.  The legacy of Ozzie Newsome lives on.
Patrick Queen (4) showed some inconsistencies on tape in terms of missing tackles and angles and possibly even taking plays off.  However, his highs on film are as impressive as any player in this class, and in the Ravens organization, they feel confident in coaching him up to play at that level consistently.  Put on the National Championship game and Queen looks like the best defensive player on the field.  Put on Texas and watch the goal-line sequence where he almost scores a 99-yard touchdown on third down and then fits up for a 4th-down stuff.  His Auburn tape isn't as impressive, getting beat by their running back (No. 3) and blocked in space on screen passes.  In Baltimore, he'll be kept clean and asked to fly around and hit people.  He could not have gone to a better situation.
J.K. Dobbins (3) was my No. 1 running back in this class.  He is a tougher (love a back not wearing gloves) runner than Jonathan Taylor and plays with great contact balance and low pad level.  He has a stiff-arm, ideal burst, and necessary physicality and creativity.  He'll be a hammer learning from Mark Ingram in Baltimore.  Again, a perfect fit for the Ravens in real football, but probably not the best landing spot for fantasy, at least in the short term.
As for their other picks, the only one I'm not excited about it is Justin Madubuike (2).  He screams Reverse Planet Theory to me, taking advantage of bad guards with splash plays that don't translate.  Devin Duvernay (3) can be an actually-explosive version of Willie Snead. Malik Harrison (3) is a thumper who can call the defense and make plays. Ben Bredeson (3) was one of my favorite mid-round guard prospects.  I'm very happy Lamar Jackson won MVP last year, and this class will help keep the Ravens among the elite teams in the NFL.
Cleveland Browns
The Browns were easy to mock for going into the draft, with two huge needs at left tackle and safety and a fairly stacked roster everywhere else.  They unsurprisingly filled those needs with their first two picks, grabbing arguably the best prospect at both positions.
Jedrick Wills Jr. (3) was not exactly my favorite tackle.  I noted balance issues, which scare me more than anything else for an offensive lineman.  I saw his head snap back too many times, noted some off-target punches, and really scary attempted shoulder blocks.  His traits are all top-notch, including his uncommon lateral agility for his size.  There are winning reps that highlight his strength (grabbing and throwing guys down on speed rushes), but don't inspire in the way of translatable technique.  He's a better prospect than Ereck Flowers, but some of his mis-timed and off-balance punches remind me of the Giant bust.  There's more risk here than people realize, but coaching can take care of the sloppy technique.
Grant Delpit (4) was my favorite safety.  His 2018 film was tremendous, and his 2019 film showed a clearly banged-up player toughing it out to help lead his team to a championship.  Delpit has tremendous change-of-direction skills and great instincts as a center field player.  He is a little sloppy and all-over-the-place, but again not at 100%.  Bottom line is that he gets it done, and the game is slower for him than most.  He'll start for years to come and make multiple pro bowls.
As for the rest, I didn't think Jordan Elliot (2) was big enough to be as not-really-that-quick as he was.  Jacob Phillips (2) called the LSU defense and fills a need, but strikes me as more of a special teamer at the pro level.  Harrison Bryant (1) profiles as a possible TE2 but according to my notes "might just be a college dude."  He had two touchdowns versus Utah's exclusively NFL-player secondary though.  Finally, Donovan Peoples-Jones (3) falling to 187 made no sense talent-wise so there must be off-field or medical concerns.  He's raw and the game didn't come easy to him, but I liked his activity as a blocker and he ran solid routes (comebacks especially).  He showed good hands and has a ton of potential, perhaps even slotting in as the WR3 this season.  I don't think Shea Patterson is good.
I was never high on Baker Mayfield, but it's easy to be excited about this Browns roster going forward.  There is no real personnel weakness anywhere.  If Mayfield can be coachable and tone down the turnovers, the Browns have enough talent to compete for one of the for-some-reason seven AFC playoff spots.
Pittsburgh Steelers
The Steelers essentially used their first-round pick on Minkah Fitzpatrick, who would have easily been the best safety in the draft.  They came into the draft needing a quarterback, tackle, and cornerback, but somehow didn't select any of those positions.  I wasn't a huge fan of their haul, which was headlined by one of the most overrated receivers in the draft.
After being burned by Limas Sweed and Sammie Coates, the Steelers went back to the big-and-fast archetype at wide receiver with Chase Claypool (1).  I ultimately labeled him as an "average pro if that" after noting his below-average ankle flexion, tight hips, and general clumsiness.  Claypool's large hands are fantastic, and he's obviously very fast, but I wasn't feeling his film as translatable to the next level.  I love that he was still on the punt unit but I don't see a high ceiling as an outside receiver against quicker corners.  There were better receivers on the board.
Alex Highsmith (1) was the first of two Charlotte… uh… Bobcats?... selected this year.  Highsmith attempted to tackle Travis Etienne versus Clemson and was run through like a middle-schooler.  Throughout that film, he was quite easily neutralized by the Tigers' left tackle.  He tries really hard, has a decent first step, and can bend just a little.  I'm a big 3-cone guy for edge rushers, and his 7.32 in addition to poor film against Clemson doesn't help his case.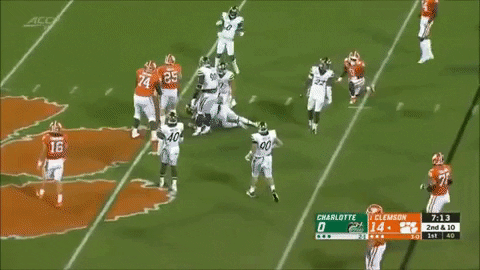 Every single Anthony McFarland (2) mention starts with his legendary performance against Ohio State in 2018.  Unfortunately looking closer at the film, they simply missed some fits and he exploded on the edge.  He did show some one-cut ability in the open field, but his tape shows someone who is clearly comfortable on the edge, which doesn't really fit the NFL at all.  McFarland has traits, but the game is difficult for him, getting stuffed on the goal line by Temple, showing bad ball security, and rarely pushing the pile.  He's a satellite speed guy, which if schemed right can be valuable.
I'm sorry Steelers fans, but this year could be the last dance for Ben Roethlisberger.  Minkah Fitzpatrick is really, really good at least.
Thanks for reading and stay tuned for more divisions in the coming days.
More Fantasy Football Analysis