The AFC West is the final division in the 2020 NFL Draft review series. Catch up on the other installments of this 2020 NFL Draft review series with the NFC West, AFC South, NFC South, AFC East, NFC East, AFC North, and NFC North.
Every year after the draft, I write a way-too-long review of each team's draft. The purpose of this draft review is to give predictions for the careers of each team's drafted players. I've watched film of each player I'm commenting on. Draft grades are overly optimistic and unrealistic. Unlike the majority of post-draft coverage out there, I will pick busts. Keep in mind that 23.4% of all first-round picks bust.
Let me preface this by saying: predicting the career of an NFL draft pick is a ridiculous exercise. There is so much unknown that goes into whether a player succeeds or fails at the next level.  I can make educated guesses based on team situation, supporting cast, and research about the prospect's character and work ethic, but there's a reason teams make so many mistakes every year. You simply don't know for sure how a player will react to being a pro. Injuries are also a huge factor in the fate of a player and impossible to predict accurately. Nevertheless, this is a fun exercise and gives us a chance to review how each team approached the draft.
Editor's Note: Love the strategy of season-long fantasy sports? Live for the short term gratification of DFS? Try Weekly Fantasy Sports on OwnersBox - a new weekly DFS platform. Sign up today for a FREE $50 Deposit Match.
Sign Up Now!
Overview
Before we start, here are some of my general thoughts on the 2020 NFL Draft.
Quickly on the broadcast - they did a great job given the circumstances. The production quality was great and they did more actual analysis than usual. My main gripe with draft coverage every year is that they don't show incredible highlights (they somehow didn't show the Aaron Dobson catch in 2013). This year, they showed more footage of actual football and I appreciated that. The only two negatives for me were the constant tragic stories and Booger McFarland.
Oh, and if any poor soul bet on Justin Jefferson Under 21.5 draft position, ESPN should apologize to you. They showed him on the phone celebrating right before cutting to Goodell announcing the 21st pick - Jalen Reagor to the Eagles. Jefferson was of course on the phone with the Vikings, who took him at 22. Brutal beat.
As for the draft, remember this tweet about mock drafts being "wronger" than ever? Funny, this was probably the chalkiest first-round ever in the internet age. Nothing was truly shocking to me, including the Packers trading up for Jordan Love (more on that here). I had Damon Arnette in the first round in my first mock draft this draft season. I wrote an article lauding Jordyn Brooks as an undervalued commodity. Noah Ibinoghene going in the first was surprising, I suppose. But there was no Clelin Ferrell at No. 4 or Tyson Alualu at No. 10. It speaks to how the media and internet scouts might be catching up to, or God forbid actually influencing the teams.
So here is the next installment of my annual draft review. Each player will receive their career prediction in parentheses following their name. For example: Joe Burrow (5). Here's how the picks break down:
5 – All-Pro: Starter who has performed at an elite level at his position.
4 – Above-Average: Starter who has been among the best at his position.
3 – Solid: Starter or valuable back-up with significant positive production.
2 – Replacement Level: Below-average starter or back-up who made minor contributions.
1 – Bust: Player who didn't amount to anything positive.
Next up, the AFC West.
Las Vegas Raiders
The Raiders came into the draft with needs at wide receiver and cornerback.  They wasted no time addressing those positions and ended up taking two corners and two-and-a-half wide receivers total.  I think they aced this draft, but not for the reasons you might think.
Las Vegas opted for speed over production by selecting Henry Ruggs III (3) as the first receiver off the board.  Ruggs played a supporting role alongside lead dog Jerry Jeudy at Alabama, but ran a 4.28 at the combine and aced the draft process.  His speed popped on film, as he routinely cribbed slants and ran by people in the SEC.  Ruggs was lauded for his competitiveness and edge, particularly as a blocker, which directly conflicts with my notes of his film.  I noted missed blocks, him getting tossed, and labeled him as "weak."  Perhaps I watched the wrong games or my standards are too high.
As far as receiving the football, Ruggs was fantastic, making highlight diving catches and using his hops to climb the later and show off his above-average hands.  There are two major unknowns with Ruggs - how he will deal with being the No. 1 option, and how he will develop as a route-runner.  Unfortunately, I do not believe he will live up to his physical attributes.  Derek Carr ranked 25th in Air Yards Per Completion last year, and while accurate, has never excelled at utilizing a deep threat.  I also have a hard time endorsing a player who was not the number one receiver on his own team to be the number one receiver in a loaded draft class.
At No. 19, the Raiders took Damon Arnette (3), which was a surprise to some.  I had Arnette going in the first round in my first mock draft of the year and liked his film more than most.  His skillset is that of a quality starting corner, despite unorthodox technique and tendencies.  Arnette's play was up-and-down at Ohio State, in part due to being thrown at so much.  He showed weird stances and punches from all different angles and body alignments in press coverage, but generally got the job done.
At the NFL level, if unique individual technique is effective, coaches don't care.  Arnette is more comfortable in press than off and will give up the inside.  Most importantly, he can get his head around defending vertical routes in man.  He was competitive and alert on film, flying down in run support and showing the necessary swagger and short memory needed from a pro corner.  He's going to get beat, but I like his transition to the league as someone who's been picked on a bit but kept getting better.
At No. 80, the Raiders took one of my favorite players in the draft in Lynn Bowden Jr (4).  Lynn Bowden Jr. played quarterback and receiver at Kentucky and is most known for throwing a punch in a pre-game scuffle before the Belk Bowl.  Bowden's film is that of a grown man with an edge.  His receiver film shows nothing in terms of advanced route-running, but his speed absolutely plays and his hands are good enough.  His quarterback and returner film shows joystick moves in the open field and elusiveness that rivals Lamb and Shenault.  I don't know if he's a pro wide receiver (neither do the Raiders), but I've seen too many converted quarterbacks have success to bet against his natural football traits.  I expect Jon Gruden to use him all over the field and for him to be one of the most explosive swiss army-knife weapons of this generation.
With the very next pick, the Raiders again took one of my favorite players in Bryan Edwards (4) of South Carolina.  Edwards was the No. 15 overall player on my board so I obviously loved this pick.  Aside from injury concerns and a few miscommunication issues working the boundary with his quarterback, Edwards' film was outstanding.  He's technically sound with strong hands, tremendous contact balance, evidence of beating press, and great concentration skills.  As a physical run-after-catch threat, he's dynamic and strong.  He is the prototype big-bodied NFL receiver in terms of traits, plucking the ball and transitioning as a runner smoothly.  I predict he'll be better than Ruggs.  He just needs to get and stay healthy.
I think Tanner Muse (2) can be a special-teamer (tripping up J.K. Dobbins was a gigantic play in the National Semifinal), and John Simpson (3) was a steal.  I love mauler guards who fall due to a lack of quickness.  Simpson is physical and sometimes dominant in the run game.  His stance gives away pass or run, but he can be coached and work on his body to develop into a starting guard.
The Raiders took yet another one of "my guys" in Amik Robertson (4) at pick No. 139.  I had Robertson ranked 75th overall and featured him in this article.  Robertson is tiny and his film isn't without flaws, but I am always a proponent of taking players whose main knock is lack of size.  I think Robertson will struggle with the brute size and strength of NFL football, and I actually don't think he's that fast (didn't run a 40).  But as far as being a pure football player and having coverage instincts and ball skills, Robertson is unbelievable.
Robertson plays big, talks a lot, and backs it up.  He jacked up the 6-6 Collin Johnson at the line of scrimmage and almost mossed No. 16 on Texas.  He's able to match everything, has a smooth pedal, and gives up almost no separation in man.  Slight jersey tug but disciplined hands play in the league.  His production at the college level was unreal - 14 interceptions, 2 blocked kicks, 3 defensive touchdowns, and an onside kick return for a touchdown.  I worry about his tackling, but I project him to be one of the best slot cover men in the league.
The Raiders chose to stick with Derek Carr and Marcus Mariota, despite having enough draft ammo to move around and take one of the quarterbacks.  I loved what they did with most of their picks.  Carr now has more weapons and zero excuses.  This is a huge year for him.
Los Angeles Chargers
The Chargers came into the draft with primary needs at quarterback and inside linebacker.  They addressed those needs in the first round, selecting the No. 3 and No. 8 players on my board.
The madmen did it.  They took Justin Herbert (4) at 6.  After being inundated with negative Justin Herbert analysis, I went back for a second look at the former Oregon Duck.  In terms of college performance, Herbert's film is reminiscent of recent busts, including Mitchell Trubisky.  He lacks ideal anticipation, inexplicably misses some throws, and wasn't always trusted by his coaching staff.  It is also fair to wonder about his transition, coming from a screen-heavy, spread system at Oregon.
However, evaluating NFL prospects is not just about college performance - it's about projecting traits.  Scouting quarterbacks is difficult, and there's a reason so many teams miss.  A lot of times teams fall in love with physical traits such as arm talent and are burned because the player struggles with the complexities, speed, and decision-making difficulty of the NFL game.  I believe a critical look at Herbert's film through the lens of traits-based scouting gets him to potential franchise quarterback level worthy of a high pick.  Like with all prospects, his ultimate NFL fate will come down to a lot of surrounding and unknown factors such as situation, coaching, and intangibles.  I will pick my No. 3 overall prospect to succeed.  His traits are that of a franchise quarterback and his intelligence and athleticism will help his transition.
Arm talent, throwing on the run, short-level accuracy, ball handling, and mobility make Justin Herbert the complete package in terms of traits.  He poorly placed just one throw under five yards in the games I watched.  He has good footwork, touch, and excels with play-action.  The translatable trait that makes me confident is his ability to look like the best player on the field in the face of pressure.  Herbert can move around and deliver strikes on the run or simply use his legs as a weapon.  He also showed the ability to go through full-field "rainbow" reads.  Players with his running ability can afford to not be the most accurate passers in the world.  He showed off his rushing skills in the Rose Bowl win against Wisconsin.
I understand the negatives, but with good coaching, I think Herbert can develop into a franchise quarterback as a mix between Josh Allen and Cam Newton.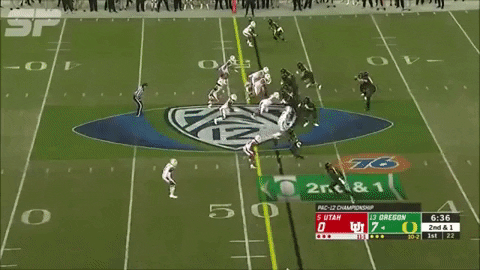 After selecting their quarterback at 6, the Chargers traded up for the best inside linebacker in the draft in Kenneth Murray (5).  Murray had a productive and storied career at Oklahoma, displaying all the traits of a great pro off-ball linebacker for the Sooners.  His speed and instincts make him a sideline to sideline threat, and he has the strength on contact of a thumper.  His tackling technique is terrific, pointing to his ability to be coachable.  He's a little out of control at times, but he's better than Devin White.  The move up was worth it.
The Chargers want to bring Justin Herbert along slowly, and will look to make the playoffs with Tyrod Taylor as the starter.  The surrounding talent is enough to take them there.  With young stud defenders at all three levels, the Bolts just need to build an offensive line and add weaponry for Herbert to compete with the Chiefs in a few years.
Denver Broncos
The Broncos came into the draft with a clear plan - get Drew Lock some weapons.  To say they achieved their goal would be an understatement.  Their haul included my No. 7 overall player and my No. 1 tight end.
Jerry Jeudy (5) suffered from some prospect fatigue as analysts scrambled to poke holes in his game.  While most of his success did come from the slot at Alabama, it's not like his traits don't translate to the outside.  In Denver, Jeudy can man the slot primarily, whereas if he went to the Jets he may have had to learn an entirely new position.  The only question about Jeudy is whether or not Drew Lock is good enough to allow him to reach his extremely high ceiling.
Jeudy has amazing quickness, length, and top-notch speed, but is known most for being an outstanding route-runner.  He is the best route-runner I have ever scouted in college.  He understands the nuances of changing speeds, is quick with a plan, and shows an uncommon ability to separate that surely translates to the pro game.  He'll be a star if Drew Lock proves to be competent.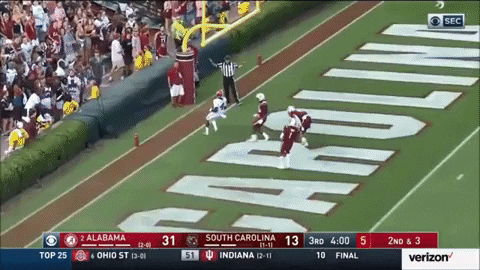 With their second pick, the Broncos doubled down on wide receiver with K.J. Hamler (2) of Penn State.  Hamler is the prototypical deep threat and an excellent complement to Jeudy and Courtland Sutton in theory.  He might be too small for the NFL, but his college film shows route-running ability on slot fades and out routes that rival most pros.  His main weaknesses are due to his lack of size, as he struggles in contested catch situations and is dominated by strength in terms of ball security.
Hamler made a couple of tremendous sliding catches but does not display much in terms of hands an almost exclusively body-catcher.  It's a common misconception that receivers are never taught to catch with their body as coaches will teach it in certain situations.  Hamler can succeed in the NFL, but there are too many mouths to feed in Denver for him to be more than a situational deep threat.
Michael Ojemudia (2) has the athletic profile and size to be a starter, but his film doesn't show the natural football traits of a pro.  He isn't physical enough and doesn't show great awareness in zone, letting receivers get behind him.
Lloyd Cushenberry (2) was one of the most overrated prospects in the draft.  He's a classic case of a decorated collegiate who gets overdrafted due to great character.  He was beaten badly by the Texas nose tackle and generally lacks balance.
McTelvin Agim (1) was overdrafted as a former five-star recruit who didn't dominate in the SEC.  He has the size and tools to be a rotational defensive lineman, but plays too high and bends at the waist, losing leverage and balance too easily.
Denver's best pick after Jeudy was Albert Okwuegbunam (3). His size/hands mix is rare and his physical ability is special.  After last season I thought he'd be a high pick, but he never seemed to put it together.  He's an instant red-zone threat as a project with huge upside.
The draft community is giving high praise to this Broncos class.  I think they nailed their first pick but wasn't overly impressed with the rest of the haul.  Denver's defense is loaded with talented veterans and a returning Bradley Chubb, so Drew Lock's progress will be an intriguing storyline in the AFC Wild Card race.
Kansas City Chiefs
Congratulations to the Chiefs and their fans on winning the Super Bowl.  The World Champs came into the draft without any pressing needs and selected three extremely talented young prospects with their first three picks.
Clyde Edwards-Helaire (4) is a perfect fit in Andy Reid's offense.  My No. 2 running back, CEH reminds me of Maurice Jones-Drew.  His lack of height is a non-issue, if not a positive, as he gives defenders a small target on his way to eluding tacklers and making guys miss.  He's short but sturdy.  His film against Alabama was inspiring, breaking tackles and moving piles against defenders twice his size.  His best trait is his ability as a receiver, showing advanced route-running skills and soft hands.  He's competitive, fiery, and tough.
While he didn't quite excel against the Georgia pros, he's going to have so much space with Patrick Mahomes it's scary.  His 4.6 40 shows a lack of ideal long speed, but his ten-yard split was among the best for running backs at the combine.  Amazing fit, PPR fantasy points everywhere.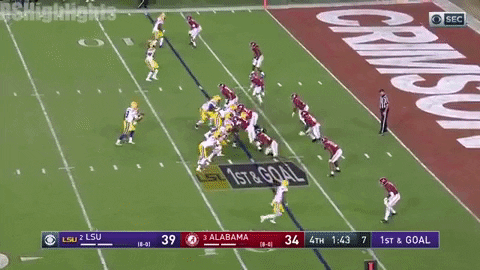 Willie Gay Jr. (3) has very inconsistent film and character red flags.  Andy Reid took a chance on Marcus Peters years ago, who has had a very good pro career.  The Chiefs culture should keep Gay on the right track.  His film in 2018 was better than 2019, as he had more splash plays and tackled better.  In 2019, some of his film showed poor angles and undisciplined missed fits.  His speed plays and if he puts in any work at all his floor is a talented special teamer.  I think Reid gets the most out of him and he starts at linebacker as a rookie.  The burst and pop when he hits people is impressive.
Lucas Niang (3) has a very ugly body, but I liked his film a lot.  He has a small lower half and is fat up top, which teams usually don't like.  He can be effective and quick, and has functional strength and movement skills despite his odd shape.  I had him at No. 39 on my big board and project him to be a starting right tackle whenever the Chiefs need one.  Solid pick.
The Chiefs have the best player in the NFL and a good enough defense.  They should be favored to win it all again.  The main takeaway from this class is that Andy Reid running backs are fantasy gold and he just got one that fits his scheme perfectly.
That wraps up the 2020 draft review series.  Thank you so much for reading.  On to 2021!
More Fantasy Football Analysis