Entering the 2019 fantasy football season, Arizona running back David Johnson had an ADP of seventh overall in FFPC leagues. He was a consensus first-round pick nearly everywhere as fantasy owners expected a repeat of his breakout 2016 season.
Instead, he fell hard from his elite fantasy status, looking like a shell of the player he had been in previous seasons. When the Cardinals moved to a higher-tempo offense, it should have been a match made in heaven, but it wasn't. Johnson struggled for production in the early part of the season, before injuries allowed Chase Edmonds and Kenyan Drake to make headlines in his stead.
Was this season a blip? Should we try and move on from him now? As a Johnson owner myself, this is a question I want to get to the bottom of as we enter the offseason of fantasy leagues.
Editor's Note: Love the strategy of season-long fantasy sports? Live for the short term gratification of DFS? Try Weekly Fantasy Sports on OwnersBox - a new weekly DFS platform. Sign up today for a FREE $50 Deposit Match.
Sign Up Now!
Johnson's Metrics & Volume
Yards per attempt tells part of the story, but it's similar to watching one episode of a box set and trying to write the entire plot of the series. Sure, you might get some things right but you are likely to get a lot wrong.
However, there are plenty of metrics that are available that uncover what is truly going on behind the offensive line and the impact on the production of its running backs. One of which is Football Outsiders who delve into the performance of running backs;
Unpacking the above, Johnson has actually performed better in 2019 than in 2018 with his numbers becoming closer to 'average play'. That can be seen with the huge increase in DYAR and the percentage point increase in DVOA & VOA metrics. Furthermore, the effective yard gap decreased. Having more standard yards than effective yards shows that a player has performed worse than would be expected.
This points towards an improvement in Johnson's play, rather than a step back.
Looking at Johnson's NFL Next Gen Stats he has faced Stacked Boxes around 5.3% of the time, which is far lower than the mark that he faced in the previous season which was around 24.0% of the time. This is likely due to the fact that the play of Kyler Murray has allowed the Cardinals to utilize the receivers in their depth chart, particularly with Christian Kirk taking a big step forward. However, it seems that Johnson has become a less efficient runner. Johnson's efficiency metric has worsened, meaning that he is running more yards (essentially sideways for no gain) for each yard that he gains.
Rushing Production
The issue that could exist for the running back position is the quarterback that the team acquired in last year's draft. In previous seasons the Cardinals had players that stood in the pocket and rarely ran with the ball, meaning plenty of volume for their running backs. However, that lack of volume at least for 2019 doesn't seem to be completely negative:
In his rookie season, Murray rushed the ball 94 times, reducing the overall rushing volume to the running back position. However, while the volume has been reduced, the level of production was improved across the board with more yards and touchdowns this season. Clearly, therefore, the reduction in volume doesn't have an overall detrimental effect on the position's ability to have an impact.
Verdict: Rock DJ!
Johnson's performances and situation appear at face to have improved in his rushing metrics. He also has a better situation than he did in previous seasons, even with reduced rushing attempts. If Johnson reclaims some of the early-down work, then there shouldn't be a huge concern over his ability to be productive.
Offensive Line
Long has Arizona lamented the struggles on their offensive line. In fact, I brought up their struggles in my offensive line article earlier this season. However, that was with the (somewhat) one-dimensional offense that defenses could stifle by stacking the box and stopping Johnson from finding a gap from the backfield. At least for 2019, the offensive line has improved with more power success and more Adjusted Line Yards, while also not moving too much in having runs stuffed in the backfield.
It is worth noting in the above that Johnson's YPC was less than the yards he should have been able to gain with the ability of his offensive line.
Verdict: Spin another track
The improvement in the offensive line is certainly a good step in the right direction, but there is still some way to go before it can be considered even average overall. Furthermore, Johnson has to improve his play to get the yards that are gained for him by the work of his line in front of him.
Receiving
As a dual-threat running back, part of Johnson's appeal is that he has been a great receiver out of the backfield with a big target share of the passing attempts in Arizona. Based on the roster, Johnson is still likely to hold the role of the pass-catcher on the team. Looking at the target share of the positions on the roster show the way the new offense has changed the target distribution;
In Kliff Kingsbury's offense, the main victim is the tight end position (at least after the first season of installing it). Johnson, therefore, should continue to be heavily used in the passing game, which should give him a decent floor, especially in PPR leagues.
Verdict: Rock DJ!
There are other receiving options, but the volume is still there for the running back position this season with only a slight drop in running back targets in the new offense.
Usage & Overall Touch Efficiency
In considering usage and overall touch efficiency, the first thing to consider is that a player can only have an impact on the game if he is on the field and given the ball. Comparing Johnson's usage (in this case Usage = Rushing Attempts + Targets) to his snap counts in each week for 2018 & 2019;
So while there has been a reduction from his 2018 season, generally if Johnson is on the field he has a good chance at getting an opportunity with the ball. Certainly, there is no reason to jump ship at this point.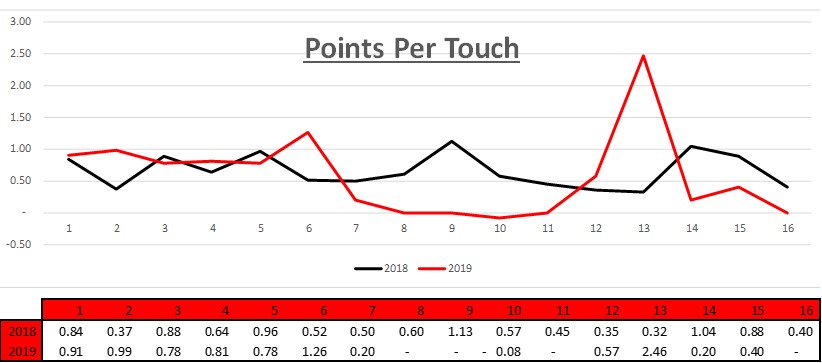 However, in looking at how he converted his touches (Touches = Rushing Attempt + Receptions) into fantasy points shows a different story. This metric would show how efficient a player was in taking his opportunity and creating fantasy value.
This season he has been roughly comparable to his 2018 season with an average of 0.65 fantasy points in 2018 v 0.77 fantasy points in 2019. Again, it's not a huge deal breaker, but on the face of it, it seems that the lack of volume is hurting his fantasy value. But truly, it doesn't feel like that having been a Johnson owner this season.
Verdict: Rock DJ!
In looking at the analysis of usage, the barrier to success appears to be if Johnson is able to get on the field rather than anything else. If Johnson is now over his injuries AND the Cardinals return to using him rather than Drake and Edmonds, then his value could return. If not, then there is concern that Johnson will return to the level of fantasy value he did previously.
Summary
Overall, Johnson has actually seemed to improve his play (in terms of his rushing metrics) on an improved offense, while managing to continue holding onto the target share of previous years. The biggest barrier to his fantasy success is the ability of the player to get on the field. If you are in a dynasty league then Johnson is a buy-low candidate. At the moment, with the uncertainty surrounding his injuries this season and struggles with production the only thing of value is his name. That allows for a low-risk, high-reward option for fantasy owners this offseason.
More Fantasy Football Analysis