I am going to start this column by introducing the concept of ADP, which I'm pretty sure you are already familiar with. Just in case you're not, Average Draft Position (ADP) indicates the average position where a player is drafted over more than one fantasy football draft. You can consider it as the price you have to pay to draft and get a player on your team. A high ADP (that is, actually, a low-numbered ADP) means that a player is going off draft boards early, and thus you'll need to draft him in the first rounds if you truly want him.
Low or high ADP values, though, are not gospel. Each of us fantasy GMs have our strategies and value players differently depending on what we think is the most important for them to have in terms of abilities. No matter what, though, ADPs are good to know the "average value" of the "average GM" you'll be drafting against.
In this series, I'll highlight players at each skill position seeing significant fluctuation since the start of May leading up to June using data from FFPC drafts that have taken place in that period. Today, it's time to look at four tight end fallers.
Tight Ends - ADP Fallers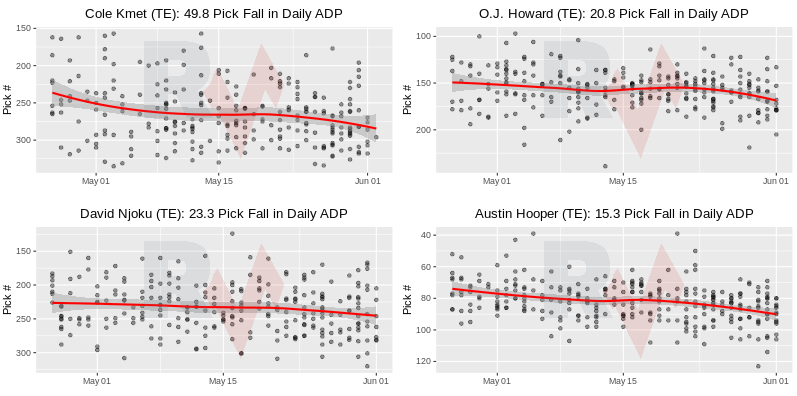 By the time the offseason arrived the Bears had a clear hole at the tight end spot. Chicago featured all of Trey Burton, Adam Shaheen, Ben Braunecker, Jesper Horsted, and Eric Saubert at the position last season. None of them played more than 11 games, though, so they needed fixes. Chicago added Jimmy Graham back in March, and then went on to draft Cole Kmet with a second-round pick in the draft. That is not crazy considering Graham's age (he's entering his 11th season as a 34-year-old), but fantasy GMs have slowly but surely assessed Kmet's chances in 2020, which his ADP shows.
When Kmet was drafted back in April he had an ADP close to 235 but it is now down to around 290. Kmet's price keeps falling, and it better stay on that path even further. The drop in ADP is what anybody could have expected, and I'd advise passing on the rookie tight end this season. The trend doesn't lie here as Graham pencils in as Chicago's TE1 and it is not that he has an injury history (he's missed seven games in his career and none since 2015).
Both Njoku and Hooper have experienced very similar drops in the ADP leaderboards during the past few weeks, and both are known fantasy football assets at this point in their careers. Njoku is entering his fourth year in the league but only has two seasons worth considering analyzing as he missed 12 games entirely last season. Hooper will be a fifth-year man with much better outcomes throughout his career.
At their peak levels, both Njoku and Hooper are 150-PPR point players, even more in the case of Hooper given what he did last year (191.7 points in just 13 games for an average of 14.7 PPG). The problem for Njoku (to keep improving his fantasy results) and Hooper (to keep his results up) is that they will share the field in Cleveland, and it is not that the team is short of weapons already. The Browns have two tight ends for a single position, but on top of that, they list Odell Beckham Jr. and Jarvis Landry (both top-24 WRs) as receivers and Nick Chubb and Kareem Hunt as rushers with pass-catching prowess.
The fall in these two tight ends' ADPs comes down to the "Tight End By Committee" approach that might take place in Cleveland. PFF projects Hooper's and Njoku's target to be split on a 60/40 ratio, giving Hooper 74 on the season to Njoku's 45. With that, Hooper projects to reach 136 PPR points and Njoku 79.8. As crazy as it might sound, Njoku is currently a better value pick than Hooper with a potential great ROI given both players' ADPs and expectations. Unless Hooper's ADP keeps falling he shouldn't be prioritized at all if only because of the share of opportunities he'll have to endure on his new team.
O.J. Howard, Tampa Bay Buccaneers
I don't think there is a lot to say about O.J. Howard that hasn't been said already. Howard had a good rookie season finishing as TE21, took the league by storm in 2018 when even playing just 10 games as he finished as the TE14 (12.1 PPG), and then vanished from the face of the earth last season (83.9 PPR over 14 games). At times it seemed he wasn't even looked at by Jameis Winston, as he could only top 10 PPR points once during the first 12 games of the season.
Do things look better now with Tom Brady in town? That would be the case if only Brady had arrived alone. Sadly for Howard, he did along with TE Rob Gronkowski, who like it or not will be the No. 1 TE of the team at least to kick the season off if only because of Brady's presence in Tampa. Howard is an afterthought in my eyes right now, his ADP can get lower and lower and I wouldn't even bother taking him as a late-round flier. There are much better options at much cheaper prices in much better situations (Dawson Knox, Kyle Rudolph, or Jimmy Graham, just to name a few). Hard fade on Howard.
More Fantasy Football Analysis