Golden Tate is now 32 and entering his 11th season in the NFL. When people head into their fantasy football drafts, nobody thinks about targeting a 32-year-old slot receiver, but Tate is still viable.
In fact, when people think about the New York Giants, they don't think about Golden Tate, they think about Saquon Barkley, Daniel Jones and whether to take a chance on the often injured Evan Engram.
It may be time to consider Tate as a solid WR option in fantasy drafts.
Stats Do Lie Sometimes
In his 10th NFL season, Tate averaged 61.5 yards-per-game which is above his career average, and he averaged 13.8 yards-per-catch which was the second best mark in his career. If you extrapolate his 2019-stats over 16 games, he would have hauled in 71 grabs for 984 yards.
The stats tell one story, but if you turn on the game and watch Tate play, he still has it, he runs good routes, and he can still get separation. In 2019, many of us considered Tate an afterthought because he was suspended for the first few games to start the season, which caused many to write him off. Keep in mind, Tate played 2019 with a rookie quarterback who was trying to figure things out in the NFL, and Saquon Barkley played most of the season with an injured ankle which impaired the offense's ability to move the ball.
When you look at the competition that Tate has for targets in the Giants passing game, it looks crowded right now with Darius Slayton, Sterling Shepard, and Evan Engram in the mix, but both Shepard and Engram have durability issues. Golden Tate is the most durable wide receiver on the Giants roster, he's the most consistent option they have, but he's also being drafted after all of the other guys as WR57 off the board. Darius Slayton is the fastest of all the Giants wide receivers and is the only true deep threat on the roster which makes him potentially volatile, while Tate is the safer option, who is more of a target in PPR leagues.
ADP Comparisons
When you compare Tate to the other players being drafted around his current ADP of 142, it looks like he's the closest thing to a sure thing on the board. Sterling Shepard (ADP 124), Darrel Henderson (ADP 127), Anthony Miller (ADP 129), Sony Michel (ADP 133), Breshad Perriman (ADP 135), Chase Edmonds (ADP 136) and DeSean Jackson (ADP 141) have all been getting drafted ahead of Golden Tate based on ADP data since August 1st. Tate is a more durable and more proven version of Sterling Shepard which means it may make more sense to pass on Shepard and take Tate a round later.
Darrell Henderson isn't going to start for the Rams, so unless you own Cam Akers, it doesn't make sense to take him at his current ADP. Chase Edmonds is a potential league-winner and with Kenyan Drake hurt, he does have appeal, but he's still the backup which means his usage may be week-to-week. While DeSean Jackson is currently listed as a starter for the Eagles, he has major durability issues, and the same goes for Sony Michel in New England, who is seemingly always nursing an injury and now facing competition from Damien Harris. Anthony Miller is intriguing, but he will always be the No. 2 wide receiver in Chicago as long as Allen Robinson is there.
Breshad Perriman is very interesting at his ADP going just before Golden Tate, because he's the Jets only real downfield threat in the passing game and will start at X.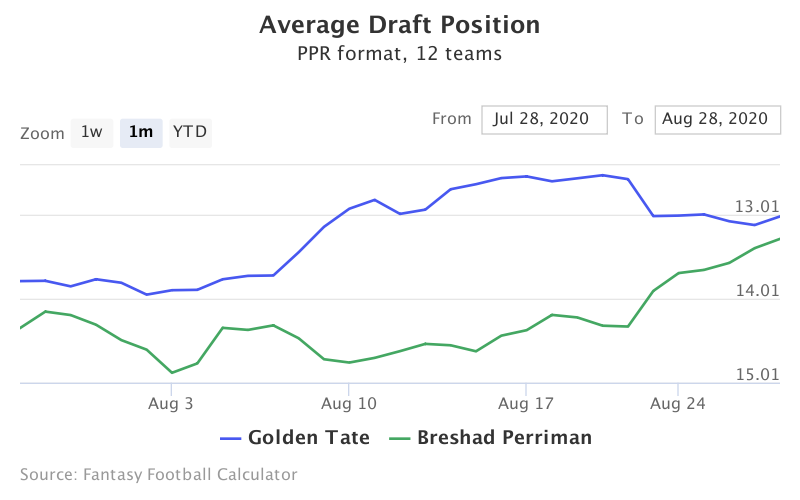 While I have been drafting Perriman everywhere I can this year, I am also willing to assume some risk when drafting my teams. When you get in the middle rounds of your draft and you're trying to evaluate whether to go with Perriman or Tate, you need to check on the status of your team and evaluate what you're looking to achieve. If you're in a PPR, then Golden Tate may be the safer option, as he scored 14 or more PPR-points in six of the 10 games he started in 2019. The Jets will likely struggle in 2020 which means they will be putting the ball in the air a lot, and while Sam Darnold does prefer to throw the ball to the middle of the field, Perriman remains their only true speed burner until Denzel Mims is healthy and proves he is ready for pro competition.
Conclusion
The bottom line is this, Golden Tate is a consistent receiving option playing with a quarterback entering year No. 2 who figures to take a step forward in his development. At his ADP of 142, you're likely drafting Tate for depth, but if you load up on other positions in your draft and you need help late in a PPR-league, Tate may be the guy that bails you out late in your draft.
Win Big With RotoBaller
Be sure to also check out all of our other daily
fantasy football articles
and analysis to help you set those winning lineups, including this new RotoBaller YouTube video:
More Fantasy Football Sleepers