BALLER MOVE: Add in 14+ Team Leagues
ROSTERED: 0% of Leagues
ANALYSIS: It's been a red-hot start for a considerable amount of tight ends across the NFL this season, meaning that talented rookies like Cole Kmet, Adam Trautman, and Brycen Hopkins have been lucky to get a single look over the first three weeks. The one member of that field who is starting to show signs of breaking through, somewhat surprisingly, has been Browns newcomer Harrison Bryant. Despite a very favorable scouting outlook, the Browns were able to snag the 6'5'', 243-lb. TE out of Florida Atlantic with the ninth pick in the fourth round of the 2020 NFL Draft, and he was supposed to be behind both David Njoku and Austin Hooper on the depth chart, but Njoku's sprained MCL has opened a window of opportunity for Bryant to get in on the action early.
Harrison Bryant finished his last season at Florida Atlantic with 65 catches for 1,004 yards and seven touchdowns. As far as college tight ends go, that is an extremely well-rounded stat line, regardless of what the competition was for Florida Atlantic when compared to other players. To kick off his NFL career, he has received two targets from Baker Mayfield and reeled one ball in for each of the past three weeks, going for 14 yards last week against the Bengals and grabbing a three-yeard touchdown pass this week against Washington. That's not as far behind Austin Hooper as you may think, as Hooper also saw two targets in Week One, four in each of Cleveland's last two contests, converting for seven catches and 62 yards overall.
It is definitely a year where Cleveland could get by in a lot of weeks with the minimum-possible passing attempts, and Odell Beckham Jr. and Jarvis Landry are still there to get most of the attention, but with the talent he displayed at the college level and the competence he has already shown as a pro, Harrison Bryant could find himself steadily climbing the ladder in coming weeks.
More Fantasy Football Waiver Wire Pickups
Dallas Goedert (TE, PHI) - Week 7 Waiver Wire Pickups
BALLER MOVE: Add in All Leagues ROSTERED: 41% of Leagues ANALYSIS: If you consider yourself a good fantasy GM, this post won't surprise you. It made some sense to drop Goedert back in September's end when he fell down injured and was put in IR, but you'd be not very intelligent if you're not targeting... Read More
---
Jeremy McNichols (RB, TEN) - Week 7 Waiver Wire Pickups
BALLER MOVE: Add in 14+ Team Leagues ROSTERED: 1% of Leagues ANALYSIS: As a 2017 fifth-round pick by the Tampa Bay Buccaneers out of Boise State, it was a very slow start to the professional career of running back Jeremy McNichols, taking just two carries for four yards with no targets in the passing game... Read More
---
Royce Freeman (RB, DEN) - Week 7 Waiver Wire Pickups
BALLER MOVE: Add in 14+ Team Leagues ROSTERED: 2% of Leagues ANALYSIS: Melvin Gordon is currently dealing with strep-throat (could be worse) and potential discipline from his recent DUI arrest, and while he could return this week, that remains up in the air, which leaves a window of opportunity open for Royce Freeman to build... Read More
---
Anthony Firkser (TE, TEN) - Week 7 Waiver Wire Pickups
BALLER MOVE: Add in 14+ Team PPR Leagues ROSTERED: 0% of Leagues ANALYSIS: Jonnu Smith has been the man at tight end for the top-tier Tennessee Titans squad so far this season, with Anthony Firkser serving as second-fiddle during Smith's breakout season. However, with Smith being held out of the Titans' last contest against the... Read More
---
Zach Pascal (WR, IND) - Week 7 Waiver Wire Pickups
BALLER MOVE: Add in 14+ Team Leagues ROSTERED: 6% of Leagues ANALYSIS: Pascal has had an interesting season so far. He has had four games with four or fewer targets, but he has also had a two with seven or more. One of those better performances was last week when he caught four of seven... Read More
---
Download Our Free Waiver Wire App
Like what you see? You can download our free fantasy football mobile app for iPhone and Android which includes more waiver wire recommendations at every position, 24x7 player news, notifications, injury alerts & daily articles.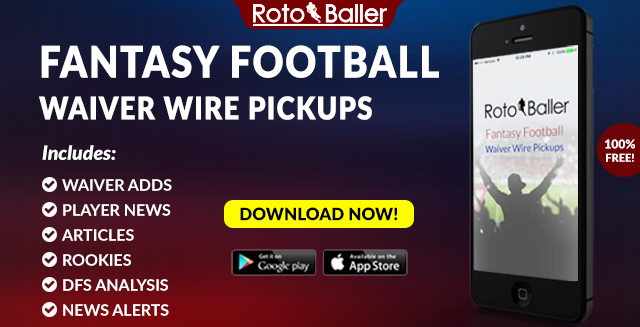 Win Big With RotoBaller
Be sure to also check out all of our other daily
fantasy football articles
and analysis to help you set those winning lineups, including this new RotoBaller YouTube video:
Check out RotoBaller's famous fantasy football draft sleepers and waiver wire pickups list, updated regularly!