2019 ended up being a transition year for the Indianapolis Colts after the bombshell retirement of QB Andrew Luck right before the campaign began. Backup Jacoby Brissett once again took the helm for Indy and guided them to a 7-9 record. That wasn't enough to reach the playoffs and now the Colts have missed them in four of the past five seasons.
To stay competitive in a rising division which features Deshaun Watson and the Texans, along with the upstart Titans, the Colts went out and strengthened their offense through free agency and the draft.
Longtime Chargers signal-caller Philip Rivers is now in Indy and will be running the show this season as the 38-year-old is out to prove he still has something left in the tank. The Colts have all the ingredients to be in contention this year, including a solid defense, veteran QB, and new weapons on the offensive skill units. Let's look at their players from a fantasy perspective:
Quarterback
38-year-old Philip Rivers regressed in some ways during his final season with the Chargers last year. The longtime veteran did post 4,615 passing yards (highest since 2015), but some of his other totals were notably lower/higher. An example of this is he had 23 pass touchdowns and 20 picks. Aside from his low touchdown rate and high interception rate, the signal-caller also had 7.8 pass yards per attempt, 288.4 passing yards per game, and an 88.5 quarterback rating.
The NC State product's age was reflected in his play last season and now this opportunity for Indy is one of his last chances to make a deep playoff run considering the team already drafted his eventual successor in former Washington QB Jacob Eason. There is also the presence of backup Jacoby Brissett. However, there is no reason for fantasy owners to worry at this moment as Rivers is clearly entrenched as the starter.
Rivers had 88 bad throws and a 15.4 percent poor throws per pass attempt rate last season. His bad throws were the eleventh-highest among NFL QBs and his poor throws per pass attempt rate was 26th highest, so both are not as bad. Adding to that is the fact that Rivers had 439 on-target throws, which ranked third highest among NFL QBs.
The 2004 draft pick has been a beacon of reliability and durability, as he has played and started in all 16 games since 2006, an eye-opening 14 consecutive seasons. The longtime starter posted the fourth-highest pass yards among NFL QBs last season, along with the sixth-highest pass yards per game.
Though his accuracy isn't completely off the rails and there are pros to having Rivers as your fantasy QB, there are some concerns with him too though. Rivers added a grand total of 29 rushing yards to his numbers, which means his rushing upside as a QB is virtually non-existent. His 20 picks were third highest among NFL signal-callers and he did have eight fumbles.
Rivers finished 15th among fantasy QBs last season, which is respectable. Heading into 2020, Rivers should be considered a backup QB in redraft leagues with 12+ teams. This is considering his age, lack of rushing abilities, and concerning number of picks from last year.
Running Back
Even with a capable running back in Marlon Mack, the Colts went ahead and drafted former Wisconsin RB Jonathan Taylor, which now complicates this unit from a fantasy perspective.
In multiple situations, coach Frank Reich has described the combo of Mack and Taylor as not a hierarchy, but RBs who are equally potent and can be lethal for the ground game together.
Mack broke out in his third-year last season. He had 247 rushes, 1,091 rushing yards, eight rush touchdowns, 4.4 rush yards per attempt, 77.9 rush yards per game, 14 receptions, and 82 receiving yards. The 24-year-old posted career-highs in rush attempts, rush yards, and rush yards per game. He added 2.0 rush yards after contact per rush and 12 broken tackles. Mack also had 42.1 percent of red-zone rushes inside the 5 for the Colts in 2019.
The Florida native had a 17th place fantasy finish among RBs last season. He also had a solid finish in many rushing categories, including tied for ninth-highest rush attempts, ninth in rush attempts per game (17.6), 11th in rush yards, ninth in rush yards per game, and tied for ninth in rush touchdowns.
Jonathan Taylor brings immense talent to the Colts RBs room as well. In three seasons with Wisconsin, the 21-year-old ran loose and racked up nearly three straight 2,000-yard rushing seasons, which is simply incredible.
Last season, the New Jersey native had the second-highest rush attempts among rushers in college football, tied for third-highest rush yards, and ended up in a four-way tie for second-highest rush touchdowns.
Taylor can be a workhorse back who can pound the rock and gain those extra yards with his stocky frame (5'10", 227 lbs). He also has terrific speed for a guy his size, as he recorded a 4.39 40-yard-dash in the combine, the highest among RBs. He has been compared to Browns back Nick Chubb.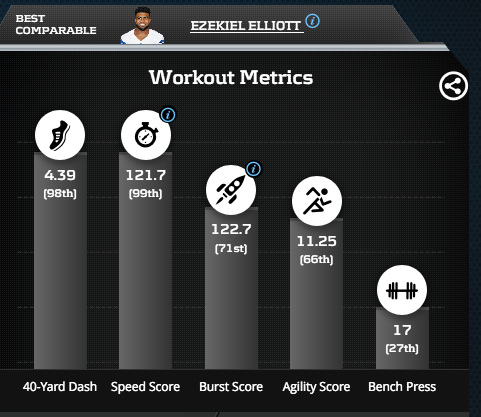 With his simply astounding skills and talent, Taylor found himself breaking many college rushing records in just a three-season span. This notably includes finishing as the sixth-highest rusher all-time in the NCAA and the only back to rush for 6,000+ yards in just three seasons. That's not all though. The youngster broke the freshman rushing record at 1,977 yards and had the most 200-yard rush games (12) in the NCAA Division I FBS, just to name a couple more.
The best way to view Indy's RB situation is to look at Mack and realize he is the more experienced back who proved himself last year (1,000+ rush yards). Though Taylor brings a lot of potential, he's still a rookie to needs to earn the starting role. Therefore, Mack should be the starter heading into 2020 while Taylor will fight for snaps and get chances to prove himself.
As the season progresses, Indy may ride with the hot hand or even relegate more clear roles to the two RBs. Because owners do not know whether each RB can sustain solid fantasy production from the beginning of the season to the end, it does add some risk to the fantasy values of both RBs. This is in addition to both backs' presence already lowering the value of the other. When looking at all of this, Mack can be considered a solid RB2 in redraft leagues with 10-12 teams while Taylor can be an RB2 in redraft leagues consisting of 14-16+ teams.
Wide Receiver
The Colts now have an interesting receiving corp that is comprised of T.Y. Hilton, rookie Michael Pittman Jr., sophomore Parris Campbell, and last year's leading receiver Zach Pascal.
Hilton is coming off a 2019 season which saw him play only 10 games due to quad and calf injuries. He will retake his WR1 role on the team this upcoming season assuming he can stay fully healthy. Last season, the FIU product compiled 45 receptions, 68/513 targets (13.3%), 501 yards, 11.1 yards per catch, and five touchdowns. His fantasy finish of 57th among WRs was naturally lower considering his missed time. There is no doubt Hilton can be a solid fantasy wideout for owners when healthy. He finished 15th among fantasy receivers in 2018 after playing 14 games.
Heading into 2020 though, the recent injuries, age (will be 31 in November), and the presence of younger receivers on the depth chart are all factors when looking at Hilton. Still, heading into drafts, the veteran is the most proven receiver on this unit. He's a solid WR2 in redraft leagues with 12+ teams.
Going further down the Colts WR depth chart is where things interesting. Indy drafted big-bodied receiver Michael Pittman Jr. out of USC. The California native is 6'4" and will be a huge red-zone target for Philip Rivers. Pittman should be considered the WR2 on the team though Campbell and Pascal will fight for that role too.
Nevertheless, Pittman is a special talent. The 22-year-old brings incredible hands, size, and strength to the Colts. He played four seasons at USC, and gradually improved each season. His senior season in 2019 was fantastic and put him in the school record books. Pittman accumulated 101 receptions, 1,275 yards, 12.6 yards per catch, and 11 touchdowns in 13 games last season. He ranked fourth among college receivers in receptions and 10th in yards.
The large receiver showed flashes of his incredible potential last season through a 232-yard receiving game. In addition, he closed out the season strong, getting over 100 yards receiving in four of the last five games for the Trojans.
The potential for Pittman to be a stud fantasy receiver is there; it just may not occur this year as he is a rookie who still needs to get adjusted to the NFL. Heading into drafts, consider him a solid flex piece. However, keep in mind the USC product's role and fantasy value could get bigger if T.Y. Hilton has any setbacks.
2019 pick Parris Campbell will look to carve out a bigger role for himself in 2020 too. The Ohio State product is the likely WR3 of the Colts heading into this new season, but his rookie season was far from impressive. That was due to the 23-year-old unfortunately dealing with multiple injuries, including a broken foot and hand.
Overall, Campbell mustered 18 receptions, 24/513 targets (4.7%), 127 yards, 7.1 yards per catch, and one touchdown in seven games. There is restored hope and potential for Campbell as he goes into his second NFL year. Nevertheless, he's a risky choice to draft in fantasy considering he is unproven, but you could take a flier on him late in the drafts of deep leagues.
Finally, Zach Pascal rounds out the top four receivers for Indy. Pascal was the leading receiver on the team in 2019 because of T.Y. Hilton's injuries. The Old Dominion product stockpiled 41 receptions, 72/513 targets (14.0%), 607 yards, 14.8 yards per catch, and five touchdowns in 16 games. This was a huge improvement from his rookie year in 2018, but the 25-year-old came in just 48th among fantasy receivers in 2019. With Hilton and Campbell expected to return healthy and Michael Pittman Jr. now in the mix, Pascal slides down the depth chart once again. His fantasy value consequently takes a hit as well. Don't draft the now third-year player for fantasy teams considering he will have a smaller role.
Tight End
Gone is Eric Ebron (signed with Steelers in free agency), which means Jack Doyle is the man on this TEs unit. Doyle finished third in receiving last season. The 30-year-old gathered 43 receptions, 72/513 targets (14.0%), 448 yards, 10.4 yards per catch, and four touchdowns in 16 games played. Doyle finished with a career-high in yards per catch. The Western Kentucky product finished 18th last season among fantasy tight ends.
Unfortunately, among tight ends last season, Doyle didn't get a top-10 finish in any major statistical category. Though his role may become slightly bigger in 2020 with the absence of Ebron, the eight-year veteran may not have one that is big enough to sustain good fantasy production weekly. In addition, other tight ends with larger roles on their offense could prove to be more serviceable as your TE1. Doyle should be considered a solid backup tight end in redraft leagues with 8-10 teams.
Win Big With RotoBaller
Be sure to also check out all of our other daily
fantasy football articles
and analysis to help you set those winning lineups, including this new RotoBaller YouTube video:
More Fantasy Football Analysis