BALLER MOVE: Add in 14+ Team PPR Leagues
ROSTERED: 6% of Leagues
ANALYSIS: It has been a tough year for running backs, and the continuous flow of injuries has only piled on to the already up-hill climb. Despite the uncertain start to his season, and the lack of voluminous work out of the running game, J.D. McKissic has emerged as a dependable pass-catching option out of the Washington backfield.
After an eight-carry, 53-yard showing in Week Two against the Cardinals, McKissic has received only eight additional hand-offs for 24 rushing yards, without a single rushing touchdown to his name. Despite this disappearance from the Washington ground attack, McKissic has transitioned into a key target in the Washington passing game since Week Three against Cleveland, when he caught three passes out of four targets for 37 yards. In the two contests since then against the Ravens and Rams, McKissic saw a combined 16 targets, converting on 13 of those balls for 86 yards receiving.
McKissic's emergent role as Washington's pass-catching back has led to more time on the field as well, as evidenced by the fact that he participated in 44% of offensive snaps for each of the first two games, but has been a part of over 50% of his team's snaps on offense since his epiphany contest against the Browns. Shockingly, despite McKissic's drastically reduced role as a ball carrier, he remains Washington's second-leading rusher with 75 yards behind Antonio Gibson's 213, as Dwayne Haskins remained largely silent as a runner and Peyton Barber has been almost completely reeled in after averaging just 1.7 yards per attempt on the ground.
With his newly established role in the receiving game ramping up and the availability of start-worthy running backs running thin, J.D. McKissic is a fantastically reliable asset to deploy in the coming weeks.
More Fantasy Football Waiver Wire Pickups
Dallas Goedert (TE, PHI) - Week 7 Waiver Wire Pickups
BALLER MOVE: Add in All Leagues ROSTERED: 41% of Leagues ANALYSIS: If you consider yourself a good fantasy GM, this post won't surprise you. It made some sense to drop Goedert back in September's end when he fell down injured and was put in IR, but you'd be not very intelligent if you're not targeting... Read More
---
Jeremy McNichols (RB, TEN) - Week 7 Waiver Wire Pickups
BALLER MOVE: Add in 14+ Team Leagues ROSTERED: 1% of Leagues ANALYSIS: As a 2017 fifth-round pick by the Tampa Bay Buccaneers out of Boise State, it was a very slow start to the professional career of running back Jeremy McNichols, taking just two carries for four yards with no targets in the passing game... Read More
---
Royce Freeman (RB, DEN) - Week 7 Waiver Wire Pickups
BALLER MOVE: Add in 14+ Team Leagues ROSTERED: 2% of Leagues ANALYSIS: Melvin Gordon is currently dealing with strep-throat (could be worse) and potential discipline from his recent DUI arrest, and while he could return this week, that remains up in the air, which leaves a window of opportunity open for Royce Freeman to build... Read More
---
Anthony Firkser (TE, TEN) - Week 7 Waiver Wire Pickups
BALLER MOVE: Add in 14+ Team PPR Leagues ROSTERED: 0% of Leagues ANALYSIS: Jonnu Smith has been the man at tight end for the top-tier Tennessee Titans squad so far this season, with Anthony Firkser serving as second-fiddle during Smith's breakout season. However, with Smith being held out of the Titans' last contest against the... Read More
---
Zach Pascal (WR, IND) - Week 7 Waiver Wire Pickups
BALLER MOVE: Add in 14+ Team Leagues ROSTERED: 6% of Leagues ANALYSIS: Pascal has had an interesting season so far. He has had four games with four or fewer targets, but he has also had a two with seven or more. One of those better performances was last week when he caught four of seven... Read More
---
Download Our Free Waiver Wire App
Like what you see? You can download our free fantasy football mobile app for iPhone and Android which includes more waiver wire recommendations at every position, 24x7 player news, notifications, injury alerts & daily articles.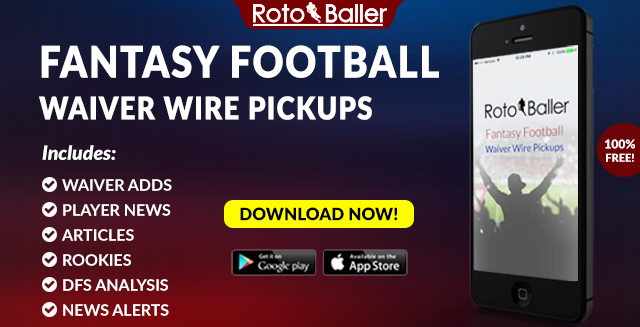 Win Big With RotoBaller
Be sure to also check out all of our other daily
fantasy football articles
and analysis to help you set those winning lineups, including this new RotoBaller YouTube video:
Check out RotoBaller's famous fantasy football draft sleepers and waiver wire pickups list, updated regularly!