Who's ready for a rainy day at the Charlotte Roval?
After a crash-heavy Xfinity race that saw a lot of surprises -- a Cody Ware top 10, y'all! -- we get set for another eventful race on Sunday, this time from the Cup Series. What will happen?
Feel free to hit me up on Twitter if you have any NASCAR questions (or, really, any questions about any sport that isn't baseball)": @juscarts.
Editor's Note: With NASCAR back and revving, it's time for you to win big with RotoBaller and join in on the fun with our other NASCAR DFS winners! Subscribe to our NASCAR DFS Premium Pass and get exclusive access to DFS Cheat Sheets, a powerful Research Station, the DFS Lineup Optimizer for NASCAR Cup, Xfinity and Trucks contests. Plus DFS driver rankings from 19-time DFS tournament winners Drew Deen and Sean Engel.
VIEW TOOLS
NASCAR DFS Research for Bank of America Roval 400
If you are not familiar, in this article I will highlight some helpful NASCAR data from my deep dive into the Premium Research Station. You can get full access to that Premium DFS Tool, and others including our Lineup Optimizer, with our NASCAR Premium Pass.
Top Fantasy Values At The Roval
Obviously, building a strong DFS lineup requires you to find some strong value, and one thing our Research Station can provide you is the tools needed to find those values.
One way to determine value -- projected fantasy points per $1,000 dollar salary. Basically, which drivers are projected to score the most fantasy points relative to their price. This can help you figure out how to maximize your projected fantasy points.
Looking at projected value on DraftKings and potential value plays, we see:
Some things that stick out here:
Michael McDowell is a good road course racer and while this FRM car hasn't had great speed all year, he has two top 20s in two races here and starts 31st, giving him a lot of place differential upside.
Ricky Stenhouse Jr. and Christopher Bell start outside the top 30, with Stenhouse starting last. Huge place differential upside, even if neither is the most reliable option at this track.
Austin Dillon is the opposite of a value. Starts sixth. No top 20s here. The biggest AVOID AVOID AVOID of the weekend.
Cole Custer and Chris Buescher are like a less valuable version of Stenhouse and Bell. They start a little too much closer to the front to be as good of plays, but in a race that should be fairly chaotic, surviving can get them solid DFS days.
Roval Driver Ratings
NASCAR's driver rating formula puts together a lot of factors to spit out a number that rates how a driver performed in a certain race.
Here are the Charlotte Roval ratings for the top FanDuel drivers this week: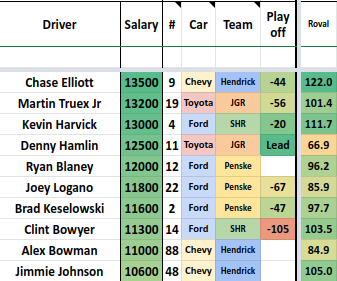 Hey, look, someone who is not Kevin Harvick is the best driver here! It's a miracle!
Anyway, some observations:
Denny Hamlin has not run well at the Roval, and it's a good thing he doesn't need a top finish to advance. As the fourth-highest play on this slate, Hamlin's a fade, unless you're going full contrarian with a lineup or two, in which case Hamlin should be relatively low-rostered.
Elliott has been the best driver here, with an average finish of 3.5 and the best Roval driver rating. He should be considered one of the favorites to win this week, and starting second offers some good opportunities for him to lead early laps.
Blaney starts way back in 24th. His 96.2 rating here is very good, and he's won one of the two Cup Series races at the track. He might end up being too popular of a pick, but hey -- plenty of upside!
Hendrick Motorsports has run well here. There's Elliott, and then Jimmie ohnson and Alex Bowman whose ratings are listed above, but there's also William Byron at 98.6 here.
Daniel Suarez has run decently here, with a 70.2 rating, and this is setting up to be a race where Gaunt Brothers's lack of speed isn't going to hurt Suarez as much as usual.
Did you know RotoBaller has a Premium DFS NASCAR subscription?
Like what you read today? You can show your support for Justin by using promo code CARTER when purchasing a NASCAR Premium Pass. You get 10% off and full access to all of our Premium NASCAR articles, DFS tools, and Lineup Optimizer!
Other Interesting Notes!
Here are some other things I found via the Research Station that I think y'all should know:
Kyle Busch has wrecked out here twice. But with his salary pushed down because of that, he might end up being underused this week and be a nice pivot off of a chalkier play in his salary range.
Clint Bowyer and Alex Bowman have never finished outside of the top five here!
Ryan Newman was 11th here in 2018 and starts 15th. I think a lot of people will avoid him because of the starting position, but another good pivot to differentiate your lineup.
James Davison is getting priced a little too high, but he has road racing experience and if rain is the equalizer today that allows Rick Ware cars to be semi-competitive like in the Xfinity race, Davison and is 37th-place starting position become a fairly appealing play.
Heck, even J.J. Yeley and Gray Gaulding have interest. Avoid some wrecks and they end up with a positive place differential.
More NASCAR DFS
Be sure to also check out all of our other weekly
NASCAR DFS articles
and analysis to help you set your optimal DFS lineups, including this weekly YouTube video:
NASCAR DFS News and Driver Outlooks
More Fantasy NASCAR Analysis