For fantasy football GMs, draft season is gearing up. Preparing for what is waiting for us in our virtual war-rooms is a key part of the process, and the first thing to know is the format of the league we're going to be part of. The difference between Standard and PPR (Point-Per-Reception) scoring systems is really simple, with the latter awarding one extra point to players that catch a pass. Standard scoring was a staple in the early days of fantasy football, but PPR has become the most played system lately.
It doesn't take a genius to know who this benefits the most: over-targeted receivers, pass-catching running backs, and reliable tight ends. While some players are good enough to put up numbers on their pure talent, others might fall a bit short on the ability leaderboard. Some of those, though, trump the most talented ones in fantasy leagues due to a heavier usage and racking up receptions that go for extra fantasy points.
Having the PPR scoring system in mind, it's time to discover which players are surefire bets to excel in leagues following that format that are currently being undervalued in drafts by fantasy GMs. Today, I'm highlighting four tight ends who are primed to become studs in these leagues that have lower ADPs and prices than those they should be attached to.
Editor's Note: Love the strategy of season-long fantasy sports? Live for the short term gratification of DFS? Try Weekly Fantasy Sports on OwnersBox - a new weekly DFS platform. Sign up today for a FREE $50 Deposit Match.
Sign Up Now!
ADP: 116.2, Projected PPR: 201.6
Let's start by addressing the elephant in the room. Gronkowski announced his comeback all the way back on April 21. Since then, Gronk's ADP has fallen steadily to sit at 116.2 by mid-June. In 12-team PPR leagues that means that Gronkowski is getting drafted around the tenth round.
Tight ends tend to always be overvalued, thus getting drafted at ADPs that don't correlate with their projected PPR outcomes. In Gronkowski's case, though, that's not true. Using PFF projections, Gronk is expected to score 201.6 PPR points (good for TE6) in 2020 while he's getting drafted as the TE13. In fact, Gronkowski's ROI (calculated as the player's ADP divided by the player's overall rank in the league, all positions considered) is the second-highest at 1.47 (values below 1.0 signify bad returns and over 1.0 good returns) among TEs getting drafted inside the first 15 rounds--that is, drafted at all--only behind Darren Waller's 1.48 ROI.
The Bucs offense is a little bit scary if only because it features two great wideouts in Mike Evans and Chris Godwin, because there is another (in theory) good TE in the team that could take from Gronkowski's opportunities (O.J. Howard) and because Tom Brady is a new piece in the system. That last point, though, should work in Gronk's favor. The pair have spent their careers together in New England and odds are they elevate each other.
Remember, right now Rob is one of just five TEs expected to return positive value at the position while being drafted (ADP below 180), projects to more than 200 PPR points, 94 targets, 65 receptions, in the No. 3 role with the third-most opportunities (10.2%) among all of Tampa Bay's players.
ADP: 104.4, Projected PPR: 152.6
I have to admit I was the first to get overly hyped about Hockenson's rookie-season potential a year ago. All that got me was a huge disappointment. I was ecstatic after Hockenson's first professional game (he went on to reach 25.1 PPR and finished as the 30th-best player of Week 1) but it took Hockenson five games combined after that one to reach that tally again. Was Hockenson a one-game wonder poised to get lost, or is there anything valuable in him?
Judging by his ADP of 104.4 (eighth round) it looks like fantasy GMs are taking Hockenson's potential with a grain of salt. He's the 10th tight end going off the board, which would make him a borderline starter in a 12-team league. Hockenson's projections and past usage, though, speak much better of what could be ahead for him.
Hockenson projects to finish the year as the TE10 with 152.6 PPR points. He is penciled in as the No. 3 option on the Detroit offense judging by the opportunity share he is expected to get (9% of all Lions' targets and carries with 84 over the year). He is also projected to get 15.7% of Detroit's targets, making him one of only 12 tight ends over 15%, and is expected to catch 60 of his 84 targets for 4 TDs and 666 yards. Only ten tight ends are projected to 60+ receptions, Hockenson among them.
ADP: 178.5, Projected PPR: 134.8
Let me keep this simple: Jack Doyle's ADP makes no sense. If you're like me and draft your kicker and defense with the last two picks, then that'd mean you stop drafting skill-position players with the 156th pick at the latest leaving the last two rounds for those two extra positions. Doyle, in that case, would be going undrafted. Doyle also projects to finish 2020 with 134.8 PPR good for TE15 over the year. While that aligns, Doyle has the seventh-highest ROI among TEs, making him a truly undervalued player with massive upside by fantasy GMs.
Doyle, projected to catch 57 passes in 2020, is the only player at the position with such a high projection and an ADP over 116. That 62-pick distance in ADP between Gronkowski (116.2) and Doyle (178.5) would be the same as between Doyle and the likes of C.J. Uzomah, Tyler Eifert, and Josh Oliver, none of whom projects to reach more than 76 PPR points.
Indianapolis now has a much better QB in veteran Philip Rivers, Doyle will be the TE1 of the team, and we all know what happened to T.Y. Hilton and his injury bill last season. While Doyle is far from a top-tier tight end he still projects to get 14.3% of the Colts targets (fourth-most among teammates) and catch 57 passes (11th-highest projection among TEs) for 536 yards and four TDs.
Eric Ebron, Pittsburgh Steelers
ADP: 129.5, Projected PPR: 110.5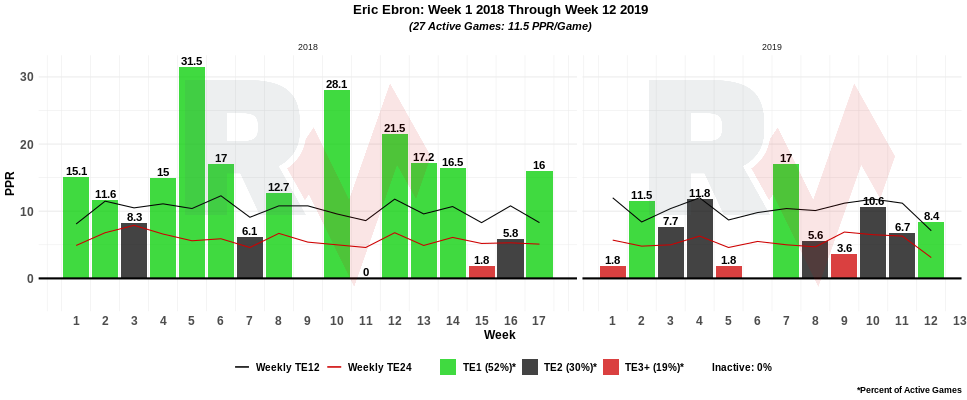 After an impossible 2018 season in which Ebron destroyed all projections, he came back to earth in 2019. Even with that (and including the five games he missed) he still finished as a low-end TE2 averaging 7.9 PPG (the 19th-most among TEs over the year). Those numbers don't get you excited, but considering Ebron's current ADP (TE25) and his projection of 110.5 PPR points in 2020 I would say he's being more than a bit undervalued.
Now a Steeler, Ebron will jump from Jacoby Brissett throwing him the ball to Ben Roethlisberger. On top of that, Ebron projects to be the No. 3 receiver of the Steelers in 2020 with a 12.2% target share (61 targets) and 40 receptions for 494 yards and 3 TDs. All in all, Ebron is currently the cheapest tight end with a 12% or higher target share projection, and the only one getting drafted outside of the 10th round with a projected No. 3 role in the passing game of his team.
The truth is that Ebron's upside relies more on efficiency than volume. His raw projections and counting stats are not the highest, but if he makes the most of his chances he could turn into a great value in 2020 and turn himself into a weekly TE2 with chances at scoring as a low-end TE1.
More ADP Values and Sleepers