BALLER MOVE: Add in 2QB Leagues
ROSTERED: 35% of Leagues
ANALYSIS: I've been telling you for a while now: without Jameis Winston in the active roster of starting quarterbacks, Ryan Fitzpatrick is the closest thing we have to a boom-or-bust player at the position. Is that great? No. Is it bad? Neither. In fact, and strictly for fantasy football purposes, this type of quarterback is a very nice play to feature on your roster weekly. Just look at Fitzmagic's numbers and you'll give me props for giving you that tip.
Other than his W1 dud (7.4 FP against New England), Fitzpatrick has been as good and steady as anyone. In his last three games, he's put up 24.3, 21.2, and 23.3 FP respectively. While Fitz only threw for 160 yards in W3, he compensated that with 2 touchdown passes. In weeks 2 and 4 he went for 2 and zero TDs, but he he reached 315+ yards in each of those games completing more than 64% of his attempts. Not only is Fitz good at tossing the ball, but he's also stepped up his rushing game lately: he ran with the rock for 38 yards and a TD in W3, and improved on that with 47 yards and another score this past weekend.
Truth be told, Miami is going to face the toughest defense against QBs they'll have played in the first five weeks (San Francisco, 7th-fewest fantasy points allowed to quarterbacks). Even with that, though, you know how Fitzpatrick works. Sure, he might throw two or three picks, as he's done in two games already, but he's also going to throw a ton of passes for a lot of yards and most probably end with at least a couple of touchdowns passing/rushing. If you're streaming the position in any-depth league, consider him a good starter. If you play in 2QB leagues, make him a start no matter what.
More Fantasy Football Waiver Wire Pickups
Dallas Goedert (TE, PHI) - Week 7 Waiver Wire Pickups
BALLER MOVE: Add in All Leagues ROSTERED: 41% of Leagues ANALYSIS: If you consider yourself a good fantasy GM, this post won't surprise you. It made some sense to drop Goedert back in September's end when he fell down injured and was put in IR, but you'd be not very intelligent if you're not targeting... Read More
---
Jeremy McNichols (RB, TEN) - Week 7 Waiver Wire Pickups
BALLER MOVE: Add in 14+ Team Leagues ROSTERED: 1% of Leagues ANALYSIS: As a 2017 fifth-round pick by the Tampa Bay Buccaneers out of Boise State, it was a very slow start to the professional career of running back Jeremy McNichols, taking just two carries for four yards with no targets in the passing game... Read More
---
Royce Freeman (RB, DEN) - Week 7 Waiver Wire Pickups
BALLER MOVE: Add in 14+ Team Leagues ROSTERED: 2% of Leagues ANALYSIS: Melvin Gordon is currently dealing with strep-throat (could be worse) and potential discipline from his recent DUI arrest, and while he could return this week, that remains up in the air, which leaves a window of opportunity open for Royce Freeman to build... Read More
---
Anthony Firkser (TE, TEN) - Week 7 Waiver Wire Pickups
BALLER MOVE: Add in 14+ Team PPR Leagues ROSTERED: 0% of Leagues ANALYSIS: Jonnu Smith has been the man at tight end for the top-tier Tennessee Titans squad so far this season, with Anthony Firkser serving as second-fiddle during Smith's breakout season. However, with Smith being held out of the Titans' last contest against the... Read More
---
Zach Pascal (WR, IND) - Week 7 Waiver Wire Pickups
BALLER MOVE: Add in 14+ Team Leagues ROSTERED: 6% of Leagues ANALYSIS: Pascal has had an interesting season so far. He has had four games with four or fewer targets, but he has also had a two with seven or more. One of those better performances was last week when he caught four of seven... Read More
---
Download Our Free Waiver Wire App
Like what you see? You can download our free fantasy football mobile app for iPhone and Android which includes more waiver wire recommendations at every position, 24x7 player news, notifications, injury alerts & daily articles.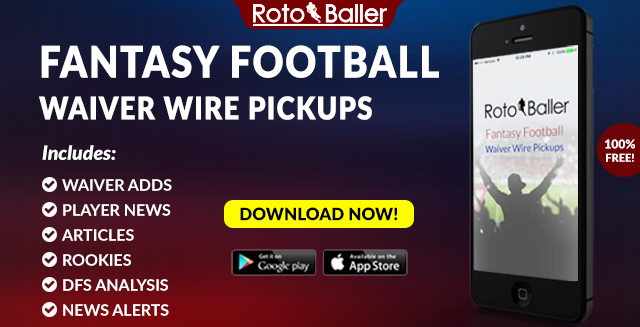 Win Big With RotoBaller
Be sure to also check out all of our other daily
fantasy football articles
and analysis to help you set those winning lineups, including this new RotoBaller YouTube video:
Check out RotoBaller's famous fantasy football draft sleepers and waiver wire pickups list, updated regularly!