Welcome to another edition of Tape Tells All. I've been thinking of rebranding as just TAPE. All-Caps like that. Probably wouldn't be a good idea for SEO purposes, right?
Anyways, this week we'll be discussing Detroit Lions rookie running back D'Andre Swift.
Swift set a lot of career highs this week, with bests in carries (14), rushing yards (116), and rushing touchdowns (two). But did Swift show that he's ready to be a consistent fantasy option moving forward, or was this just an illusion?
Editor's Note: Get any full-season NFL Premium Pass for 50% off. Exclusive access to our Premium articles, rankings, projections, 15 lineup tools and daily Premium DFS research/tools including our Lineup Optimizer, Research Station and so much more!
Sign Up Now!
Background Information
When Detroit drafted the rookie out of Georgia in the second round, it was a bit of a surprise, as they'd just recently spent some high draft capital on Kerryon Johnson. But the Lions have been fruitlessly searching for a star running back since Barry Sanders retired and injuries had already started to plague Johnson's career, so it made sense.
Then, they went ahead and signed Adrian Peterson, further complicating a backfield that wasn't expected to do much anyways because of how pass-happy the Matthew Stafford Lions have been.
But Detroit is averaging 27.6 rushing attempts per game, which puts them 16th in the NFL. Last season, they averaged 25.6 rushing attempts per game, which also ranked 16th. That's where we are in the second year of Darrell Bevell as offensive coordinator. This is no longer the 2017 Lions team, which ranked 31st in rushing attempts. Things have changed in Detroit, even if the narratives around those things haven't yet.
Still, feeding multiple mouths is tough. Here's the rushing attempts and snaps for Detroit's running backs through six weeks, per Add More Funds:
Peterson has the clear edge when it comes to rushing attempts, earning 57.5 percent of carries by running backs and 48.28 percent of red zone carries. Johnson and Swift on the season have basically split the carries behind Peterson.
But things change. Johnson in the past two games has just 13.73 percent of running back carries, with Swift up to 35.29 percent. The makeup of this backfield is shifting, especially after what Swift did this week: 14 carries, 116 yards, two touchdowns.
Johnson's basically out of the picture. But, what does Week 6 really mean for Swift?
The Game Tape
Swift got started right away in this one, as his first carry of the game went for 54 yards. Of course, that first carry did come after Adrian Peterson had five carries, but another way to look at that would be to say that after the first series of the game where Peterson scored a touchdown, Swift outplayed and outtouched him.
Anyway, the play: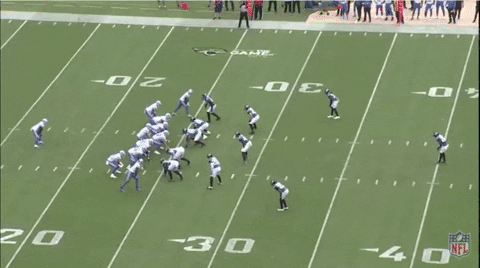 Swift finds the hole and then is off to the races, getting deep into Jaguars territory before a defensive back manages to chase him down. It's an explosive play for the rookie, who shows how he's able to get to the next level of the defense thanks to an 83rd percentile 40-time among running backs.
This also helped:
Look how that offensive line creates this perfect opening for Swift, occupying all the defenders down near the line of scrimmage and allowing Swift to get past those initial defenders.
This offensive line does rank just 19th in adjusted line yards, so it's not like these holes are being opened on each play. But on this one, it worked out for the Lions and for Swift.
But see, the blocking isn't always there. There's no hole for Swift, so he has to try to bounce outside, where he comes face to face with a Jags defensive back. One-yard gain. This is a good example of how even a talented back can't turn a nothing play like this into a something play.
Okay, on to the touchdowns.
Swift's first touchdown was a one-yarder. He's able to squeeze his way into the end zone here, doing a little sideways leap to make it happen.
More important than the actual result of the play is that Swift got the ball this deep into Jaguars territory. Swift received four red zone and three money zone attempts in this game, leading the Lions. He had 50 percent of the team's red zone carries in Week 6. Over the first four games, he'd received just 9.52 percent of those red zone looks. The biggest thing about this game, in my opinion, is that the Lions were suddenly trusting Swift in the part of the field that's most conducive to fantasy scoring.
Let's quickly zoom through some other observations before ending with the final touchdown: There were a slightly concerning number of low-yardage plays, but watching the film of those, it's hard to blame Swift too much for that. Like, they ran a 2nd and 11 toss play, but the blocking never developed and Swift was caught after just a one-yard gain. I can't hate on the running back for that when the playcalling and the line were also to blame. He did manage to find a few good holes and get some solid yardage at times, though.
Anyway, the second touchdown:
Another red zone carry!
On this one, Swift makes a nice cut back inside, then is able to absorb contact and push his way into the end zone. It's another very encouraging sign for the type of work he should get going forward.
Fantasy Impact
So, what do we think of Swift going forward?
I'd say to be cautiously high on him.
The increased workload seems to suggest we're moving more towards an equal split between Swift and Peterson, which should offer Swift more opportunities to make big plays. But we still have to contend with the fact that Peterson is here, and that Peterson had been the main red zone back up until the last game.
Swift is unlikely to suddenly be a bellcow. Not while they have a reliable veteran like Adrian Peterson around. But he should be someone who provides RB3 fantasy value going forward, and whose ability to get involved in multiple facets of the game -- I didn't even talk about his receiving ability -- gives him upside.
Swift has rendered Kerryon Johnson irrelevant at this point, so you can go ahead and move on from Johnson in redraft. And there's a very likely scenario in 2021 where Swift is getting 75 percent of the work in this backfield, in which case he'd be a high-end RB2 play. Dynasty managers should keep that in mind.
But in redraft, he's just fine for now. He'll have good games. He'll have not-so-good games. The talent is very clearly there, but the right opportunities might not be. Yet.
Win Big With RotoBaller
Be sure to also check out all of our other daily
fantasy football articles
and analysis to help you set those winning lineups, including this new RotoBaller YouTube video:
More Fantasy Football Analysis