Welcome back to Tape Tells All, your home for film and stat breakdowns of a rising fantasy player's performance from the previous week.
In today's addition, we'll be looking at Minnesota Vikings wide receiver Justin Jefferson. The rookie exploded in Week 3, catching seven passes for 175 yards and a touchdown. Is he the new Stefon Diggs?
This article also comes with an important caveat, as Jefferson plays for Minnesota, who faced Tennessee this past weekend. After positive COVID-19 tests from the Titans, both teams are currently not practicing, which could put Minnesota's status to play in Week 4 in jeopardy. Something to be aware of and monitor as we move forward.
Editor's Note: Love the strategy of season-long fantasy sports? Live for the short term gratification of DFS? Try Weekly Fantasy Sports on OwnersBox - a new weekly DFS platform. Sign up today for a FREE $50 Deposit Match.
Sign Up Now!
Background Information
This all starts with the Stefon Diggs trade.
In March, the Vikings traded Diggs to Buffalo for a host of draft picks, including Buffalo's first rounder. That first rounder was used to draft the presumed Diggs replacement, LSU wide receiver Justin Jefferson.
Last year with the Tigers, Jefferson caught 111 passes for 1,540 yards and 18 touchdowns. Those numbers ranked:
tied with James Proche for first in receptions
third behind teammate Ja'Marr Chase and Arkansas State's Omar Bayless in receiving yards
second to teammate Ja'Marr Chase in receiving touchdowns
So, Jefferson showed that he could excel with a good quarterback throwing him the ball, and he also showed that he could still put up big numbers playing with another top wideout. I'm not sure Kirk Cousins is good enough for that first point to translate well to the NFL, but Jefferson's ability to succeed with Chase on the other side of the field does suggest to me that he can form a strong pairing with Vikings wide receiver Adam Thielen.
In terms of workout metrics, Jefferson runs a 4.43 40-yard dash, which ranks in the 86th percentile at his position. He's got strong speed and burst scores as well. There are some concerns about his college metrics -- a 50th percentile dominator score, a 47th percentile target share -- but some of that can be chalked up to playing for LSU, where there are always so many talented skill positions that it can become difficult to completely dominate in terms of opportunities.
Through his first two games of his NFL career, Jefferson hadn't done much, with five total receptions for 70 yards. He only played 54 percent of the snaps in Week 2 with OlaBisi Johnson taking 78 percent of the snaps and serving as the primary No. 2 receiver.
Things changed this week. Jefferson was the one playing 78 percent of the snaps, with Johnson playing just five snaps and Chad Beebe taking the No. 3 role. It really looks like Jefferson has taken the reins of the No. 2 receiver role in Minnesota.
Now, what can he do now that he has it? Let's turn to the tape.
The Game Tape
Let's jump right into it with Jefferson's first reception of the game:
First off, are the Vikings spreading out the field??? Whoa! Seeing this kind of spacing for a Vikings team that's run 21 personnel the fourth-most in the league is nice to see, even if this isn't a true four receiver set since one of those players out wide is a running back.
Anyway, now that I'm not distracted by spacing, let's talk about Jefferson. A big question with him was how he'd fit on a Vikings team with Thielen because both players are excellent from the slot. Turns out, you can just make it work.
On this play, Jefferson's on the inside, runs a little out route, then turns it up field and is able to wind up with a few yards after the catch. Good, steady play that also hints at Jefferson's explosiveness, as he looks like he's shot out of a cannon once he gets the ball. Unfortunately, that cannon had two defenders right on him then and the explosion just kind of fizzled out.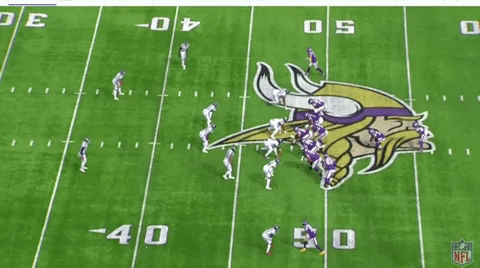 Here, we see a more Vikings-like formation -- two receivers, two running backs, one tight end. Jefferson operates as the outside receiver here on the left and, like in the first play, uses his footwork to get open. A nice cut gives him the space to make the play, but he isn't able to do much after because the defender is there on him. We see Jefferson playing really physically after the catch again, though -- like the first play, he can't break through the defender, but he does give it his best effort.
We're going to skip the next two catches, because they were a lot like the first two -- Jefferson makes a 90-degree cut, catches the pass, etc.
Up after that was a 31-yard gain:
Hey, another play where motioning a back out wide creates a de-facto four receiver set!
Jefferson's your main outside man here and instead of running 10 yards and cutting towards the sidelines, the team dials up the deep route for him. Jefferson is being single covered over there, making this a pretty simple play: Jefferson outruns the defender and is able to go up and make the catch.
This is where we should note something: for all the faults we hear about Kirk Cousins, Jefferson's catchable target rating of 86.7 percent ranks 27th among wide receivers and his target quality rating is 10th. He's not getting thrown bad passes from Cousins, and that's a nice bonus for Jefferson.
Anyway, I think y'all probably want to talk about the touchdown. Let's talk about the touchdown.
JUSTIN JEFFERSON.
Lot happening here. Jefferson starts in the left slot, then comes across the field at the snap, where he's picked up by Titans safety Kevin Byard. Byard is a good player, but Jefferson is able to just completely outrun him, getting a ton of space over on the deep right segment of the field.
Jefferson's momentum carries him towards the sideline and he slows up a little to keep from going out of bounds, allowing Byard to catch up to him and make the tackl...oh, no, Byard can't bring Jefferson down, who shifts around and ends up just walking in for the score.
This is a big thing I like about Jefferson: he can just be explosive as hell out there, and he moves so fluidly. He's no Stefon Diggs (yet???) but he's an extremely talented receiver.
Fantasy Impact
So, what do we make of Jefferson going forward?
First off, the Jefferson trade market is probably out of control this week in dynasty leagues. Be careful with overpaying.
But in redraft leagues, there's a good chance Jefferson is out there on waivers, in which case you 100 percent should be picking him up. He's not going to have this kind of performance each week or, likely, even one more time this year, because huge touchdowns don't grow on trees.
But Jefferson is trending up. He's taken clear control of the No. 2 receiver role in an offense that's done a good job supporting two good fantasy receivers. He can play inside and outside, and his footwork helps him be an impactful player in the short passing game.
I don't know how reliable deep targets will be for Jefferson. This is not an offense that feels designed for deep targets. But even if the air yards don't come, Jefferson's still a solid play in full PPR leagues. Week 3 might not be repeatable as a whole, but certain moments from it definitely are.
Win Big With RotoBaller
Be sure to also check out all of our other daily fantasy football articles and analysis to help you set those winning lineups, including this new RotoBaller YouTube video:


More Fantasy Football Analysis