The CB Matchup Chart has been a helpful resource all season, specifically in Week 6. Last week's article was predictive in forecasting boom games for Julio Jones, Justin Jefferson, and Christian Kirk. It also predicted let-downs from Robby Anderson, Cooper Kupp, and Mike Evans. This week's chart will give the most accurate landscape of CB matchups yet, as I have continued to update it with new data and left and right alignment splits.
The chart below is a snapshot of each team's cornerback group as it relates to allowing fantasy points. There are inherent flaws within the data compilation of cornerback play. The first being the fact that quantifying a 1-on-1 matchup in an NFL game is unfair because of zone coverages, mental errors, certain passing concepts, and a million other things. Assigning fantasy points against a cornerback isn't a perfect science. The purpose of this chart is to give more of a general sense of how defenses are handling opposing WR groups, rather than identifying exactly where, when, and how every single encounter happened.
The "Rtng" column is the rating of each cornerback based on film study and analytics. The lower a player is graded, the easier the matchup for the WR, so low ratings are green and high ratings are red. The "PPGA" is the number of fantasy points per game that the player has given up. A name in blue means the corner could possibly shadow the WR1. A name in red means that the player is dealing with an injury. WRs highlighted in yellow have an easy matchup. WRs highlighted in pink have a tough matchup.
Cornerback Ratings and Matchups - Week 7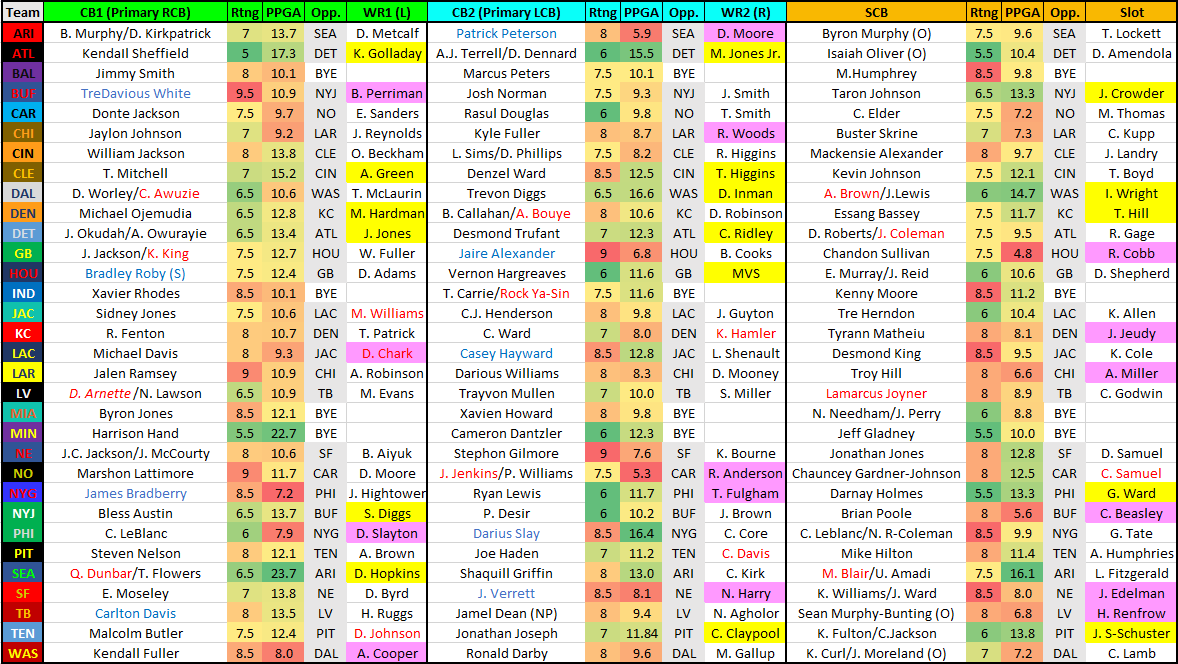 WR/CB Matchups to Target
The analysis below will help contextualize the chart, as in most cases a receiver did not score 100% of his points against the same player. However, the chart is a useful tool in getting a sense of the weakest links among corners. This weekly process has made it clear to me that the WR talent and his target share are more important than his opposition.
It's become a tradition to start this space each week with attacking Atlanta. Kenny Golladay could have his best game of 2020 this Sunday. All of Atlanta's outside CBs are below average, so the fact that Kenny G and Marvin Jones Jr. split time on the right and left shouldn't matter much. Jones has had a down year so far. If he fails to produce against Atlanta, it might be time to drop him in fantasy leagues.
I highlighted both A.J. Green and Tee Higgins because they play right and left side just about evenly.  Whoever gets more snaps on the left side will have the easier matchup against Terrance Mitchell. Denzel Ward is a completely different story.  It would make sense to attack Mitchell with Higgins, but we can't be sure until game day. Ward plays exclusively LCB.
Denver's secondary didn't give up much to the New England passing attack last week. Prior to their win against the Patriots, they were one of the most frequently burnt units in the league. Mecole Hardman and Tyreek Hill are in bounce-back spots after Buffalo chose to play their safeties 20 yards deep in Week 6.
Detroit has been dominated by outside WRs, so in a game with a 56.5 total, Julio Jones and Calvin Ridley are both potential slate-breakers.
Stefon Diggs is in a good spot against the Jets. They move him around the formation and he has a plus matchup against two bad outside CBs.
The chart projects a very favorable matchup for DeAndre Hopkins as the LWR against Seattle. The Seahawks have been gashed by LWRs all year, and Hopkins lines up on the left side the majority of the time. However, it's important to note that Tre Flowers has been responsible for a lot of fantasy points against that position. Quinton Dunbar hasn't been good this year, but he's better than Flowers. I'll be watching that matchup very closely, especially after Hopkins inexplicably flopped against Dallas.
In the slot, Jamison Crowder gets a Bills Defense that he exposed in Week 1.  Meanwhile, Greg Ward gets a matchup with Giants rookie Darnay Holmes, who has been abysmal.  Finally, the underwhelming JuJu Smith-Schuster gets another easy matchup against Tennessee's Kristian Fulton. Fresh off a disappointing outing against the Browns, anything other than a breakout game could mean JuJu simply isn't a priority target for the Steelers anymore.
Finally, Tyler Boyd does not have as easy a matchup as the chart indicates. Kevin Johnson has been a much better slot corner in recent weeks compared to who the Browns used earlier this season.
WR/CB Matchups to Avoid
James Bradberry is having an amazing season and probably deserves some DPOY consideration at this point.  I expect him to shadow and severely limit Travis Fulgham in Week 7.
In that same game, I expect Darius Slay to match up against Darius Slayton and limit him as well.
Jaire Alexander is one of the best corners in the league and may shadow Will Fuller.  Alexander had Deshaun Watson's number in college so I wouldn't be surprised if Watson tried to avoid him.  The bad news for Brandin Cooks is that even if Alexander moves off his home at LCB and shadows Fuller, Cooks will have a tough matchup with Green Bay's other outside corners.
Tre'Davious White is back for the Bills, so Breshad Perriman is not an advisable start this week.
D.J. Chark plays both right and left, but the bad news for him is that both Chargers' outside corners are outstanding. Laviska Shenault Jr. is going to have a game with an explosive touchdown sooner or later, but this not a good matchup for him either.
The Saints have done a terrific job against RWRs this year, so downgrade Robby Anderson a bit for the second consecutive week.
The Washington Football Team's pass defense has been well above average at limiting fantasy points to opposing WRs. With Andy Dalton at QB, all three of the top Dallas WRs should be downgraded a bit.  I especially don't love Amari Cooper's matchup against Kendall Fuller.
Similarly, Kyle Fuller and the Bears have done a great job against WRs all year.  This might not be the best week for the Rams' WR group, especially Robert Woods.
As far as slots go, there are a lot of good players in bad spots.  Randall Cobb, Jerry Jeudy, Cole Beasley, Julian Edelman, and Hunter Renfrow have the most difficult slot matchups in the league this week.  I would like to specifically highlight Brian Poole, who has been stellar as the Jets' slot corner.  The Jets have been atrocious, but Poole deserves All-Pro consideration at this point.  Nickel backs are no longer just sub-package players.
Thanks for reading and good luck this week.
Win Big With RotoBaller
Be sure to also check out all of our other daily fantasy football articles and analysis to help you set those winning lineups, including this new RotoBaller YouTube video:


More Fantasy Football Analysis