The 2020 NFL Draft features arguably the best receiver class this decade. These dynamic playmakers come in all different shapes and sizes with strengths ranging from run-after-catch skills to physicality in winning contested catches. It will be interesting to see how many receivers go in the first three rounds and how far teams are willing to wait due to depth.  I personally have 20 receivers in my top 100 players.
Fantasy players should pay close attention on draft day, as landing spot for receivers is a huge factor in projecting statistical success. There is a real chance this crop of pass-catchers produces the most fantasy points of any rookie receiver class ever.
The purpose of these rankings is to rank wide receivers if I were a general manager.  Projections are rooted in comprehensive film study and statistical analysis. As a little background, I have more than five years of experience coaching wide receivers at the NCAA level. You can also check out my Top 50 Draft Rankings, Mock Draft 1.0 and Mock Draft 2.0. I hope you enjoy and thanks for reading!
Editor's Note: Love the strategy of season-long fantasy sports? Live for the short term gratification of DFS? Try Weekly Fantasy Sports on OwnersBox - a new weekly DFS platform. Sign up today for a FREE $50 Deposit Match.
Sign Up Now!
Wide Receivers #1-10
1. Ceedee Lamb - WR, Oklahoma
CeeDee Lamb is a run-after-catch savant. He is elusive and slippery in the open field. He's an excellent athlete and has a nose for the end zone (32 career touchdowns). Lamb has terrific hands and projects as a dynamic WR1 in the pros. He'll have to work on not pushing off as much but his physicality and competitiveness are huge positives.
2. Jerry Jeudy - WR, Alabama
Jerry Jeudy is a route-runner extraordinaire. He understands the nuances of gaining separation by changing speeds and using his eyes. He is long, twitchy and quick with enough long speed (4.45) to threaten defenses vertically. The only concern with Jeudy is that a lot of his production came from the slot at Alabama. He has shown the ability to get off press when out wide, but feasting on linebackers and safeties for a lot of his production isn't ideal when projecting his transition.
3. Tee Higgins - WR, Clemson
Tee Higgins has the production and film of a top-10 pick. His film versus Jeff Okudah of Ohio State wasn't up to par, but he repeatedly came up lame during that game. His durability may be questioned but he has the potential to continue his dominance at the next level. While not an athletic freak (31-inch vertical jump and 4.54 40), his 6-4 frame and unbelievable hands surely play in the NFL.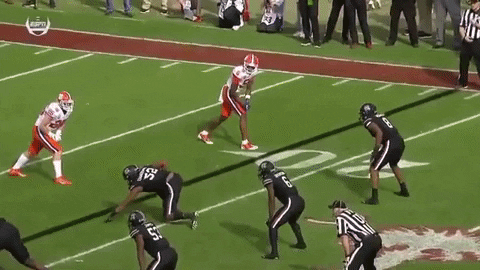 4. Bryan Edwards - WR, South Carolina
Injury issues cloud Edwards draft stock, but his film was tremendous. He uses his 6-3, 212 body well, especially at the line of scrimmage against press and running after the catch. He is a little high out of his breaks but plucks the ball with his large, strong hands and transitions into a runner quickly. Like most receivers, he will need to develop more press release plans and learn how to dip his hips and use his eyes on his break-points. A team is going to get a massive value if he can recover from injury.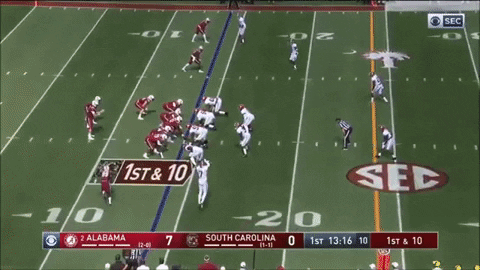 5. Jalen Reagor - WR, TCU
Jalen Reagor struggled with drops during the season and at the combine. His supposed unofficial 4.22 40 likely isn't 100% accurate, but his speed on film looks closer to that than the official 4.47 he ran at the combine.  Reagor is by no means a perfect prospect. There is little evidence of him running NFL-caliber routes or beating press on film, but his playmaking looks translatable to the next level. At his smallish stature, his ability to win contested catches is uncommon and Antonio Brown-like. With the right mindset and work-ethic Reagor can surely shed the Corey Coleman comparisons and excel at the next level.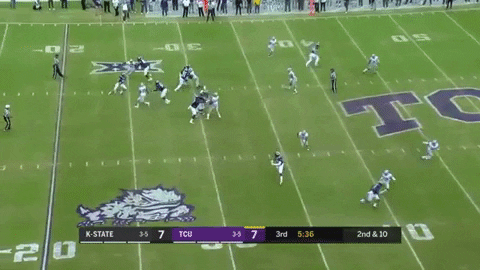 6. Henry Ruggs III - WR, Alabama
Henry Ruggs played second-fiddle to Jerry Jeudy at Alabama, but teams reportedly love his competitiveness. Ruggs flashed on film when he got the chance, showcasing legit 4.27 speed while cribbing slants and torching defenses vertically. His hands are terrific and he made some of the best high-difficulty catches of any receiver in this class. He's not an advanced route-runner and plays weak at times. Very few receivers become a WR1 in the NFL after not being the alpha dog on their college team.
7. Brandon Aiyuk - WR, Arizona St.
Brandon Aiyuk has injury concerns and may slide a bit on draft day. The team that selects him on the second day will be getting a steal. Aiyuk is a little clumsy and takes a while to get up to full speed. He makes bad cornerbacks look bad but didn't have great games versus the pro-caliber defensive backs at Utah or Michigan State. However, his competitiveness shines on film.  There are shades of Dez Bryant in his game and he is a plus route-runner with above-average run-after-the-catch ability.
8. Denzel Mims - WR, Baylor
One of the most polarizing prospects in the draft is Denzel Mims of Baylor. Mims had a good senior bowl week and blew up the combine, but didn't always play up to his testing numbers at Baylor. However, scouting prospects is about projecting traits to the next level as opposed to critiquing college performance. Mims wasn't amazing at creating separation on routes, but he showcased his physicality and terrific hands on film. Sometimes he rounds his cuts when they are supposed to be sharp and he is definitely raw. In the right situation, he has the upside to be a beastly pro. His high-pointing ability plays in the red zone in the NFL.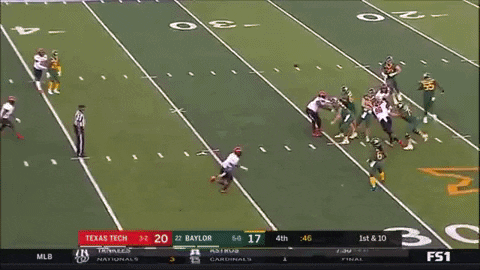 9. Justin Jefferson - WR, LSU
Justin Jefferson torched Oklahoma and was the preferred inside target for Joe Burrow at LSU. He surprised people by running a 4.43 40 at the combine and has steadily moved up draft boards. Jefferson has the tools to excel on the outside in the NFL but his best film came from reps from the slot in college. A lot of his production came in the RPO game and on "be-better" slot fades against inferior defenders. Jefferson's transition to the pro game may not be as smooth as some other outside receivers who had to deal with more press coverage from pro-level corners. Jefferson has most of the traits to excel in the NFL, but he may be more similar to Jordan Matthews than most think.
10. Tyler Johnson - WR, Minnesota
Tyler Johnson is unquestionably a great wide receiver. However, there are many concerns with how his traits translate to the next level. He doesn't have elite speed and was unable to run a 40 during this draft season. There are many instances on film of him struggling to separate against Auburn. He's more sudden and smooth than twitchy and explosive. However, every other aspect of his game is natural and confident.  He's a solid route-runner with great hands and competitiveness that shines on film.  He projects as a Tyler Boyd-like slot receiver.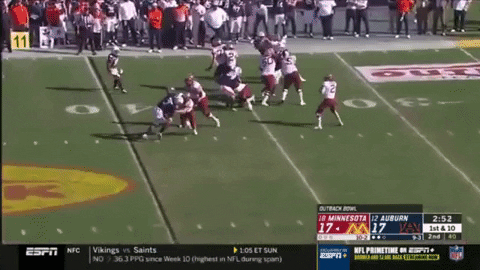 Wide Receivers #11-20
11. Laviska Shenault Jr. - WR, Colorado
Laviska Shenault Jr. has the run-after-catch ability of Cordarrelle Patterson with better natural wide receiver skills. He's raw with some risk but some of his film is dominant and the traits translate.
12. Lynn Bowden Jr. - WR, Kentucky
The most versatile player in college football last season was Lynn Bowden Jr. The former Kentucky quarterback, receiver, and returner has the speed and athletic traits to make people miss in the open field no matter his alignment. He doesn't know how to run routes yet but the tools are all there.
13. Michael Pittman Jr. - WR, USC
Michael Pittman Jr. has terrific hands and great size. He doesn't possess great balance and a lot of his highlights are taking advantage of non-pro defenders, but he doesn't drop passes and has a higher floor than most other receivers.
14. Isaiah Hodgins - WR, Oregon St.
Isaiah Hodgins having success would be somewhat of an outlier because of his 4.61 speed and limited ability to defeat press. However, he has great hands and was a double-move beast at Oregon State.
15. K.J. Hamler - WR, Penn St.
K.J. Hamler is a tiny body-catcher with speed to burn. He fits in the NFL as a deep threat role-player. Michigan safeties had no answer for his speed.
16. Donovan Peoples-Jones - WR, Michigan
Donavan Peoples-Jones shows flashes of brilliance on film. However, he is raw and he makes the college game look too difficult for him at times. There's a ton of potential but his lack of elite balance makes him risky.
17. Devin Duvernay - WR, Texas
Devin Duvernay lacks ideal size and has an uncommon stout lower body for a wide receiver. He struggles with pattering feet versus re-routes down the field and isn't a great route-runner right now. However, his 4.39 speed shows on film and he definitely looked like he belonged on the field against the LSU pro defensive backs.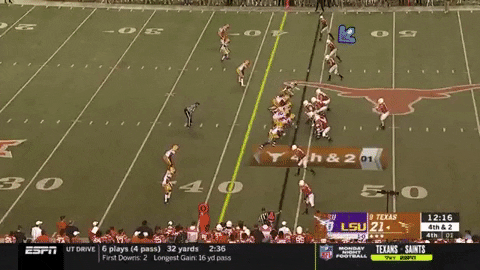 18. Antonio Gibson - WR/RB, Memphis
Antonio Gibson might transition to running back but he primarily lined up in the slot at Memphis. He's a developmental project with tight hips and limited route-running skills but his 4.39 plays in the NFL and he had some unbelievable runs against SMU.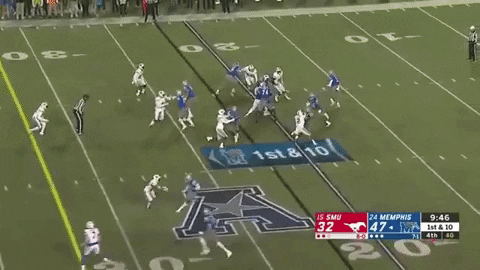 19. Van Jefferson - WR, Florida
Van Jefferson is arguably the second-best route-runner in this class and has NFL bloodlines. However, there are instances of poor balance and weakness against physicality on film.
20. James Proche - WR, SMU
James Proche is a shifty, crafty slot receiver who can run routes and has natural hands.  He has fixable issues with taking too many steps at the line, but his catch-in-traffic ability is pro-ready.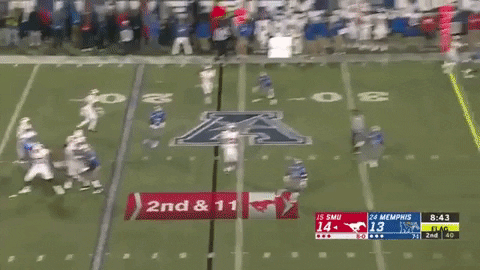 Wide Receivers #21-30
More NFL Draft Analysis