I'm considering David Johnson at six.  Not the sixth round, but at sixth overall.  I'm hoping to land Devonta Freeman or Derrick Henry in the third round, but the decision is a tough one if both are on the board.  For quarterback, I'm either going Aaron Rodgers in the seventh round or waiting until the tenth to grab Lamar Jackson.
Do I sound crazy?  Out of touch?  Of course.  But in the summer of 2019, these were common takes.  Imagine someone drafted Lamar Jackson in the third round last year?  Or Derrick Henry in the first?  Or Dalvin Cook in the top four?  They'd have been ridiculed. Chalk rankings and ADP are not accurate predictors of fantasy production.  Players who are being drafted outside the top 20 at their position will finish within the top 10.  Players drafted in the first two rounds will *gasp* bust.  The actual season never actually happens as the expert rankings tell you it would.  The purpose of my rankings is to accurately predict that chaos.  The ultimate goal here is to get every single ranking correct, but more realistically, nail some that differ from the consensus.  Hopefully, they'll help you uncover this year's Lamar Jackson.
These rankings are based on half-PPR scoring.  Projections are prorated for 16 games, but injury risks in terms of possible missed games factor into the rankings.  Upside and floor also factor in, which may explain why a player ranked lower may have better projections than a player ranked higher.  Stay tuned in the coming days for rankings 11-20, followed by full QB, RB, WR, and TE rankings.
Editor's Note: Love the strategy of season-long fantasy sports? Live for the short term gratification of DFS? Try Weekly Fantasy Sports on OwnersBox - a new weekly DFS platform. Sign up today for a FREE $50 Deposit Match.
Sign Up Now!
Christian McCaffrey is coming off one of the best fantasy seasons of all time but his situation has changed.  He has a new head coach in Matt Rhule, a new offensive coordinator in Joe Brady, and a new quarterback in Teddy Bridgewater.  Even though regression is expected, these changes do not make his situation worse.  Bridgewater is an upgrade over Kyle Allen and Joe Brady is a stud young coach who just dominated the college ranks.  His philosophy about using running backs as receiving weapons meshes well with McCaffrey's skillset.  McCaffrey had a 24% target share in the past two seasons.  While the addition of Robby Anderson could drop that number a bit, his new QB's propensity for short passes should keep his share over 22%.
The skill that sets McCaffrey apart from all other backs is not his receiving prowess - but his durability.  He handled over 700 touches at Stanford and has played every game in his three NFL seasons.  Every player has some level of injury risk, but McCaffrey has proven to be more durable than most.
Projections: 287 rushes, 1320 yds, 92 rec, 737 yds, 13 TD
There is a strong case to be made for Saquon Barkley as RB1.  He is more freakishly athletic than McCaffrey and averaged 2.8 yards after contact compared to McCaffrey's 1.8 last season.  The Giants used two premium picks on offensive linemen, including fourth overall, and expect growth from Will Hernandez.  Daniel Jones is coming off a rookie year in which he proved to be a fantasy-friendly player.  New Giants offensive coordinator Jason Garrett hasn't called plays in a while but has had success feeding his RB1 as a head coach.  I expect Barkley to be fed.  There is league MVP upside here (I got it at +7000).
Projections: 298 rushes, 1482 yds, 69 rec, 554 yds, 13 TD
Ezekiel Elliot - RB, Cowboys
I hate chalk rankings.  They are boring and regurgitate the same things over and over.  The fact that my Top 3 is chalk is frustrating, but that's what my projections spit out.  Zeke is going to be the top weapon on a high-powered offense with PFF's third-ranked offensive line.  I actually do not love his ceiling.
I think he is a terrific bet to finish anywhere from RB3 to RB7, but has a fairly low chance to be the RB1 or RB2.  Zeke is a year older with a huge contract while impressive second-year backup Tony Pollard is still on his rookie deal and has earned more than the 20% rushing share he had last season.  Dak Prescott is also a rushing threat and the Cowboys have one of the best receiver groups in the NFL.  Locked in as the RB3 in most formats, there's no reason to get cute here.  His floor when healthy is too high.  And as a bonus, he's already had COVID-19!
Projections: 280 rushes, 1242 yds, 57 rec, 485 yds, 14 TD
Dalvin Cook - RB, Vikings
A year ago, I compared 2019 Dalvin Cook to 2014 Demarco Murray.  That proved to be an apt comparison, as Cook broke out thanks in large part due to the addition of Gary Kubiak to the Vikings coaching staff.  Unfortunately, untimely injury issues hurt his fantasy owners.  Fantasy players have trust issues with him as a result, which is impacting his ADP.  Cook was rumored to hold out but instead reported to camp.  He is locked in as the featured player on a solid team with a huge role in the passing game.
Cook has been an elite touchdown scorer and backfield receiving option dating back to his days dominating the ACC at Florida State.  Even with expected slight regression in YPC, TD rate, and target share, Cook projects to continue his efficient ways whenever on the field.  The only drawback with Cook as a fantasy asset is his injury risk, having missed 19 of 48 NFL games.  It has always been my philosophy to draft currently healthy players based on talent and ignore past injuries unless there is a scientific reason to doubt their chances of staying on the field.
Cook has yet to play a full 16-game season, but two years removed from a torn ACL, he's worth the perceived risk.  I would rather have a player miss games on my bench than fail to produce in my lineup.  I have the stomach to handle injury risk players because I have confidence in my ability to fill my lineup with good players if they miss time.  What hurts my soul is a poor performer IN my lineup.
Projections: 259 rushes, 1,140 yds, 62 rec, 511 yds, 13 TD
Slowed by nagging injuries, Alvin Kamara had a relatively disappointing 2019 season, finishing as RB8 after widely being drafted in the top three.  He is due for some serious positive TD regression after hitting paydirt just 6 times in 2019.  He scored 18 and 13 in his first two seasons.  It was evident on film that Kamara was not as explosive in 2019 as he was the two years prior, but that can be blamed on the nagging injuries.  Kamara himself said he played the season "on one leg" and at just 75%.
The only changes in his situation are the additions of Emmanuel Sanders and Ty Montgomery, who hasn't been relevant in years.  The floor here is so high, predicting injury, which is a fool's errand, is the only reason to pass on Kamara near his ADP.
Projections: 199 rushes, 895 yds, 87 rec, 688 yds, 12 TD
Joe Mixon finished as the RB6 in the second half of last season.  His lack of production in the first half can be explained by a new offense, terrible offensive line, and a curious lack of action in the passing game.  His 8% target share dropped from his 2018 target share of 12%, and because Giovanni Bernard's did as well, Zac Taylor's offense clearly did not emphasize utilizing RBs in the passing game.  I expect that to change with a year of Taylor self-scouting and evolving his offense.  Teams that don't use their backs in the passing game are behind the eight ball in terms of analytics.  It would be foolish to continue to target backs at such a low rate.
Part of the explanation could be the necessity of keeping their backs in protection to help a porous offensive line.  The line will be better, as stud first-round pick Jonah Williams returns at left tackle, and expected growth from Billy Price.  The Rams added a quality tackle the year Gurley broke out.  Offensive line aside, the addition of Joe Burrow points to more targets in the passing game for Bengals RBs after he helped feed Clyde Edwards-Helaire at LSU.  So if Mixon's targets go up and he remains as effective as a runner, there is big-time upside in an offense that will be much better.  I'm buying the Bengals offense this year.
Projections: 290 rushes, 1,283 yds, 41 rec, 342 yds, 12 TD
The Raiders ran the ball at the eighth-highest rate in the league last season and return one of the better offensive lines in the NFL.  Josh Jacobs had an extremely impressive rookie season, grading out as PFF's second-ranked runner, despite battling a shoulder injury. Jacobs has as good a shot as any RB to lead the league in rushing.  His value is dependent on two key factors.  First is his role in the passing game.  At Alabama, Jacobs was frequently used as a pass-catcher, while Damien Harris was more of the grinder.  Jacobs flashed terrific hands and pass pro reps on film, which made his lack of involvement in the Raiders' passing game last year curious.
The second factor, his questionable durability outlook, is actually related to that lack of volume as a pass-catcher.  The Raiders likely scaled back his workload in terms of the mental side of the game.  Jacobs was not a featured player at Alabama, but the Raiders still saw him as their best pure runner.  So, instead of giving a green rookie a full plate of assignments, they let him succeed as a runner while using Jalen Richard, who isn't a great runner, to his strengths as a receiving back.  It makes sense that in his second year, Jacobs' role in the passing game will expand.  In fact, Mike Mayock has already mentioned it.
The potential league-winning question is how many touches can Jacobs handle, considering he's never been a workhorse and has had injury issues.  My projections are aggressive because two old-school football minds spent a first-round pick on him and he's done nothing but impress when on the field.
Projections: 302 rushes, 1,344 yds, 35 rec, 271 yds, 11 TD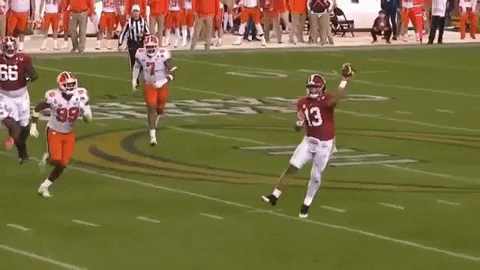 The Browns offense underachieved under Freddie Kitchens last season.  Baker Mayfield regressed, the offensive line played poorly, and the talented receivers underperformed.  Nick Chubb still finished as RB7.  Chubb's production fell when Kareem Hunt returned from suspension, but he was still the preferred running option, and his effectiveness remained elite.  16 games of Hunt is a legitimate concern, but reports have him cross-training at wide receiver, which will allow the Browns to play both on the field at the same time.  Chubb's 77% rushing share will probably decline, but everything else about his situation looks better.  Kevin Stefanski has had success with running backs, most recently Dalvin Cook.
Both tackle spots have been upgraded, with Jedrick Wills on the left side and Jack Conklin on the right side.  The Browns even added lead-blocker fullback Andy Janovich from Denver.  Chubb averaged five yards per carry last year and has a real chance to approach that number again.  He's currently being drafted with substantial drops in rushing share and efficiency baked in.  The Browns will run more and be a better offense, so I'm buying Chubb everywhere.  My only two concerns are his lack of involvement in the passing game and a chance of a lower TD rate due to all the prolific TD-scorers on the roster.
Projections: 284 rushes, 1,418 yds, 20 rec, 153 yds, 12 TD
One of the biggest mistakes fantasy players make is placing too much emphasis on what happened last year.  You aren't drafting a player and simply getting last year's stats.  On the other hand, looking back at stats from two-plus years ago is probably even less relevant.  The job of fantasy prognosticators is to project what will happen this year, and in many cases, while that does involve analyzing what happened last year, it is often overstated.  Football factors, such as situation, film, coaching, and schedule are difficult to quantify in projections, but insight into more than just the math can give you an edge.
I try to mix logical football reasons based on film study and a deeper understanding of the game when projecting next season.  There was no 2018 or 2017 data that would suggest Michael Thomas would command 185 targets in 2019.  What could have been predicted was the impact of losing Mark Ingram and the lack of development from potential ancillary receiving options, in addition to the foreseeable uptick in passing attempts.  Keep this in mind when I paint possible scenarios in order to go out on a limb and separate my rankings from the cookie-cutter chalk.  Imagine the backlash a fantasy expert would have gotten for ranking Thomas in the top-five last offseason.
Thomas had a 34% target share last season.  He's still basically the same player as he was in 2018 when he had a 28% target share, and there is no reason to expect 180+ targets again.  The Saints passed more last year than they did in 2017 and 2018, Drew Brees is a year older, and Emmanuel Sanders is now a legitimate second option.  Thomas has a high floor, but even my projection of 163 targets might be aggressive given his 147 targets in 2018 and 149 in 2017.
Projections: 163 targets, 129 rec, 1,486 yds, 8 TD
A rookie rounds out my top 10, but not the one you might expect.  Full disclosure: I am a draftnik.  I may tend to overvalue rookies.  And the interesting thing here is that I didn't even have Jonathan Taylor as a top-three back in my pre-draft RB rankings.  I wasn't exactly low on him, I just loved Dobbins and CEH, and thought Swift had upside as a pass-catcher.  So why am I ranking Taylor so high?  Let's look at the facts.
One of the greatest runners in the history of college football was drafted with the 41st pick, the sweet spot for RBs, by the Colts after a trade-up.  The Colts have the best offensive line in football, a bright and productive offensive coaching staff, and a veteran quarterback who has had a ton of success checking at the line of scrimmage and generally utilizing running backs throughout his career.  The elephant in the room is Marlon Mack, who was drafted by the Colts with the 143rd pick in 2017 and has ranked as the 28th, 37th, and 31st running back by PFF in the past three seasons.  Mack is a good player, but the Colts did not use a premium pick on a workhorse with the goal of splitting the workload evenly.  I'm actually more concerned with Hines taking snaps away in full-PPR leagues.
The Colts will finish in the top-five in rushing attempts this season (poor division helps), and Taylor will win leagues.  He's not a great receiver and I am somewhat concerned that three of my top ten running backs have receiving workload question marks.  Full-PPR drafters can adjust accordingly.
Projections: 282 rushes, 1,316 yds, 21 rec, 178 yds, 12 TD
Here is a list of players who:

Had an all-time top 10 NCAA rushing season in a Power 5 conference.

Were drafted in the first 2 rounds of the NFL Draft.

Barry Sanders
Melvin Gordon
Marcus Allen
Derrick Henry
Jonathan Taylor
LaDainian Tomlinson @RotoBallerNFL

— Andrew La🦙 (@draft32teams) August 7, 2020
Thanks for reading, and stay tuned for rankings 11-20 and positional rankings in the coming days.
Win Big With RotoBaller
Be sure to also check out all of our other daily fantasy football articles and analysis to help you set those winning lineups, including this new RotoBaller YouTube video:


More Fantasy Football Analysis
Check out all of RotoBaller's fantasy football rankings. Staff rankings are updated regularly for all positions and include standard formats, PPR scoring, tiered rankings and dynasty leagues.