Welcome back to "Are You For Real?" Each week, we look at lower-owned starting pitchers who have performed unexpectedly well in their last outing(s).
It's almost time for September call ups, which means it's the perfect time to analyze a pair of highly touted pitching prospects. This week we're breaking down recent outings from Pittsburgh's Mitch Keller and Texas's Kolby Allard. Both have had some hype around them over the last two years, with Keller being considered by some as a the best pitching prospect in baseball. Each are certainly worth a look as we head towards the final month.
Ownership is based on Yahoo leagues and is accurate as of 08/26/2019. The goal of this article is to look at pitchers widely available that could be useful in fantasy, whether they have been recently added by a ton of teams or are still sitting on waivers.
Editor's Note: Get any full-season MLB Premium Pass for 50% off. Get access to our exclusive articles, rankings, projections, prospects coverage, 15 in-season lineup tools, daily expert DFS research, powerful Research Station, Lineup Optimizer and much more!
Sign Up Now!
Mitch Keller, Pittsburgh Pirates
10% Owned
2019 Stats (prior to this start): 21.1 IP, 8.86 ERA, 4.34 FIP, 13.3% K-BB%
08/23 vs. CIN: 6 IP, 6 H, 1 ER, 1 BB, 9 K
Keller has been one of the hottest pitching prospects in baseball for the last few seasons, but he got absolutely hammered during his first taste of the big leagues. Giving up six runs in each of his first two starts. Keller was so bad he couldn't even last on the Pirates' roster. But, with nothing left to lose, Pittsburgh gave him another opportunity to show what he's got. Keller was so-so in his first two starts, but he dominated the Reds last Friday for a career-high nine strikeouts along with a whopping 19 swinging strikes. Between Keller's prospect pedigree and outstanding performance, he's one of the most intriguing pitchers out there in most leagues.
As a prospect, Keller was known for his mid-nineties fastball and plus curveball. Those two pitches made many scouts believe Keller was capable of producing the desirable combination of a high strikeout rate and high groundball rate. Keller was able to maintain a groundball rate around 45% and a strikeout rate around 25% through most levels of the minors, so the analysis of scouts held true until Keller reached the majors. Keller's fastball hasn't had as much sink as advertised, and he has just a 35% groundball rate in 27.1 innings. Obviously, that sample size is far too small to make definitive judgements, but batters have been able to square up Keller's fastball rather well this season. With a 50% line drive rate and 21-degree average launch angle against, it's no surprise that Keller's fastball has a .559 BABIP against. Someone may look at Keller's .438 BABIP against and call him unlucky, and it's true that BABIP can be an indicator of good or bad luck for a pitcher, but the leaguewide BABIP on line drives is .680. Keller's been more fortunate on his line drives than most, but he's giving up 4% more line drives than the average major league pitcher, so his "good luck" evens out since line drives are by far the most likely batted ball to go for a hit. Keller did get an extra quarter-inch of sink on his fastball in this most recent start, and also located it much better. Here's a comparison of his fastball heatmaps from this start (top) to his other starts (bottom).
He reduced his mid-zone and low-and-away locations, which are where most of the line drives come from. Again, we're digging deep on a small sample size, but this analysis should make you think twice before seeing his .438 BABIP and sounding the bad luck alarm. This also helps give context for his horrid early-season performances, as Keller was throwing a fastball that was hard and straight and easy to hit. It's hard to say whether this start will be the turning point in terms of his fastball performance and results, but it's a step in the right direction.
Keller's fastball performance was encouraging, but his fastball was a mere side dish compared to his slider in this start. Keller used his fastball 30.8% of the time, and notched 10 of his 19 swinging strikes with the pitch. Keller also added an inch of drop on his slider in this start, improving on his already above-average slider movement. Here's a look at a few of his sliders from this start.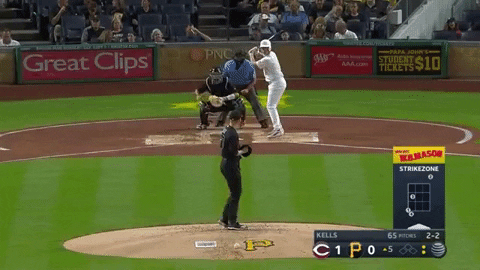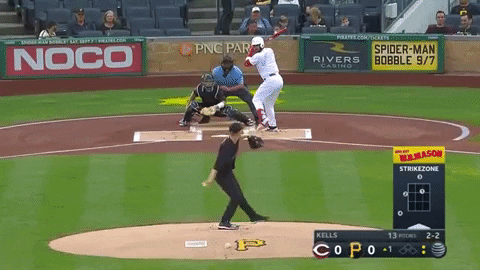 It's hard to tell whether Keller was just on with the slider in this start, or if his gains with the pitch are sustainable. One thing is for sure, I want to be on board this hype train, whether it falls off a bridge or chugs full speed towards Titletown (which is, and always will be, Green Bay, WI).  Keller could easily revert back into a dumpster fire on the mound, but I'm eager to take a shot on an elite prospect who's finally flashed some of his enormous upside. At just 10% ownership, most others don't feel the same way. Maybe Keller won't pop, but this is a low-risk, high-reward player to add heading into the final month. Drop these over-owned veterans like J.A. Happ and Rick Porcello and take a shot with Keller.
Verdict:
A top pitching prospect throws a gem and barely anyone notices. Guess that's baseball in Pittsburgh these days. Keller's worth a speculative add in most formats.
Kolby Allard, Texas Rangers
4% Owned
2019 Stats (prior to this start): 15 IP, 6.60 ERA, 3.88 FIP, 10.1% K-BB%
08/24 @ CWS: 6.1 IP, 6 H, 0 ER, 0 BB, 8 K
Allard was flipped to Texas for reliever Chris Martin in an under-the-radar deadline deal, and while moving to Globe Life Park is obviously tough for Allard, he has a much easier path to a rotation spot with the Rangers as well. Allard took a beating in his only home start, allowing seven runs (six earned) against the Angels on August 19. Outside of that game, Allard has shown some encouraging signs, and his most recent start in Chicago has been the best thus far. Allard gets it done primarily with his fastball-cutter combo, while using his changeup on occasion and his curveball even less than his change.
Allard's fastball sits at an unimpressive 92.5-93 MPH, and is below average in both movement and spin. There is one saving grace Allard has had with his heater, and that's his infield flyball rate. Allard is inducing infield flyballs 30% of the time, which have helped him maintain a stellar 4.8% HR/FB ratio. Obviously, that rate would be unsustainable over a long period of time, but Allard has always excelled and limiting the long ball as a prospect. His ability to keep the ball in the yard should help make up for his other fastball deficiencies, and limit the impact of Globe Life Park. While it's been a small sample size for Allard this season, his minor league track record suggests this home run suppression is a repeatable skill and something that he can be relied on to deliver, as much as a 22-year-old rookie can be relied on for anything.
The cutter is Allard's best secondary pitch, as he's notched a 13.8% swinging strike rate with the pitch, along with six of his nine swinging strikes in this start against Chicago. Not only is the cutter Allard's best strikeout pitch, but it's also his best groundball pitch. Batters have a 55.6% groundball rate against the pitch, which has led to a .207 BA and .188 xBA against with this pitch. Allard has just slightly above average movement with his cutter, but it's still his best pitch and a plus breaking ball capable of producing solid results.
Unlike with Mitch Keller, there isn't quite enough here to make me want to hop on the Kolby Allard hype train. He's certainly useful in the right situation, such as a road start against the White Sox, who have a 25% K rate against lefties this season, but it would be tough to trust Allard in tough matchups. Use him as a streamer or a deep league speculative add, but don't go all-in on Allard.
Verdict:
A top pitching prospect throws a gem and barely anyone notices. Guess that's baseball in Texas these days. Unlike with Mitch Keller, there is less upside with Allard and therefore less reason to add him. He's usable as a streamer or deep league pickup, but he's not as exciting as a breakout candidate.
More 2019 Fantasy Baseball Advice