Welcome back to "Are You For Real?" Each week, we look at lower-owned starting pitchers who have performed unexpectedly well in their last outing(s).
This week we're looking at a pair of interesting NL West hurlers. Unheralded lefty Alex Young dominated the Reds on Saturday for eight scoreless, while righty Dinelson Lamet turned in another solid performance in his return from Tommy John Surgery.
Ownership is based on Yahoo leagues and is accurate as of 09/09/2019. The goal of this article is to look at pitchers widely available that could be useful in fantasy, whether they have been recently added by a ton of teams or are still sitting on waivers.
Editor's Note: Get any full-season MLB Premium Pass for 50% off. Get access to our exclusive articles, rankings, projections, prospects coverage, 15 in-season lineup tools, daily expert DFS research, powerful Research Station, Lineup Optimizer and much more!
Sign Up Now!
Alex Young, Arizona Diamondbacks
31% Owned
2019 Stats (prior to this start): 58.2 IP, 3.84 ERA, 4.66 FIP, 11.6% K-BB%
09/07 @ CIN: 8 IP, 2 H, 0 ER, 1 BB, 12 K
Coming into this start, Young had a respectable 3.84 ERA, but poor underlying numbers kept savvy fantasy owners away. Young made many of us rethink that decision on Saturday, with a dominant 12-strikeout performance over the Reds. Young gets it done with a five-pitch arsenal, with a two- and four-seam fastball, a changeup, a cutter, and a curveball. While Young's arsenal is certainly rich with options for the left-hander, I'm going to zero in on a few of his offerings.
Young's fastball putters in at an unimpressive 89 MPH, and doesn't stand out in terms of movement or spin either. Young's four-seam fastball does have one outstanding attribute, and that's a 29-degree average launch angle. Batters have a 65% flyball rate against Young's four-seamer, along with a 46.2% infield flyball rate. Pitchers who induce infield flyballs at such a rate can often outperform their underlying metrics, such as FIP, xFIP, and SIERA, because infield flyballs almost always produce outs, yet are treated as negative outcomes by defense-independent metrics. An infield flyball is essentially a defense-independent outcome, as even the average beer league softball player could corral a big-league popup. Marco Estrada epitomized this pitching style during his peak, and Estrada routinely outperformed his sabermetric numbers. Young's current infield flyball numbers dwarf Estrada's best years, but with just 66.2 major league innings under his belt, it's far to early to judge whether Young can sustain these results. Any results are uncertain with such a small sample, but batted ball metrics are especially volatile since they take hundreds of data points to normalize. For now, we can confidently say that Young is displaying a skill conducive to positive batted ball results and going forward may excel at inducing infield flyballs. These results could allow Young to survive despite his poor velocity, though owners should be wary of the .591 SLG and .388 xwOBA against his four-seamer.
Moving past the fastballs, Young has three secondary pitches, all of which he throws about 20% of the time. While they may get equal representation in his pitch mix, the curveball stands out both in results and measurables. Batters are hitting a mere .133 with zero extra-base hits against Young's curveball this season, and Young has a monster 21% SwStr and 44.8% chase rate with the pitch. Young's curveball is thrown a little harder and sharper than one might expect given his fastball velocity. Here's an example from this start.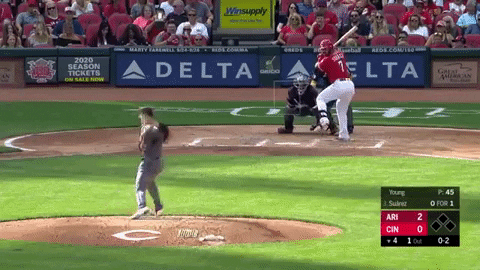 It's not the big, looping curveball that's so common among soft-tossing lefties. Young's curveball is more of a slurve, and that's a big reason for his elevated strikeout numbers with the pitch. It's also why Young's curveball is ranked among the lowest in horizontal movement. He doesn't get the big Rich Hill-esque rainbow curve with the pitch, and that's not his intention. The pitch compares closer to that of Young's teammate, Robbie Ray. Young doesn't have Ray's velocity or slider, so he won't approach Ray's strikeout numbers, but Young's 7.83 K/9 certainly has room to grow.
Admittedly, Alex Young was a pitcher I initially overlooked thanks to his poor velocity, underwhelming peripherals, and questionable minor league track record. Normally, I avoid incorporating personal league anecdotes into my writing, but last weekend my home league team was eliminated because I chose to stream Steven Brault, a pitcher I covered in this series recently, over Young. Rather than do the deep research, I let my biases against Young and pitchers of his archetype (soft-tossing lefties with no pedigree) make the decision for me. Now I'm doing all the research anyway while my team gears up for a deep run in the consolation bracket. We're 24 gosh-darn weeks into the season, football has started, and I got lazy. Had I Champions don't get lazy; champions grind out every day. Had I done the research, I would've noticed these trends, along with Cincinnati's 90 wRC+ and 24% strikeout rate over the last 30 days. If you're reading this article, chances are you're fighting for a championship, and chances are you do quality research in addition to consuming in-depth fantasy sports articles. If that's the case, I wish you luck and recommend adding Alex Young to help you get there. He not only has intriguing skills, but if the D-backs rotation sticks as is, Young will face the Mets this week, the Marlins next week, and finish with two starts against the Cardinals and Padres in the final week of the season. With that schedule, Young could be a solid contributor to a championship contender.
Verdict:
Young may look like a weak tossing lefty, but he excels at inducing infield flyballs and possesses a plus curveball. Young is worth an add for those in need down the stretch.
Dinelson Lamet, San Diego Padres
31% Owned
2019 Stats (prior to this start): 51 IP, 4.24 ERA, 4.04 FIP, 21.7% K-BB%
09/06 vs. COL: 6 IP, 6 H, 3 R (1 ER), 1 BB, 4 K
A popular 2018 breakout candidate, Lamet's career path was derailed by a pesky torn UCL. He quietly made his return in early July, and his performance this season has looked even better than his performance in 2017. Despite suffering one of baseball's most notorious injuries, Lamet has a better strikeout rate, better walk rate, better home run, and better SIERA now that he did two years ago when he was being hyped up as the next great strikeout pitcher. In fact, there's reason to believe that Lamet can maintain the gains he's made this season.
The most eye-popping metric from Lamet this season is his increased fastball velocity. He's dialed up the heat, averaging 96 MPH with his four-seam fastball, a full MPH faster than it was pre-surgery. The answer is obvious, isn't it? Lamet, like all pitchers, is throwing harder because of the Tommy John Surgery. The procedure makes the tendon practically bionic. Well, before rushing your teenage son off to the nearest Ortho to lock-in that baseball scholarship, check out this study from Jiang and Leland. The study compared 41 MLB pitchers who underwent Tommy John Surgery to a matching group that did not have surgery over a four year period, and found no significant velocity or performance differences between the groups. The reason could be increased strength and conditioning for Lamet as a result of rehabilitation, but the surgery wouldn't be a direct cause. Other than marginal changes in release point, increased strength is the best explanation for this velocity increase, and quite frankly it's the best we need. Lamet is throwing harder and getting more strikeouts, and that alone has me interested in him.
Along with his new-and-improved fastball, Lamet still possesses a slider that can carve up opposing hitters better than Jason Vorhees can carve up promiscuous teenagers (hey, it's Friday the 13th this week, gimme a break). Batters have eeked out a meager .118 batting average against the pitch, while Lamet has put up a 23% SwStr rate with the pitch. That's all well and good, but there's still a giant elephant in the room with Lamet, and that's his limited arsenal. He's a two-pitch pitcher, a Chris Archer in the making. Pitch tracking software makes it look like Lamet hasn't fixed that problem, sans Statcast metrics. There's some peculiar in Lamet's Statcast profile, and it's a mysterious curveball.
Lamet has never thrown a curveball in the big leagues before, and the pitch Statcast is calling a curveball looks to be a variation of Lamet's slider. This pitch has similar drop compared to Lamet's slider, but has double the horizontal break. Like with Alex Young, this pitch is more of a slurve than a true curveball, and it may be tracked as either a curveball or slider depending on which pitch-tracking you use. Regardless of its categorization, Lamet may have found his solution to the two-pitch problem. The results have been incredible, as Lamet increased his already awesome strikeout rate to an elite 30.1% If considering whether to add Lamet, ask yourself, this, would I add James Paxton? If James Paxton was a free agent in your league, right now, would you add him? Because Lamet's numbers are nearly identical to Paxton's numbers, though Lamet does have a better home run rate. Obviously, Paxton has factors such as longevity and track record that catapult his value far ahead of Lamet, but pitchers with a 30% strikeout rate don't grow on trees. Lamet could really help owners make up ground in strikeouts over the final month, and deserves to have his ownership rate doubled.
Verdict:
Not only do I like Lamet as an add for right now, but he's also on my watchlist for a 2020 breakout. I shudder to see where this hype train will be come March next season. This is an elite strikeout pitcher sitting out there in nearly 70% of leagues. Add him already. Drop these over-owned veterans like Mike Fiers, Jon Lester, and Rick freaking Porcello and pick up Lamet.
More 2019 Fantasy Baseball Advice