How is there only 3.5 weeks left in the major league season? I mean, how is that even possible? Oh yeah, a worldwide pandemic (plus labor strife and inept commisioning) delayed the season by three months.
With less than a month to play, that means many of you are currently in your playoffs. And filling in holes in your lineup with players that your competition has foolishly left on the wire, can be your path to a championship.
We'll be doing this roundup of point league happenings every week here at RotoBaller, with waiver-wire targets and streaming pitchers being evaluated in terms of the different scoring systems of ESPN, Yahoo, CBS, and Fantrax. Player values can vary wildly from platform to platform, so we'll make sure to highlight where players are the best and worst fit at. We know point players get neglected and we're here to help. Let's get to Week 6.
Editor's Note: Get any full-season MLB Premium Pass for 50% off. Get access to our exclusive articles, rankings, projections, prospects coverage, 15 in-season lineup tools, daily expert DFS research, powerful Research Station, Lineup Optimizer and much more!
Sign Up Now!
Playing For Points Through a Pandemic
While the number of games has changed, the way that points are scored on each platform has not. You must account for, as precisely as possible, how a player performs under your particular scoring system. Don't be fooled into believing you can just make rough adjustments in your head, bumping up guys with high on-base percentages and low strikeout-rates. Every point, in every category, counts. For example, ESPN and Fantrax are virtually identical in their scoring for hitters and roster size. The only difference is that stolen bases are worth one more point on Fantrax and ESPN subtracts one point per strikeout. That's the difference over Ronald Acuna Jr. being a top-five batter versus a top-25 batter.
If your league uses standard settings, then great! Turn to page 94 and you can skip ahead to the leaderboards. If you play with custom settings, it'll still be fine. Go back to page 43 and look below at the scoring systems of the four major platforms. I bet there's a chance that you'll find that your league's scoring is very similar to one of the four (well, not Yahoo's), even if it's not the platform you actually play on. For example, my home league started on a now-defunct platform before moving first to ESPN and is now at Fantrax. But our scoring is basically ESPN standard but with two points for stolen bases and a handful of other minor adjustments.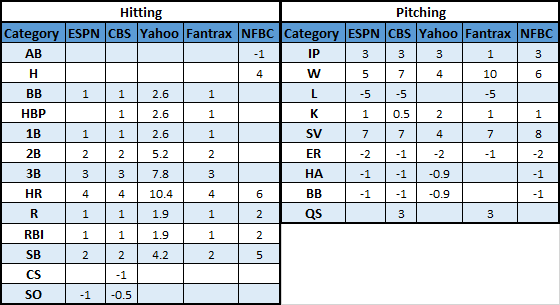 If you look above, you'll likely find a suitable mirror to your own system. While every point counts, as long as they aren't seismic changes you can get away with some "close enough". IE. If everything is the same except for HBP (or something similar), you're probably fine.
All of the following charts are updated prior to Saturday's games, on stats and ownerships. Clicking on a chart will open a new page with a magnified version.
First Base Leaderboard
First Base Waiver Wire
Add in 12-Team Leagues
Brandon Belt (SF) - Belt has been blistering for the past two weeks, with a 3.8 average platform ranking over the last 15 days. He's slashing .333/.431/.645  with a .449 wOBA and 188 wRC+. And his strikeout rate is up from season's past but he's also walking at a career-high 14.7% BB%. It's time to believe.
Second Base Leaderboard
Second Base Waiver Wire
Add in 12-Team Leagues
Brad Miller (STL) - Miller is a must-add in all leagues, batting cleanup for the Cardinals while mostly slotted in at DH. Go to his Savant page and you'll find a sea of red, with Miller setting career highs with a .323 xBA, 49.1 HH%, .457 xwOBA, and .559 xwOBAcon. Zero reasons he should be sitting on your wire.
Third Base Leaderboard
Third Base Waiver Wire
Add in 12-Team Leagues
Austin Riley (ATL)- Speaking of must-add, Riley is blistering hot, collecting multiple hits in six of his last 13 games and clocking in as a top-3 player at third on all platforms. His .312 wOBA for the season is sub-par but a .352 xwOBA and .466 xwOBAcon speaks to his quality of contact rating much higher than the actual results. That pendulum seems to be swinging back the other way and the time to grab Riley is almost up.
Shortstop Leaderboard
Shortstop Waiver Wire
Add in 12-Team Leagues 
Outfielder Leaderboard
Outfielder Waiver Wire 
Add in 12-Team Leagues
Victor Reyes (DET) - Reyes continues to quietly breakout, slashing .312/.338/.496 with four home runs and five stolen bases. Since moving into the top of Detroit's order, he has a .403 wOBA and 157 wRC+ in 57 PA. He has a 90.4 mph average exit velocity that's up three ticks and his .313 xBA is in the top-7% of baseball. This breakout seems to be the real thing and you'd be wise to snatch him up now.
Catcher Leaderboard
Catcher Waiver Wire
Add in 12-Team Leagues
Relief Pitcher Leaderboard
Relief Pitcher Waiver Wire
Add in 12-Team Leagues
Starting Pitcher Leaderboard
Starting Pitcher Waiver Wire
More Points Leagues Analysis
Win Big With RotoBaller
Be sure to also check out all of our other daily
fantasy baseball articles
and analysis to help you set those winning lineups, including this new RotoBaller YouTube video: