Managing a fantasy football team is the equivalent of being a real-life general manager. It allows us hardcore fans to play out our dream of making impactful decisions based on statistical analysis and keen observation. Face it, we're the guys who spend more time playing GM mode and breaking down player ratings in Madden than actually playing the game.
Just like any GM, we are prone to making questionable decisions at times. In the fantasy world, we can't fall back on the rationale of being "fiscally responsible" as an excuse for making poor decisions at the expense of winning. You may have your rankings, research, and all the preparations in world, but on draft day we are all prone to bias at some point. Here's how to avoid it, or at least try.
Editor's Note: Love the strategy of season-long fantasy sports? Live for the short term gratification of DFS? Try Weekly Fantasy Sports on OwnersBox - a new weekly DFS platform. Sign up today for a FREE $50 Deposit Match. Offer expires Thursday night!
Sign Up Now!
Overconfidence Bias
Let's begin with the obvious and that's thinking that you know better than everyone else or have an insight into something the others don't see. Overconfidence results from someone's false sense of their skill, talent, or self-belief. In this case, and I apologize to all our readers for saying this, but fantasy football analysis doesn't qualify as a talent and it's not so much a skill as a byproduct of a larger skillset such as data analysis.
Ultimately, overconfidence in the fantasy world stems from a heightened sense of self-belief based on past experiences or straight-up narcissism. Just because you won your league last year doesn't mean you have an edge over everyone else this year. Face it - you got lucky on a late-round pick or two, your squad didn't suffer major injuries, and things just panned out.
The most common way this manifests itself in a draft is when someone reaches for a player far beyond their expected draft position and value. We encourage each other to "get your guy" and not draft based on ADP alone. If you believe in a player, by all means, go after him. But don't reach two rounds or more for a player that you could have selected later because that minimizes return on investment.
And don't buck common sense completely by pushing all your chips into one pile unnecessarily. Those of you who did a Baker Mayfield/Odell Beckham/David Njoku stack last year might know what I mean.
Maybe consider NOT doing the Tom Brady/Mike Evans/Rob Gronkowski stack this year. Or drafting another Lions running back because he looked great in the SEC! Or drafting the fifth WR on the 49ers depth chart because you actually know his name and everyone else is hurt so he's a great sleeper!
Cam Newton is a great player and former MVP moving to the winningest franchise of the 21st century. He has little competition to be the starter and a lot to prove after his release from Carolina and the fact he's on a one-year deal. Sounds great, but am I suddenly going to propel him to a top-10 QB projection? No way. Some have him as a huge sleeper, others as a total bust. I hate to admit, but in most of my rankings I fall in between the consensus. Boring maybe, but overconfidence is usually not a winning recipe for success stew.
Herd Mentality
Herd mentality is when investors blindly copy and follow what other famous investors are doing.  When they do this, they are being influenced by emotion, rather than by independent analysis.
We see massive ADP swings for players due to injuries, free-agent signings, training camp news, and other factual reasons. Then we see times when a player simply starts getting buzz for no particular reason and the sheep flock together to assure everyone that yes, David Johnson is definitely going to have a revival with Kliff Kingsbury as the new head coach and he's definitely worth a first-round pick.
Kenyan Drake seems to be that player this year because, after all, how could a Cardinals running back not be a fantasy stud and of course he'll repeat what he did at the end of last year!
Clyde Edwards-Helaire is sort of in the same category although the news of Damien Williams opting out explains his ADP jump.
Less understandable is why James Conner has jumped a full round since the NFL Draft, even though the Steelers selected Anthony McFarland to add competition, and is now entering second-round territory.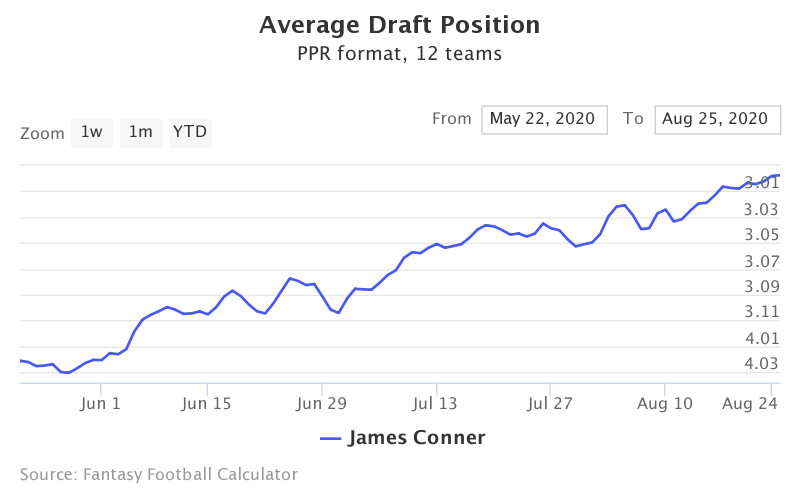 If a couple of fantasy experts agree that Conner is due to rebound, more feel comfortable agreeing and then the masses are suddenly expecting the clock to turn back to 2018. My 2019 shares of James Conner and I will kindly disagree.
Framing
Framing is when someone makes a decision because of the way information is presented to them, rather than based just on the facts.
Player X is a guy you have to own everywhere! Avoid Player Z at all costs! Joe Shmoe is the best player you've never heard of!
Sound familiar? I like to think that we at RotoBaller don't sensationalize our material, but it's also a necessary evil to use keywords like sleeper, bust, and must-have. That's what people expect and search for, after all.
There's nothing wrong with declaring someone a sleeper, breakout, or bust as long as there is proper context to the expectations being set and data-driven analysis to support the conjecture. That's not always the case, however, and some people fall prey to exaggerated media reports or sensationalistic fantasy outlets.
For example, did you notice how every single rookie running back was absolutely incredible in the first week of camp? Or how every QB loves every one of his receivers and every coach has "big plans" for every one of his players? Coaches and GMs are supposed to talk up their guys, especially in public, but we know better and should do better.
As I always have and always will claim, a fantasy analyst should simply present an informed opinion based on sound logic and facts in the way he/she finds fitting. It's still up to each and every reader to make his/her own informed opinion.
Just tell me who to start week to week.

— Seamus O'Shuck (@shuckrrr) July 11, 2020
Self-Serving Bias
Self-serving cognitive bias is the propensity to attribute positive outcomes to skill and negative outcomes to luck. In other words, we attribute the cause of something to whatever is in our own best interest. If you picked a player who breaks out, then you totally nailed that pick! If your guy busts, it's all his fault and there's no way you could have known because all signs pointed otherwise. This affects fantasy owners mostly in-season but it can skew your perspective when weighing risks vs rewards. Just try to be objective, if that's possible.
Confirmation Bias
My personal favorite: The idea that people seek out information and data that confirms their pre-existing ideas. They tend to ignore contrary information.
My unofficial research into Twitter feeds tells me that this is likely the most prevalent of all biases.
Calling it now: John Ross is gonna have a break out season in 2020.

(Yes, I know this is very much dependent on his health) pic.twitter.com/86w0phYzRu

— NFL Film Review (@NFLFilmReview) June 21, 2020

In Reddit circles, it has its own lovely term known as circle-jerking. You cherry-pick stats, quotes, and narratives that fit what you want to believe is true.
If you took a chance selecting Jonathan Taylor in the early rounds of a draft, you will quickly point out that Marlon Mack is absolute trash. He only averaged 57.3 rushing yards per game past Week 10 last year, only catches one pass per game making him a non-factor in PPR, and teams don't draft an RB in the second round unless they plan to give them a big workload right away. This conveniently leaves out the fact Mack finished 11th in total rushing yards, was top-25 in yards per attempt, and was averaging 86.7 rush yards per game before he was injured and missed two contests. The great offensive line play and presumable upgrade at QB with Philip Rivers would benefit Mack just as much as Taylor.
This is just one example, but it rings true for all player debates. Talk yourself into whatever player you like, just make sure it doesn't get out of hand.
Dunning-Kruger Effect
This refers to a cognitive bias in which individuals with a low level of knowledge in a particular subject mistakenly assess their knowledge or ability as greater than it is.
Ah yes, the crowd who screams "fancy stats don't mean nothin'!" Why spend time poring over NextGenStats and calculating return on investment for individual players according to projected draft position when you can just go with your gut? This is the classic tape vs. stats debate. Sorry to simplify things, but both have their place and are valuable in their own way.
The time of year where film vs stats guys always clash and Twitter gets flooded with more arguments than a Xbox live lobby full of 12 year olds

— RUMBOYZ FANTASY SPORTS NETWORK (@Rumboyznet) January 6, 2020
Odd thing about "stats vs film" is that no stats guys say film is useless but lots of film guys say that stats guys say film is useless.

— Aaron Schatz 🏈 (@FO_ASchatz) April 18, 2017
Ask the Truth Demon
If that subheading conjured up a frightening image in your mind, then you've got the right idea. This is a simple concept: take any belief you have about a player, strategy, projection, anything at all, and then ask yourself this: What Would Truth Demon Do?
In other words, if there were a powerful, all-knowing being wrought with ill intentions that knew the truth on every topic and would punish you if you knowingly made a false statement, would you back down or remain staunch in your assertion?
Is Antonio Gibson really going to be the next Joe Mixon? Are you sure???
Antonio Gibson went in the 6th round of this draft I was in

— Michael Florio (@MichaelFFlorio) August 22, 2020
Conclusion
There are other biases that begin to plague us after draft day, sometimes as early as one week into the season. These include hindsight bias ("I knew that guy was a bum but I picked him anyway!") and sunk cost fallacy, wherein you refuse to drop a player weeks into the season despite the fact he is absolute albatross on your team simply because of how high he was drafted or how high the cost was on auction day.
We'll address those issues with weekly start/sit advice but for now, make sure you go into your draft fully prepared (with our NFL Draft Kit of course) and be as objective and bias-free as possible. It might help if you save the IPAs for after the draft too.
More 2020 Fantasy Baseball Advice