I love bold predictions articles because I hate chalk. Preseason ADP is never anywhere near accurate when predicting the season, yet many fantasy drafters have trouble differentiating from the consensus.
Last year I predicted that Lamar Jackson would break the QB rushing record, Chris Godwin would have a big season, and David Johnson would struggle. I saw through the Baker Mayfield and O.J. Howard hype, predicted Aaron Rodgers' regression, but missed on JuJu Smith-Schuster and Dede Westbrook. The purpose of this article is to nail some of these predictions and help you win your league.
A general bold prediction I have is that this will be an extremely productive rookie class. There is a common thought that the lack of preseason games will impact rookie production in a negative way. I believe that vastly overestimates the value of preseason game reps. Rookies will get plenty of reps during camp in live team periods and simulated game-like scrimmages. Fair warning: some of these predictions may seem crazy. Just remember - it's 2020.
Editor's Note: Get any full-season NFL Premium Pass for 50% off. Exclusive access to our Premium articles, rankings, projections, 15 lineup tools and daily Premium DFS research/tools including our Lineup Optimizer, Research Station and so much more!
Sign Up Now!
This isn't even that bold to me. He's one of the great college backs of all time and is running behind the best offensive line in the NFL on the Indianapolis Colts. You can read more about my thoughts on Taylor here.
Ben Roethlisberger has loved feeding his WR2 since the days of Antwaan Randle El. Most recently, JuJu Smith-Schuster broke out opposite Antonio Brown. I expect Diontae Johnson to make a second-year leap with the help of a healthy Big Ben. Johnson was one of the best separators in all of football last season and showed above-average RAC and route-running skills in limited work. He was impressive despite terrible quarterback play. Big Ben's return will coincide smoothly with Johnson's improvement as he takes the next step.
I went back and watched some Cooper Kupp film from last season. His quickness and explosiveness after the catch surprised me. While he's somewhat of a possession receiver from the slot, his ability to gain extra yardage and find the end zone with his legs was encouraging. Kupp was WR7 in PPG last season, averaging 16.9 PPR PPG. He averaged exactly 16.9 PPR PPG the year before also. Jared Goff will assuredly experience positive TD pass regression after last year, and Kupp will continue to produce at a high level.
While Kupp's expected volume will either increase or remain the same, DeAndre Hopkins' targets will almost surely regress in the desert. Hopkins drew 150 targets from Deshaun Watson last year on the Texans and averaged over 160 targets per year from 2016-2018. Arizona Cardinals head coach Kliff Kingsbury is expected to lead the league in 10 personnel this year, which means more receivers on the field. Christian Kirk is a promising young talent who drew a 26% target share last year. Larry Fitzgerald is 36 years old, and all-time greats Jerry Rice, Tim Brown, and Cris Carter all commanded more than 100 targets during their age-36 seasons. The Cardinals also have two talented running backs and a young QB who is a rushing threat.
I don't care for the too-many-mouths-to-feed argument when it relates to a player earning a baseline level of opportunity. But with the upper-echelon receivers, it matters due to the huge number of targets it would take for them to return value at their ADP.
4. Deshaun Watson finishes above Lamar Jackson
Watson has finished as the QB1, QB4, and QB2 in PPG over his first three seasons. He's losing his best receiver in DeAndre Hopkins, but it's not like the Texans don't have solid veteran pass-catchers. He also has two capable pass-catching RBs and has always utilized TEs well. On third downs and in the red zone where Hopkins was a primary option, the Texans may choose to run Watson more, which would enhance his value further.
Lamar Jackson is obviously fantastic, but I have two concerns with his output this year. The Baltimore offense will regress in terms of touchdowns, and they surely won't run Jackson as much as they did last year in an effort to keep him healthy for the long haul. The Ravens now know they have an MVP-level investment that must be protected. They also added J.K. Dobbins and now have four capable RBs. Jackson also did not protect himself as much as he should have last year. There were way too many instances in which he took a hit instead of sliding or running out of bounds. I love Lamar Jackson, but I don't see him re-capturing last year's magic.
5. Laviska Shenault Jr. finishes inside the top-30 WRs after a breakout second half
Rookie WRs are usually not great re-draft targets because it takes them some time to acclimate to the NFL. In the second half of their rookie seasons, they can be very valuable though. Drafting rookie WRs might not be a great strategy, but picking them up off waivers in the second half of the season has historically been a good way to find value. Those who added Deebo Samuel and A.J. Brown last year were rewarded down the stretch. And last year, only one rookie WR was drafted in the first round.
This rookie class is historically talented, and Laviska Shenault was actually right at the top of most draftnik lists prior to an injury-marred senior season at Colorado. By all accounts, he's looked good in camp, and he will undoubtedly have the opportunity to ball out with Gardner Minshew in Jacksonville. I don't think the Jags will have many positive game scripts or an effective running game and I expect to see some YOLO ball from their young gunslinger. It is not bold to predict that a Jags receiver or two will smash value. D.J. Chark Jr. has a year of solid production under his belt, but Shenault was a better prospect coming out. I expect the Jags to manufacture touches for Viska, and he will prove to be an explosive RAC weapon from various alignments.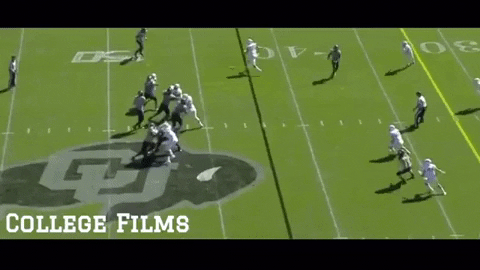 6. Tee Higgins finishes inside the top-30 WRs after a breakout second half
Higgins was one of the most underrated WR prospects in the 2020 class. He was overlooked in part due to a 4.59 40-yard dash. At 6-4, 215, Higgins used his size in combination with masterful ball skills en route to being the most productive receiver in the history of Clemson football. Former Tiger DeAndre Hopkins and Saints WR Michael Thomas both ran a 4.57. I do not have confidence that A.J. Green or John Ross can stay healthy and when Higgins' opportunity comes, I expect him to run with it.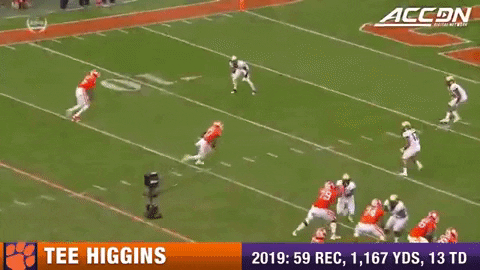 7. A.J. Brown finishes as a top-7 WR
But regression! Brown will not repeat his 20.21 yards per reception average or his 15% TD rate. However, his 21% target share will certainly go up. He is by far the Titans' best receiver, so I project that number to be above 25% at least. The Titans love to run the ball and the hyper-efficient second-half Ryan Tannehill will regress, but the WR1 on a decent NFL offense is always a valuable fantasy asset. Brown is as natural a receiver as there is in the league. He was actually the number one ranked college fantasy WR before his senior season at Ole Miss. I like drafting elite players when the general public has not caught on to the talent yet.
Similar to A.J. Brown, Hollywood's lack of hype is due to the run-first nature of the Ravens offense. Marquise Brown is still the unquestioned WR1 on a great NFL offense with an MVP-caliber quarterback. The only concern I have with Hollywood is his durability as it relates to his small size. The good news is that he's put on 23 pounds and will reportedly play the season at 180 pounds. The Ravens almost assuredly won't run Lamar Jackson as much, so an uptick in targets is expected. If he can stay healthy, Hollywood can put up star-studded numbers with over 120 targets.
9. Mark Andrews finishes outside the top-10 tight ends
A lot has been made about Andrews' 41.36 snap percentage last season. Most believe it's bound to increase, possibly by a lot, due to the departure of Hayden Hurst. While his snap percentage will likely go up, I find it odd that so many people are willing to invest a third-round pick on a player who may play about 50% of his team's snaps. Tight end Nick Boyle played 69.59% of snaps, even with Hurst on the roster. The Ravens have four usable running backs and an above-average fullback. They also return their three starting wide receivers in addition to adding two more talented wideouts in the draft.
Andrews has a path to being the most targeted Raven, but if Marquise Brown surpasses him or the ball is simply spread out more, he will have trouble returning value at his pricey ADP. I do not think his 16% TD rate is sustainable, and Lamar Jackson will likely throw fewer TDs anyway.
10. Josh Jacobs finishes as a top-5 RB
I wrote more about Jacobs here. He was one of the best pure runners in the NFL last year despite playing with a banged-up shoulder. With more projected work as a receiver, Jacobs should be among the league leaders in touches. He was a solid receiver in college and the Raiders are already talking about increasing his role in that department. The Raiders are strong along the offensive line and both their GM and head coach want to prove that drafting an RB in the first round was the right move.
11. Zack Moss takes control of the Buffalo backfield, out-touching Devin Singletary 2-1 during the second half of the season.
After scouting both these prospects coming out of college, it is clear to me that Zack Moss is a better runner. Moss was only a third-round pick due to durability questions, a lack of elite athleticism, and of course the devaluing of the RB position. Devin Singletary is a nice player, but the only thing he possibly does better than Moss is catching passes. With reports that Moss is impressing as a receiver and Singletary is having fumbling issues, the rookie is arguably the single best value in fantasy drafts right now. Get him in the mid to late rounds while you still can.
12. Tom Brady throws for 4835 yards and 33 touchdowns but Ronald Jones finishes outside the top-24 RBs
When I went back and looked at historic seasons, one common theme was a perfect storm of situation and talent. Peyton Manning and Tom Brady had tremendous receiving groups during their record-breaking seasons. Todd Gurley II exploded thanks to Sean McVay and improvements along the Rams' offensive line. Not enough people are talking about how amazing the situation in Tampa Bay is for Tom Brady in 2020. He has an excellent receiver group and one of the best offensive coaches of this generation. The pass-happy Bruce Arians loves to stretch the field vertically, and there is no statistical evidence that Brady has regressed as a passer. He simply hasn't had many weapons in New England in the past few years. The Bucs' defense is better against the run, which will lead to more shootouts. You want pieces of this Tampa Bay passing game.
On the flip side, Ronald Jones II will have to improve drastically to return value at his ADP. Jones showed flashes last season, but his career has been marred by dropped passes, poor pass-blocking, and an inability to beat out uninspiring RBs to earn touches. Tom Brady is going to prefer better receiving backs, and the Bucs have three on the roster. I don't care what Arians says about Jones. His actions will speak louder than words and drafting Ke'Shawn Vaughn and then signing LeSean McCoy is not exactly a vote of confidence for RoJo.
13. Irv Smith Jr. finishes in the top-10 TEs
Breakout tight ends frequently finish at least second on their team in targets. That's what helped both Darren Waller and Mark Andrews break out last year. Looking into this year's group, Irv Smith Jr. has a path to being the second-most targeted Viking behind Adam Thielen. Justin Jefferson is just a rookie and Bisi Johnson is not the most talented WR in the world. Smith has also been working as an outside receiver in addition to inline TE. The presence of Kyle Rudolph is a concern, but I expect a lot of 12 personnel with a possibility of Smith simply jumping ahead of Rudolph on the depth chart. Even with the TE rookie learning curve, Smith played over 59% of snaps in 2019. After the Vikings' Week 12 bye, Smith out-snapped Rudolph in all but one game. Smith has the talent and a path to the opportunity required to break out.
14. T.J. Hockenson finishes in the top-8 TEs
We know that TE is historically one of the most difficult transitions for rookies. T.J. Hockenson did not play well while acclimating to the NFL last year with Detroit and had to deal with nagging injuries and terrible quarterback play. I expect a second-year jump in large part thanks to the return of Matthew Stafford. I also expect growth from Hockenson himself, as he was one of the best TE prospects I've ever scouted. The Lions have good wide receivers, but if one of them goes down, Hockenson would get a huge bump. The Lions will likely be pass-heavy and I expect a lot of underneath targets for Hockenson.
15. Odell Beckham Jr. does not play the final half of the season
Beckham has already questioned if there should be a season and has had a tumultuous NFL career, to say the least. He even considered retiring in 2017. I predict he will retire from football, citing health concerns or an off-field purpose. You wanted bold, right?
16. A rookie QB has three top-five finishes in weeks 14, 15, and 16 in part due to rushing production…
And it's not Tua Tagovailoa. Justin Herbert will take over for the Chargers after they are eliminated from playoff contention in Week 12 at Buffalo. In Week 13, Herbert will get his first career start at home against New England, and will have some promising moments against a sturdy Pats defense. In the next three weeks, Herbert will average 45.2 rushing yards per game and score three rushing TDs in addition to five scores through the air, helping some owners win their fantasy championships. Herbert ran all over Wisconsin in his final collegiate game. QBs with rushing upside are cheat codes in fantasy football, and I don't think people realize how athletic Herbert really is.
17. ...and Joshua Kelley is his running mate
Kelley has already garnered praise for a stellar camp, and will likely take the 1B RB job from Justin Jackson at some point if he hasn't already. Kelley isn't the most gifted athlete, but he's an instinctive runner whom I believe will earn ample opportunity as a rookie. Austin Ekeler is not going to see the touches volume fantasy owners want, especially in terms of carries. The Chargers also do not project to be a dynamic passing team with Tyrod Taylor, no third receiver, and injury-prone Hunter Henry and Mike Williams. Kelley will get work near the goal line and make the most of his opportunity.
CeeDee Lamb is already drawing rave reviews at training camp and will be moved all over the formation for the Cowboys, including garnering valuable slot targets. Cooper has always been a weird performer with odd disappearing acts. As for Gallup, I just think Lamb is the better player. Rookie wide receivers are better bets in the second half of the season, and that's when I expect Lamb to truly break out.
19. Miles Sanders busts, finishing outside the top 24 RBs.
These can't all be fun, right? While I recognize his upside, there are multiple red flags with Miles Sanders this year. First is the recent history of the Eagles using an RBBC. Since Doug Pederson has been head coach, the Eagles have never featured a workhorse back. Sanders proponents will say that Pederson hasn't had a back as talented as him, which may be true. But the downside is that it may not be true, or maybe not true enough to change Pederson's tendencies.
Fantasy drafters see a second-year back with flashy highlights who had some promising moments down the stretch of his rookie year. They also see an above-average Eagles offensive line and the draft capital used to get him. Sanders proponents have not considered the possibility that he just isn't that good, or at least not good enough to command a workhorse share of volume, which again, would go against the history of his coach's actions.
After scouting Sanders at Penn State, I noted his athleticism and speed but questioned his transition to the pros with red flags of poor vision and patience between the tackles. I noted, "looked like he belonged on the field with Appalachian State." My standard for running backs is that they look dominant over the lower competition. Sanders' rookie year had flashes, but he actually did struggle with vision and adjustment to the pro game. The thought seems to be that Sanders did well when given the opportunity down the stretch, but he actually got more than 10 carries for the first four games of his career and did very little with them. His late-season surge was impressive, and he received almost workhorse volume.
Watching the film closely, he didn't break that many tackles and benefitted from well-designed downfield pass concepts. He's also currently banged up. I'll pass on Sanders this year.
20. You will skim this article, reading the titles, and looking to confirm the biases you already have for your own players.
1-for-1. Off to a great start! Thanks for reading and good luck this season.
Win Big With RotoBaller
Be sure to also check out all of our other daily fantasy football articles and analysis to help you set those winning lineups, including this new RotoBaller YouTube video:


More Fantasy Football Analysis