Another wild and wacky week in MLB, though it was tamer than the week before. Any week that a new team doesn't disappear from the schedule after a COVID outbreak is a good week, right?
We're still at the point of the season where the waiver wire is littered with positional players who are excelling but whose performance is not yet believed by the fantasy community. Well, my fellow chuckleheads, don't look now but the regular season is 25% finished. There's no time to waste and no time to lose. You have to make moves now and scoop these possible flash-in-the-pans while you can.
We'll be doing this roundup of point league happenings every week here at RotoBaller, with waiver-wire targets and streaming pitchers being evaluated in terms of the different scoring systems of ESPN, Yahoo, CBS, and Fantrax. Player values can vary wildly from platform to platform, so we'll make sure to highlight where players are the best and worst fit at. We know point players get neglected and we're here to help. Let's get to Week 4.
Editor's Note: Get any full-season MLB Premium Pass for 50% off. Get access to our exclusive articles, rankings, projections, prospects coverage, 15 in-season lineup tools, daily expert DFS research, powerful Research Station, Lineup Optimizer and much more!
Sign Up Now!
Playing For Points Through a Pandemic
While the number of games has changed, the way that points are scored on each platform has not. You must account for, as precisely as possible, how a player performs under your particular scoring system. Don't be fooled into believing you can just make rough adjustments in your head, bumping up guys with high on-base percentages and low strikeout-rates. Every point, in every category, counts. For example, ESPN and Fantrax are virtually identical in their scoring for hitters and roster size. The only difference is that stolen bases are worth one more point on Fantrax and ESPN subtracts one point per strikeout. That's the difference over Ronald Acuna Jr. being a top-five batter versus a top-25 batter.
If your league uses standard settings, then great! Turn to page 94 and you can skip ahead to the leaderboards. If you play with custom settings, it'll still be fine. Go back to page 43 and look below at the scoring systems of the four major platforms. I bet there's a chance that you'll find that your league's scoring is very similar to one of the four (well, not Yahoo's), even if it's not the platform you actually play on. For example, my home league started on a now-defunct platform before moving first to ESPN and is now at Fantrax. But our scoring is basically ESPN standard but with two points for stolen bases and a handful of other minor adjustments.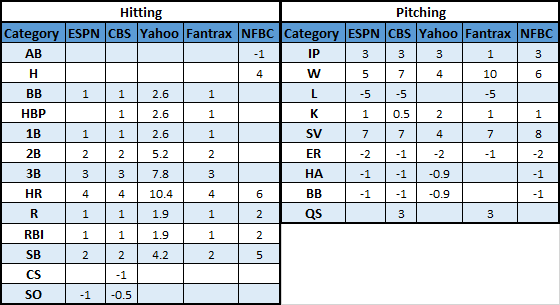 If you look above, you'll likely find a suitable mirror to your own system. While every point counts, as long as they aren't seismic changes you can get away with some "close enough". IE. If everything is the same except for HBP (or something similar), you're probably fine.
All of the following charts are updated prior to Saturday's games, on stats and ownerships. Clicking on a chart will open a new page with a magnified version.
First Base Leaderboard
Pretty ho-hum at the top of the first base leaderboard, with stalwarts like Freddie Freeman, Matt Olson, and Anthony Rizzo holding things down. Well, there is the fact that Renato Nunez is the top-scorer on all five platforms. Nunez had a .446 wOBA heading into the weekend, with five home runs and a .292 AVG in 55 plate-appearances. He's also somehow available in 64% of ESPN leagues and 46% of Yahoo leagues. Scoop that man...Scoop him up!
First Base Waiver Wire
Mitch Moreland has a 203 wRC+ through his first nine games and is a top-12 scorer on all five platforms. And shockingly, he's the #2-scorer in NFBC's Cutline scoring. The popular fantasy players on the Red Sox have been mighty disappointing but it might be time for players on all platforms to get on board with Moreland, who's less than 10%-owned on ESPN and Yahoo.
Like the leader at the position, Renato Nunez, Jesus Aguilar is playing on a team full of unknowns and getting ignored by much of the fantasy community. Aguilar has a .281 AVG and 151 wRC+, with a career-high 0.60 BB/K. He's also only carrying a 13.5% K-rate that's backed by a 5.7% SwStr%; both marks are career-lows by large margins. He also has a 51.3% F-Str%, which is a 10-point drop from 2020, and is making it seem like he's making a concerted effort to improving his approach.
Second Base Leaderboard
Another leaderboard, another Baltimore Oriole near the top of the list. Hanser Alberto is second in scoring across the board at the keystone, trailing only Whit Merrifield. Alberto doesn't walk but he also rarely strikes out, with just a 9.7% K-rate in 2019 and a 9.1% K-rate so far in 2020. You may want to take a stroll to the wire if you play on Yahoo (47%-owned), just in case he's available in your league.
Second Base Waiver Wire
Second base is seriously deep on the wire, with multiple players that I loved heading into the season. Wilmer Flores may be a limited contributor in roto but he's built for points play. Flores rarely strikes out (career 12.7% K-rate), makes a ton of contact (89.7% contact%), and seems to be locked into a regular gig for San Francisco, collecting 57 plate-appearances in 14 games.
Batting at the top of a Cleveland offense that's starting to click, Cesar Hernandez is a must-add in all leagues. Do it now, though, because he's at the cusp of graduating from this section of the leaderboard.
Jonathan Schoop has a career-high 29.8% K-rate this season, limiting his upside on most platforms. But with a swinging-strike rate that's in line with recent years, the strikeout-rate should start to decline.
Third Base Leaderboard
It's no surprise to see Cleveland All-Star Jose Ramirez near the top of the list. However, it's more than surprising to see Kyle Seager, Giovanny Urshela, Maikel Franco, and Colin Moran round out the rest of the top-five. At least everyone besides Franco has graduated from the waiver-wire leaderboard. And to everyone that drafted Matt Chapman, Rafael Devers, Vladimir Guerrero Jr., and Kris Bryant? Tick-tick-tick-tick-tick...
Third Base Waiver Wire
Seeing that we've now already completed about 25% of the season, there's no time to doubt. Which means Maikel Franco is a must-add in all leagues. Franco is playing regularly in Kansas City and has a career-high 41.2% hard-hit rate and 7.8% Brl%. He's just as likely to go stone-cold over the next week and necessitate a cut but you have to ride him for now.
Remember was everyone was jazzed that maybe Travis Shaw wouldn't be terrible again? The good news is that he's no longer utterly useless on the diamond. Unfortunately, he's still utterly useless on your fantasy team, currently being outscored by Pablo Sandoval.
Shortstop Leaderboard
We knew shortstop was deep, with names like Tatis, Story, Bregman, and Lindor. But no one told David Fletcher, Donovan Solano, and J.P Crawford that this was an invitation-only affair. And that's saying nothing of the post-hype breakout brothers, Corey Seager and Dansby Swanson. The gate-crashers have arrived at shortstop and the incumbents are putting up little resistance.
Shortstop Waiver Wire
There's not really anyone on the above leaderboard that screams "we'll be together forever!", with the wire a fairly homogeneous mix of players that can help you if you're in a pinch but aren't likely to be a long-term solution. I'm still really bullish on Niko Goodrum (who also hit a home run and double on Saturday night), not only for the skills but also for the multi-position eligibility. But a 42.9% K-rate means he'll never be viable on ESPN and CBS.
You don't want to run him out there all of the time but if Chris Taylor is facing a sinkerballer, he's worth a spot-start. Taylor has crushed sinkers his entire career and that hasn't stopped in 2020.
Outfielder Leaderboard
Nick Castellanos is having his official coming-out party and Aaron Judge apparently is no longer bothered by his ribs. The success of those two was expected, to a certain extent. But Mike Yastrzemski has arrived and doesn't appear to be a fluke. He's not a top-10 outfielder, by any stretch, but Yastrzemski is now slashing .321/.449/.679 with four home runs and a .467 wOBA through his first 69 plate appearances. And making him a particular darling in point leagues is his 18.8% walk-rate and 23.2% K-rate. He may slow down but the dude appears to be for real.
Outfielder Waiver Wire
The waiver-wire for outfielders is just littered with rosterable players. JaCoby Jones and Anthony Santander are both top-20 scorers on all platforms and are still at minuscule ownership. At least Jones is getting near 50%-ownership but Santander is still hovering below 15% on ESPN and Yahoo.
Brandon Nimmo continues to put up solid points with consistent performances, scoring as a top-20 outfielder on three of the five platforms. He only has a .217 average but is walking at a 21% clip and is consequentially running a career-high .419 OBP.
Catcher Leaderboard
Exactly what everyone expected going into this season at catcher. An elite group of stars ready to put up big numbers in 2020. Or, a motley crew of backstops trying to prove who's the least not-bad. When many of your fantasy team's prospects at the catcher position hinge on Austin Nola picking up eligibility (**cough-cough**), you're probably in trouble.
Catcher Waiver Wire
This gets ugly but lets wade in anyway. The aforementioned Nola is a solid pickup, as he's taken over the catching position in Seattle following the injury to Tom Murphy. Nola has a .324 AVG through his first 38 plate-appearances, with a 179 wRC+.
Max Stassi is a top-five catcher on all platforms and is a top-two catcher on three of the five. Max. Stassi. And why shouldn't he be? Stassi has six home runs in his first 10 games, with a .333 AVG and .494 wOBA. He's highest owned on ESPN, at 39%. No time to wait, he'll be gone soon.
Reliever Leaderboard
From the makers of "Catcher is a dumpster fire", fantasy baseball now presents, "Wait until you see relievers". Just looking at the above leaderboard makes me sad. Joakim Soria and Zack Britton are at #2 and #3? Jonathan Hernandez and Chad Green? JOSH? Tomlin! If you heavily invested in relievers as part of your 2020 strategy, it's fair to say that you're not impressed with the above leaderboard.
Reliever Waiver Wire
I find that, more than any other position, ownable relievers stay on the wire for far too long in point leagues. For example, Joakim Soria should absolutely be owned, even if he's not regularly in a position to get saves. What he is getting is consistent work, having already pitched eight innings in 2020, with an outrageous 41.9% K-rate and 0.00 ERA.
You can basically say the same thing about Jonathan Hernandez, as I said about Soria above. Hernandez is getting regular work for the Rangers and has a 2.25 ERA over his first eight innings, with a 40.6% K-rate. They're not sexy but you can rack up tons of points by paying attention to usage and cycling in guys like Soria and Hernandez.
Starting Pitcher Leaderboard
I've been telling you for a while; my sweet Dylan is coming for all of your souls. Dylan Bundy has been released from his shackles in Baltimore, where former GM Dan Duquette infamously did not believe a cutter was a real pitch and subsequentially would not let Bundy throw his best offering for extended periods of time. Now Bundy is out of the Baltimore bandbox and has fine-tuned his pitch mix in Anaheim by making the radical step to throw his bad pitches less and his good pitches more. That means the cutter/slider hybrid that Bundy throws is on the table and he's carving fools like a Thanksgiving Day turkey. Protect your necks, turkeys...And your souls.
Starting Pitcher Waiver Wire
Top-10 Scorers Week Four Schedule
Antonio Senzaleta (RHP), COL - Wednesday: vs. ARI
Marco Gonzales (LHP), SEA - Tuesday: @ TEX
Randy Dobnak (RHP), MIN - Monday: @ MIL, Sunday: vs. KC
Zach Davies (RHP), SD - Wednesday: @ LAD
Alec Mills (RHP), CHC - Wednesday: @ CLE
Alex Cobb (RHP), BAL - Tuesday: @ PHI, Sunday: vs. WSN
Tommy Milone (LHP), BAL - Thursday: @ PHI
Adrian Houser (RHP), MIL - Monday: vs. MIN, Saturday @ CHC
Spencer Turnbull (RHP), DET - Friday: vs. CLE
Martin Perez (LHP), BOS - Tuesday: vs. TB, Sunday: @ NYY
More Points Leagues Analysis