Another week, another two teams sniped off of the schedule. By now, no one needs to be told how imperative is grab value off of the waiver wire.
We're nearly halfway through the short season and while it's still a very small sample, we can at least start to separate the wheat from the chaff. But that doesn't guarantee that your opponents are paying as much attention as they should be, with tons of starting value available in a majority of leagues.
We'll be doing this roundup of point league happenings every week here at RotoBaller, with waiver-wire targets and streaming pitchers being evaluated in terms of the different scoring systems of ESPN, Yahoo, CBS, and Fantrax. Player values can vary wildly from platform to platform, so we'll make sure to highlight where players are the best and worst fit at. We know point players get neglected and we're here to help. Let's get to Week 6.
Editor's Note: Get any full-season MLB Premium Pass for 50% off. Get access to our exclusive articles, rankings, projections, prospects coverage, 15 in-season lineup tools, daily expert DFS research, powerful Research Station, Lineup Optimizer and much more!
Sign Up Now!
Playing For Points Through a Pandemic
While the number of games has changed, the way that points are scored on each platform has not. You must account for, as precisely as possible, how a player performs under your particular scoring system. Don't be fooled into believing you can just make rough adjustments in your head, bumping up guys with high on-base percentages and low strikeout-rates. Every point, in every category, counts. For example, ESPN and Fantrax are virtually identical in their scoring for hitters and roster size. The only difference is that stolen bases are worth one more point on Fantrax and ESPN subtracts one point per strikeout. That's the difference over Ronald Acuna Jr. being a top-five batter versus a top-25 batter.
If your league uses standard settings, then great! Turn to page 94 and you can skip ahead to the leaderboards. If you play with custom settings, it'll still be fine. Go back to page 43 and look below at the scoring systems of the four major platforms. I bet there's a chance that you'll find that your league's scoring is very similar to one of the four (well, not Yahoo's), even if it's not the platform you actually play on. For example, my home league started on a now-defunct platform before moving first to ESPN and is now at Fantrax. But our scoring is basically ESPN standard but with two points for stolen bases and a handful of other minor adjustments.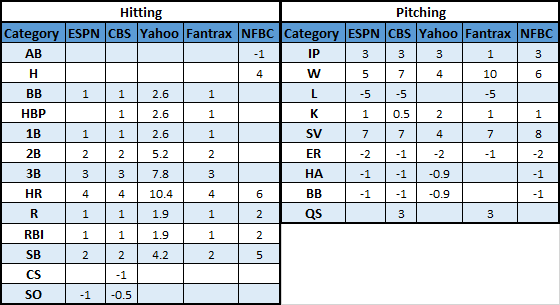 If you look above, you'll likely find a suitable mirror to your own system. While every point counts, as long as they aren't seismic changes you can get away with some "close enough". IE. If everything is the same except for HBP (or something similar), you're probably fine.
All of the following charts are updated prior to Saturday's games, on stats and ownerships. Clicking on a chart will open a new page with a magnified version.
First Base Leaderboard
First Base Waiver Wire
Add in 12-Team Leagues (Starter)
Mitch Moreland (BOS) - Moreland has fallen back slightly as of late but is still holding steady as a starting option on all platforms. Over the past 15 days, Moreland has a 9.6 average platform-ranking, the 1oth-highest over that period.
Add in 12-Team Leagues (Corner Infielder)
Jesus Aguilar (MIA) - He's still worth an add if you absolutely need to plug someone in but Aguilar has faded some over the last few weeks, ranking as the 15th-highest scoring first baseman over the last 15 days according to average platform ranking. He also has a tough week ahead of him; the Marlins only play six games, including matchups against Jacob deGrom, Blake Snell, and Tyler Glasnow.
Second Base Leaderboard
Second Base Waiver Wire

Add in 12-Team Leagues (Starter)
Wilmer Flores (SF) - His ownership has risen but Flores is somehow still available in half of ESPN and Fantrax leagues, as well as in over 70% of Yahoo leagues even though he's a top-4 scorer on every platform. He's also been a top-4 scorer over the last 15 days according to his average platform ranking. He's a must-add in all leagues but his 39% ownership in NFBC Cutline is going to make things very interesting for Tuesday's second (and final) FAAB period. Flores is top-five at second base for the format and the bidding is going to get spicy with players having their last shot to add to their roster.
Nick Solak (Tex)/Jonathan Schoop (DET) - They've both been top-10 second baseman for the season and over the last 15 days they've been respectively the sixth- and eighth-highest scoring according to average platform ranking. They're both must-adds but Solak has the higher ceiling.
Add in 12-Team Leagues (Middle Infielder)
Third Base Leaderboard
Third Base Waiver Wire
Add in 12-Team Leagues (Starter)
Yandy Diaz (TB) - Diaz is one of the biggest must-adds and is very unlikely to be here next week. He's already the 12th-highest scorer according to average platform ranking but has blown up over the past 15 days, with the third-highest average ranking. In 59 PA over that span, Diaz has filled up the stat sheet, posting a .426 wOBA and 1.25 BB/K, with five home runs, 12 RBI, and 9 R.
Add in 12-Team Leagues (Corner Infielder)
Shortstop Leaderboard
Shortstop Waiver Wire

Add in 12-Team Leagues (Starter)
Nick Ahmed (ARI) - Ahmed is striking out a bit more than in the past but is also hitting the ball harder than he ever has, with a career-high 89.3 average exit-velocity (87.8 mph in 2019) and a 39.4 hard-hit rate that's over a five-point jump from last season. Over the past 15 days, Ahmed has been the sixth-best shortstop on every platform except NFBC where he was the fourth-best. The fifth-best over that same period was Trevor Story.
Add in 12-Team Leagues (Middle Infielder)
Outfielder Leaderboard
Outfielder Waiver Wire

Add in 12-Team Leagues (Starter)
Brandon Nimmo (NYM) - So help me, I'm going to keep yammering about Brandon Nimmo until he's 100% owned. To recap; he was awesome in 2018, then started slowly in 2019 before missing most of the summer with a balky shoulder. He returned in September and was even better than he had been in 2018. And yet, you can't find Nimmo on a majority of rosters. Nimmo has been a top-15 so far this season and over the past 15 days has 3 home runs, a 1.3 BB/K, and a .458 wOBA. Seriously, just pick him up.
Catcher Leaderboard
Catcher Waiver Wire

Add in 12-Team Leagues (Starter)
Austin Nola (SEA) - He's not just Aaron's big brother anymore and needs to be picked up in all formats. He's got the fifth-highest average platform-ranking on the season, as well as over the past 15 days, and even gives you some bonus positional flexibility. Nola is another guy that's going to go for a ton of FAAB in the 32% of Cutline leagues where he's available.
Relief Pitcher Leaderboard
Relief Pitcher Waiver Wire
Jordan Romano (TOR) - He has a 1.29 ERA and 31% K-BB% over the last 15 days and is now established as Toronto's main setup man for Anthony Bass.
Ty Buttrey (LAA) - Seems to have the Angels closing job for the moment and has picked up two saves over the last week, without allowing a run.
Taylor Williams (SEA) - Williams has taken over Seattle's closing job and has three saves and a 29.2 K-BB% over the last 15 days, trailing only Liam Hendriks for the highest average platform-ranking.
Starting Pitcher Leaderboard
Starting Pitcher Waiver Wire


Two-Start Streamer Options
Other Notable Streamers
Win Big With RotoBaller
Be sure to also check out all of our other daily
fantasy baseball articles
and analysis to help you set those winning lineups, including this new RotoBaller YouTube video:
More Points Leagues Analysis