The Marlins are contenders! Well, at least they have a shot at one of the 16 playoff spots now available in 2020.
What was expected to be a relatively quiet trade deadline based on the short season and a host of unknown factors throughout the year resulted in a last-minute flurry of activity. Typical buyers like the Yankees, Dodgers, and Astros stood pat while it was the Padres and Blue Jays going all in. Meanwhile Miami, the franchise that has been a seller for approximately 25 of its 28 years of existence, actually acquired a veteran bat of consequence and got gasp! older.
In a separate move, the Fish also dealt away Jonathan Villar for a player to be named later. As a solid veteran who can move between multiple infield positions and the outfield that also brings speed to the table, it might seem that these moves offset each other. Digging deeper, the Marlins had a plan that involved improving their defense and leadership on the field. That's all good and well, but what does this do for the fantasy value of each player in 2020 and beyond?
Editor's Note: Love the strategy of season-long fantasy sports? Live for the short term gratification of DFS? Try Weekly Fantasy Sports on OwnersBox - a new weekly DFS platform. Sign up today for a FREE $50 Deposit Match. Offer expires Thursday night!
Sign Up Now!
Bienvenido a Miami, Mr. Marte
Starling Marte is well-known to fantasy GMs. He finished 45th in overall offensive scoring in 2019 (OF16), 32nd overall (OF15) in 2018, has stolen at least 20 bases for seven straight seasons, and owns a career .288 batting average.
Marte is now 31 years old, but neither his foot speed or bat speed are in question.
He may not project to be among the top-five of base thieves but this trade could change that outlook. The Diamondbacks were one the least aggressive teams on the basepaths, ranking 24th in SB attempts at 0.46 per game. Mattingly's Marlins are at the top of that category, giving not only recently-departed Jonathan Villar the green light at any time, but also players like Jon Berti who has eight steals. Even Magneuris Sierra, who has all of 36 at-bats, has swiped four bags.
In his first season with Arizona, Marte was slashing a healthy .311/.384/.443 with five steals in 33 games. His average would be a career-high and the BABIP is 10 points higher than his career average but he's finished above his current .353 BABIP three different times, so don't necessarily expect a decline.
The only thing worth noting about this year compared to his past track record is that he's changed his approach. Marte seems to be inexplicably struggling with breaking pitches when he never did before. Meanwhile, he is tearing up offspeed pitches. Ultimately, it has been a wash and his averages are better than ever, so it's nothing but a curiosity at this point.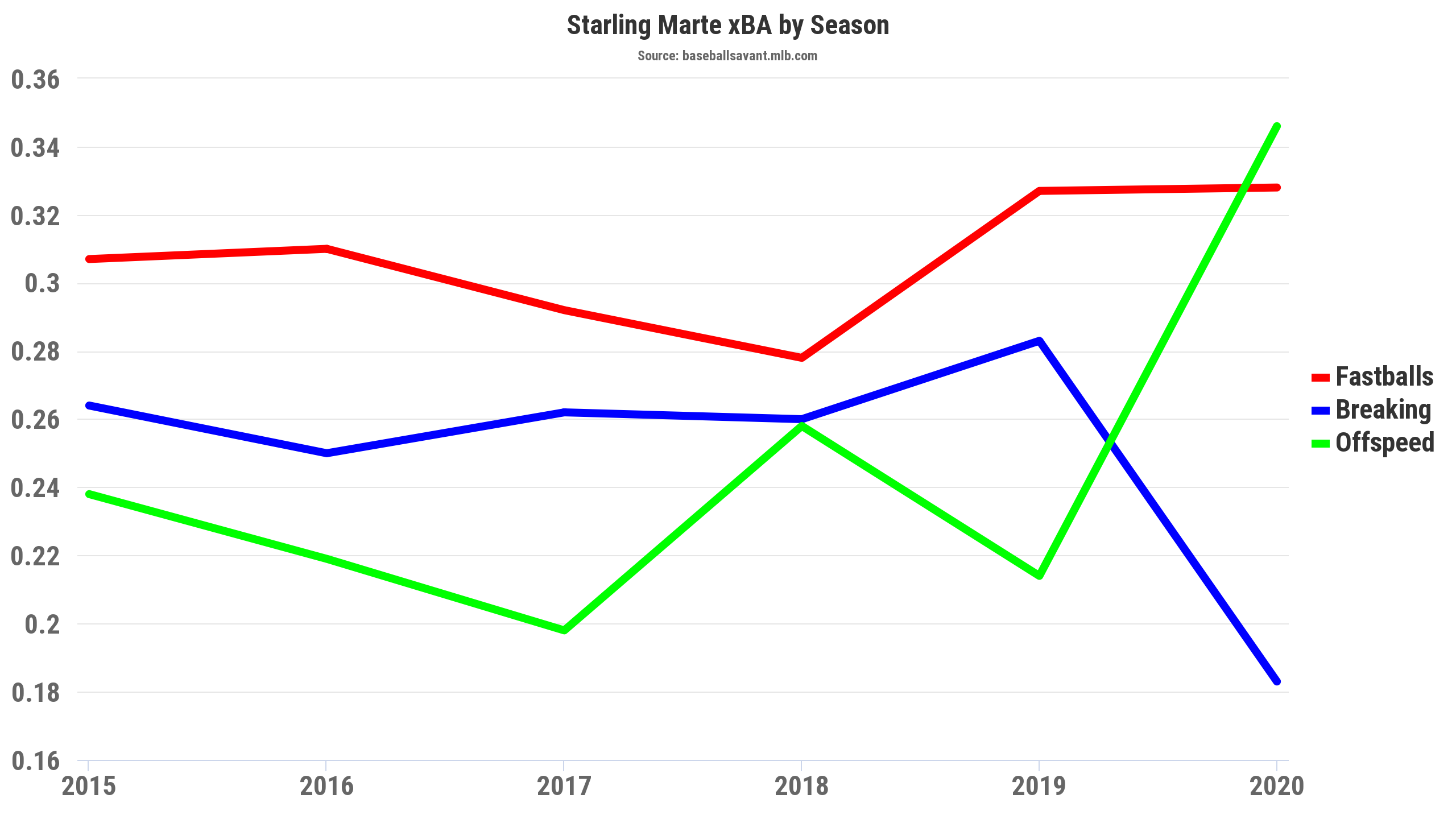 Marte has resided in the third spot in the lineup all year for Arizona but is slotted for the second spot in his Marlins debut. This is a minor adjustment and doesn't move the needle too much except for reinforcing that he could see more opportunities to run. Expect a slight trade-off of RBI in favor of SB, which most fantasy managers would gladly take.
Normally, a move to Miami would be a death knell for an offensive player, but this is a different season for sure. The D-Backs became sellers for a reason, mainly because their rotation and offense are both terrible. This is a purely lateral move, as both teams have identical team batting averages of .237 and an OPS difference of .003 with the D-Backs scoring 20 more runs on the season. If anything, Marte may benefit mentally from moving to a cough cough playoff contender.
If you are rostering Marte, don't fret or sell based on concerns with him leaving the desert. The humidor has suppressed Chase Field's air for a while and Marte's game is speed not power anyway. If a rival manager is worried about Marte or willing to sell at a discount, consider buying now if the trade deadline hasn't passed.
Does Villar Have Value Up North?
With nine steals in 30 games, Villar is currently the MLB leader in the all-important roto category. He could have more if not for a low .315 OBP and five times caught stealing. His .259/.315/.345 slash line is right in line with his career average of .261/.328/.405 and he's never been one for a high walk rate. While this might lead one to believe that Villar could be as valuable as Marte when taking his infield eligibility into account, that's just not the case.
Villar is seen as a multi-category contributor because he went for 24 HR and 73 RBI last year along with 40 SB and a .273 average. The truth is those were all by far career highs and came in a full 162 games played. Villar isn't lighting up the Statcast charts this year and is about to lose ABs as well.
We've already established that Miami has given him more chances to steal than any other team, we don't know if he'll even have an everyday role in Toronto. He can take over at SS while Bo Bichette is out but will bounce back to a utility role once the young phenom returns. Surprisingly, Villar has posted a better UZR at shortstop than Bichette this year, so it's possible Bichette gets moved to third base and Travis Shaw gets moved to DH and Rowdy Tellez gets bounced from the lineup... but most likely the team will use Villar in a utility role since he can play across the diamond.
Hitting in a dynamic Jays lineup is a plus but he will be stuck at the bottom of the order, usually eighth, unlike in Miami where he was the leadoff man for the first month of the season. This means a dip in run-scoring potential as well as the aforementioned stolen base opportunities. Villar does have value in deeper leagues simply because steals are such a rare commodity and he can fill many spots on a fantasy roster, but he won't return the same value the rest of this season and can't be blindly slotted into weekly lineups. Attempting to sell him to a speed-desperate team might be wise if you can fetch a solid SP in return.
Other Pieces of Note
The part about these deals that might make Fish fans smile the most is seeing Griffin Conine, son of "Mr. Marlin" Jeff Conine join the team. Conine isn't just a legacy, he was a second-round pick by Toronto and their #15 prospect. On a team overflowing with young offensive talent, they could afford to deal him away in order to bolster their depth. A power bat with 55-grade power who slugged 22 HR in 80 games at full-season Single-A, Conine is worth a stash in deep dynasty leagues.
Humberto Mejia was a lower-level prospect who has been tagged for eight runs and 13 hits (three HR) in three Major League starts this year. At age 23, there's plenty of room for growth but he projects to be a non-descript end-of-rotation arm or long reliever.
Caleb Smith has had streaming appeal since last season for one reason - strikeouts. He parlays tremendous spin and movement on his fastball along with an effective slider to induce whiffs but also walks his share of batters. What's worse is that he is prone to allowing barrels, ranking in the bottom 6% of the league the past two years. Although Zac Gallen has done pretty good in his move from Miami to Arizona, Smith is a different type of pitcher. Maybe if he'd been moved to Toronto, he might be the left-hander in line for a rebound like Robbie Ray.
Win Big With RotoBaller
Be sure to also check out all of our other daily fantasy baseball articles and analysis to help you set those winning lineups, including this new RotoBaller YouTube video:


More 2020 Fantasy Baseball Advice