One of the things that is fascinating as we approach the midpoint of the MLB season is that there has been enough time for trends to not only emerge, but change!
Lourdes Gurriel Jr. got demoted to Triple-A when he had a .525 OPS in his first dozen games. Since returning to the Majors? In 29 games, his OPS is 1.050, which is a wee bit better.
Likewise, in Toronto, journeyman Eric Sogard has moved to the leadoff spot, in part because he has a .417 on-base percentage in June. Not bad at all.
Editor's Note: Get any full-season MLB Premium Pass for 50% off. Get access to our exclusive articles, rankings, projections, prospects coverage, 15 in-season lineup tools, daily expert DFS research, powerful Research Station, Lineup Optimizer and much more!
Sign Up Now!
Also, following a recent visit to Toronto, Mike Trout is again Mike Trout. He now leads the American League in OBP (.466), SLG (.642), and OPS (1.188) putting his slash numbers above any of his previous seasons. His career to this point is ridiculous, but it's nice to get reminded now and then of his greatness.
Here are some angles to look at for Tuesday's games.
Editor's Note: Our friends at Monkey Knife Fight have released the best, most fun, fastest growing DFS props game! It's super simple to play and win real money. Just choose your MLB, NBA, NHL or PGA game, and make your picks! Get a 100% instant deposit bonus up to $50 using promo code: BALLER. That's $50 for free - don't miss out!
N.Y. METS-PHILADELPHIA
OVER/UNDERS
Walter Lockett UNDER 3.5 STRIKEOUTS – This is such a low number but the Mets pitcher hasn't really missed bats in his career. In 231 1/3 innings at Triple-A, he has 6.7 K/9 and had just 15 strikeouts in 31 2/3 innings (4.3 K/9) of minor-league work this season. If he goes six innings against the Phillies then, sure, maybe he finds his way to four strikeouts but that's not the most likely outcome.
TORONTO-N.Y. YANKEES
OVER/UNDERS
Eric Sogard OVER 1.5 HITS + WALKS – The Blue Jays' leadoff hitter is thriving in the role, has a .376 on-base percentage, and has reached base multiple times in 12 of the past 19 games.
RAPID FIRE
Lourden Gurriel Jr. +0.5 total bases vs. D.J. LeMahieu – Gurriel Jr. has been a much better player since returning from a stint in Triple-A and his .506 slugging percentage on the road this season is the same as LeMahieu's home slugging percentage. Getting the extra half base, then, is an advantage worth taking.
WASHINGTON-MIAMI
RAPID FIRE
Anthony Rendon +0.5 total bases vs. Matt Adams – While Adams performs relatively better against right-handed pitching and Rendon performs relatively better against left-handed pitching, it still needs to be noted that Rendon is slugging .618 against right-handed pitchers while Adams is slugging .539 against righties. Rendon is the better player so getting the extra half base as the underdog is the way to go.
TEXAS-DETROIT
OVER/UNDERS
Miguel Cabrera UNDER 1.5 RUNS + HITS – The future Hall of Famer is not what he used to be and his walks in the past two games represent his first walks in the past month, a period during which he has a .301 on-base percentage and he has reached based multiple times in seven of the 18 complete games he has played over that period of time.
CHICAGO WHITE SOX-BOSTON
OVER/UNDERS
David Price UNDER 6.5 STRIKEOUTS – The Red Sox lefty has put up seven or more strikeouts just once in his past eight starts, two of which lasted less than a couple of innings. He does have 10.9 K/9 in five home starts this season, and the White Sox have the fourth-highest strikeout rate in baseball, so it's not outrageous to think that Price could get to the over but odds are still against it.
KANSAS CITY-CLEVELAND
OVER/UNDERS
Shane Bieber OVER 6.5 STRIKEOUTS – The Indians right-hander has recorded at least seven strikeouts in five of his past seven starts, has 12.4 K/9 at home this season, and the Royals have the seventh-highest strikeout rate (25.0%) on the road this season.
ATLANTA-CHICAGO CUBS
OVER/UNDERS
Javier Baez OVER 1.5 TOTAL BASES – The Cubs infielder has been really good overall but is slugging .620 at Wrigley Field and .731 against left-handed pitching this season. With LHP Max Fried on the bump for Atlanta, Baez is a big threat.
TAMPA BAY-MINNESOTA
RAPID FIRE
Blake Snell -1.5 strikeouts vs. Kyle Gibson – While the 2018 AL Cy Young winner has not been as effective this season, he is still averaging 12.4 K/9 on the road this season, a notable advantage over Gibson, who has 8.0 K/9 at home.
PITTSBURGH-HOUSTON
OVER/UNDERS
Gerrit Cole OVER 7.5 STRIKEOUTS – The Astros starter has been overpowering, recording at least eight strikeouts in 12 of 16 starts overall (6 of 8 at home). It's a big number to hit, but Cole leads MLB with 13.8 K/9 overall.
SEATTLE-MILWAUKEE
OVER/UNDERS
Zach Davies UNDER 4.5 STRIKEOUTS – As effective as Davies has been this season, posting a 3.06 ERA in 15 starts, his strikeout rate is way down to 5.8 K/9 and he has gone six straight starts with fewer than five strikeouts.
OAKLAND-ST. LOUIS
OVER/UNDERS
Chris Bassitt OVER 4.5 STRIKEOUTS – It's understandable to see this relatively low number, as Bassitt has recorded at least five strikeouts just twice in the past five starts. However, he has at least five strikeouts in eight of his 11 starts this season.
Jack Flaherty UNDER 6.5 STRIKEOUTS – While he's trending in the right way, with seven or more strikeouts in four of the past five starts, Flaherty has recorded seven strikeouts seven times in 15 starts.
L.A. DODGERS-ARIZONA
OVER/UNDERS
Ross Stripling OVER 3.5 STRIKEOUTS – The swingman in the Dodgers' pitching staff, Stripling is looking at getting some regular turns in the rotation with Rich Hill on the injured list. In his six starts this year, he has averaged 5 2/3 innings per start with 8.5 K/9, which would get him over five strikeouts in an average start.
COLORADO-SAN FRANCISCO
OVER/UNDERS
Madison Bumgarner UNDER 6.5 STRIKEOUTS – Even with an improved strikeout rate this season, Bumgarner is averaging 8.5 K/9 in eight home starts this season. He has recorded seven strikeouts six times in 16 starts but he's also gone seven straight starts with six strikeouts or fewer.
CINCINNATI-L.A. ANGELS
RAPID FIRE
Mike Trout -0.5 total bases vs. Yasiel Puig – Trout is slugging .765 in June. Ride that freight train until it stops.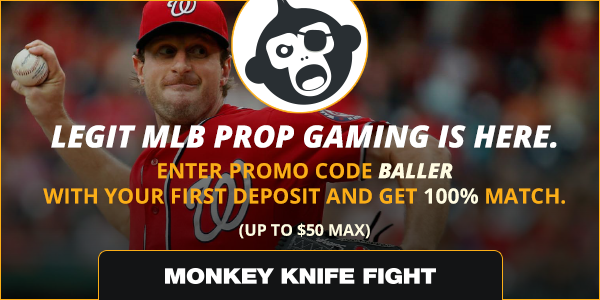 More 2019 Fantasy Baseball Advice