Venue matters in any sport, but certainly in baseball, where home-road splits can reveal some fascinating tendencies.
It's not a big deal if a star can put up numbers both at home and on the road or if a backup catcher can't hit at home or on the road, but there are players who lose the plot away from home.
Here are some hitters that have struggled away from home this season to keep an eye on when it comes time to play props:
Editor's Note: Get any full-season MLB Premium Pass for 50% off. Get access to our exclusive articles, rankings, projections, prospects coverage, 15 in-season lineup tools, daily expert DFS research, powerful Research Station, Lineup Optimizer and much more!
Sign Up Now!
Asdrubal Cabrera, 3B, Texas – At home, the veteran infielder is slugging .516 with 11 home runs. On the road, it's .231 with zero home runs.
Stephen Piscotty, RF, Oakland – The A's home park is notoriously pitcher friendly, yet Piscotty is slugging .510 at home, compared to .276 on the road.
Miguel Cabrera, 1B, Detroit – Miggy is obviously not what he once was, which was the most feared right-handed hitter in the game, but now he is slugging .314 on the road, compared to .479 at home.
Randal Grichuk, OF, Toronto – Grichuk is slugging .327 with four home runs on the road, compared to .509 and 11 home runs in Toronto. The man likes hitting in a dome, apparently.
Here are some angles to consider for Friday's full MLB schedule.
Editor's Note: Our friends at Monkey Knife Fight have released the best, most fun, fastest growing DFS props game! It's super simple to play and win real money. Just choose your MLB, NBA, NHL or PGA game, and make your picks! Get a 100% instant deposit bonus up to $50 using promo code: BALLER. That's $50 for free - don't miss out!
PITTSBURGH-CHICAGO CUBS
OVER/UNDERS
Yu Darvish OVER 5.5 STRIKEOUTS – Although the Pirates tend to make decent contact (21.6% K rate on the road, which is the third-best rate in the National League), Darvish is averaging 10.0 K/9 at home and has four straight games with at least six strikeouts.
WASHINGTON-PHILADELPHIA
OVER/UNDERS
Stephen Strasburg UNDER 7.5 STRIKEOUTS – He had a season-high 14 strikeouts in his last start but Strasburg had recorded eight or more strikeouts just once in his previous nine starts.
TAMPA BAY-BALTIMORE
OVER/UNDERS
Dylan Bundy OVER 5.5 STRIKEOUTS – Although Bundy has been better away from Camden Yards this season, he's averaging 10.2 K/9 in his past seven starts.
TORONTO-N.Y. YANKEES
RAPID FIRE
Aaron Judge -0.5 total bases vs. Randal Grichuk – The splits on this are hilarious. Judge is slugging .608 at home while Grichuk is practically helpless away from Toronto, slugging just .327 on the road this season.
N.Y. METS-MIAMI
OVER/UNDERS
Caleb Smith OVER 6.5 STRIKEOUTS – The underrated Marlins starter has been especially good at home this season, striking out 11.7 per nine innings in his five home starts.
L.A. DODGERS-BOSTON
HOME RUN DERBY
J.D. Martinez, Max Muncy, Clay Bellinger – Martinez hits a home run about once every 16 at-bats at home, Bellinger has one about every 14.5 at-bats on the road and Muncy has been a terror on the road this season, with a home run every 10.4 at-bats. Give that trio a dozen tries with Eduardo Rodriguez and Kenta Maeda starting and there should be a chance for the long ball to come into play.
MINNESOTA-CLEVELAND
RAPID FIRE
Mike Clevinger -2.5 strikeouts vs. Kyle Gibson – While Gibson has a career-best strikeout rate of 8.9 K/9, including 9.7 K/9 on the road, he has more than five strikeouts in one of his past five starts. Clevinger has only made five starts this season but has been overpowering with 14.0 K/9.
HOUSTON-TEXAS
OVER/UNDERS
Jesse Chavez OVER 3.5 STRIKEOUTS – Since moving into the Rangers' starting rotation, Chavez has struck out 21 in 22 1/3 innings (8.5 K/9). The Astros are strong opposition, but if Chavez can go five, he should be able to strike out at least four.
Gerrit Cole UNDER 8.5 STRIKEOUTS – Cole is overpowering and has 13.2 K/9 on the road this season, but has nine or more strikeouts in four of eight road starts.
SAN FRANCISCO-MILWAUKEE
OVER/UNDERS
Chase Anderson OVER 4.5 STRIKEOUTS – While I typically hammer the under on Anderson's strikeouts, he's recorded at least five strikeouts – of course never finishing with more than six –  in six of his past seven home starts.
ARIZONA-ST. LOUIS
OVER/UNDERS
Adam Wainwright OVER 4.5 STRIKEOUTS – The veteran Cardinals starter has recorded at least five strikeouts in five of his past six starts and has a 9.2 K/9 rate in eight home starts.
DETROIT-KANSAS CITY
OVER/UNDERS
Jorge Soler OVER 1.5 TOTAL BASES – The path to this year's breakout performance has not been the easiest, but Soler has mashed 23 home runs and is slugging .503 at home, good enough to expect him to grab a couple of bases against the woeful Tigers.
CINCINNATI-COLORADO
RAPID FIRE
Jon Gray +0.5 strikeouts vs. Sonny Gray – As much as Sonny, the Reds' starter, has rebounded this season and become a high-quality starting pitcher once again, Jon has been impressive at home, with 9.2 K/9. Sonny has 9.9 K/9 on the road, but no road venue is as daunting as Coors.
CHICAGO WHITE SOX-OAKLAND
OVER/UNDERS
Ivan Nova OVER 3.5 STRIKEOUTS – This is all about clearing a low bar and Nova has registered at least four strikeouts in five of his past six starts.
SEATTLE-L.A. ANGELS
OVER/UNDERS
Mike Trout OVER 1.5 HITS + WALKS – The best player in the game has a .442 on-base percentage at home, and Mariners starter Mike Leake has been more vulnerable on the road.
ATLANTA-SAN DIEGO
OVER/UNDERS
Dallas Keuchel UNDER 4.5 STRIKEOUTS – While Keuchel has been reasonably effective in four starts for the Braves, he hasn't struck out five in any of those games.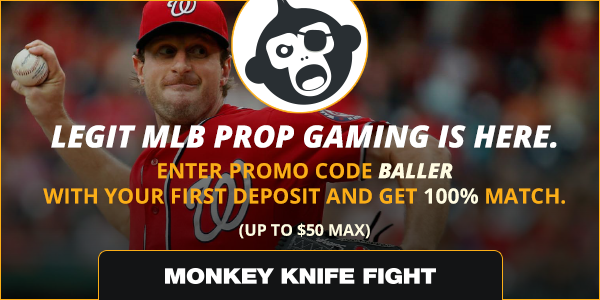 More 2019 Fantasy Baseball Advice