Two of the most-hyped rookies in Major League Baseball are in action tonight and it's worth noting part of the reason why they have been so lauded.
San Diego Padres rookie shortstop Fernando Tatis Jr. has outstanding counting numbers – 16 home runs, 14 stolen bases, 49 runs, 39 RBI – while hitting .324, but does have an inflated .421 batting average on balls in play.
Houston Astros outfielder and first baseman Yordan Alvarez started the season in Triple-A, has only played 30 games yet still has 11 home runs, 35 RBI and a .342 batting average. Like Tatis Jr., he has an absurd .414 BABIP.
There can be arguments made that Tatis' speed contributes to a high batting average on balls in play and Alvarez hits the ball so hard that it boosts his BABIP but it's just not sustainable over the long haul. Maybe it lasts for the rest of the season, though.
Here are some more angles to take into account for Tuesday's MLB schedule.
Editor's Note: Our friends at Monkey Knife Fight have released the best, most fun, fastest growing DFS props game! It's super simple to play and win real money. Just choose your MLB, NBA, NHL or PGA game, and make your picks! Get a 100% instant deposit bonus up to $50 using promo code: BALLER. That's $50 for free - don't miss out!
ST. LOUIS-PITTSBURGH
RAPID FIRE
Dakota Hudson +3.5 strikeouts vs. Chris Archer – While Hudson is not overpowering, he's more effective and his road strikeout rate (7.9 K/9) is respectable enough to earn him 5.0 strikeouts per road start. Archer is averaging fewer than 5.5 strikeouts per home start this season so getting an extra 3.5 with Hudson closes that gap.
COLORADO-WASHINGTON
OVER/UNDERS
Charlie Blackmon UNDER 1.5 HITS + WALKS – As we've established this season, Blackmon is a completely different animal at home and on the road. He has a .268 on-base percentage on the road and going against Strasburg is no easy touch.
CLEVELAND-TORONTO
OVER/UNDERS
Aaron Sanchez OVER 3.5 STRIKEOUTS – It's kind of sad that it has come to this with Sanchez – whether he will or won't be able to record four strikeouts in a game – but he is averaging 4.8 strikeouts per home start and has recorded at least four strikeouts in six of nine home starts.
PHILADELPHIA-DETROIT
OVER/UNDERS
Matthew Boyd OVER 6.5 STRIKEOUTS – For all of the things wrong with the Tigers, they can count on consistency from Boyd, who has accumulated at least seven strikeouts in seven of his past nine starts.
SAN DIEGO-N.Y. METS
OVER/UNDERS
Fernando Tatis Jr. UNDER 1.5 HITS + WALKS – The Padres star rookie shortstop has a .380 on-base percentage on the road but has a .439 on-base percentage against left-handed starting pitchers which breeds some optimism, but Mets starting pitcher Jason Vargas has been really good at home, allowing a .303 on-base percentage.
BOSTON-TAMPA BAY
OVER/UNDERS
Yonny Chirinos OVER 4.5 STRIKEOUTS – He doesn't have big brand name recognition but the 25-year-old has been churning out quality starts for the Rays, which includes at least five strikeouts in nine of his past 10 starts.
KANSAS CITY-ATLANTA
RAPID FIRE
Josh Donaldson +0.5 total bases vs. Ronald Acuna Jr. – This is a good match-up because Donaldson has an advantage in home slugging percentage, whereas Acuna has been better against left-handed starters. Both have the potential to tear a strip off of Royals lefty Danny Duffy in this one, so getting a half-base advantage with the underdog Donaldson is the play.
CINCINNATI-MILWAUKEE
RAPID FIRE
Christian Yelich -0.5 runs + RBI vs. Eugenio Suarez – Consider this regression coming home to roost. Yelich is the superior player, who has monster numbers at home this season, and Suarez just belted two home runs against the Brewers Monday night. Count on Yelich to get the edge Tuesday.
OAKLAND-HOUSTON
RAPID FIRE
Yordan Alvarez +0.5 total bases vs. Michael Brantley – As good as Brantley has been, especially at home and against right-handed pitching, he doesn't have numbers to compare with Alvarez, who is slugging .727 against right-handed pitching and .783 at home. Getting those numbers on the underdog side? Yes please.
MIAMI-CHICAGO WHITE SOX
RAPID FIRE
Caleb Smith -2.5 strikeouts vs. Dylan Covey – Smith has been a steady strikeout threat, averaging 6.3 per road start this season, while Covey has been great in three home starts, he's still just averaging 2.7 strikeouts per home start; obviously a small sample, but his road results are rough, so the safe side in this match-up is to take Smith.
N.Y. YANKEES-MINNESOTA
OVER/UNDERS
Didi Gregorius UNDER 1.5 RUNS + RBI – Although Gregorius is productive on the road, with a .818 OPS, putting up multiple runs plus RBI is tough and he's managed that three times in his past 11 starts and four times in 13 road games overall.
BALTIMORE-ARIZONA
RAPID FIRE
Ketel Marte +0.5 total bases vs. Trey Mancini – Marte is in the midst of a breakout season and he has a better slugging percentage at home and against right-handed starting pitchers than Mancini does on the road and against right-handed starting pitchers. Getting the extra half base seals the deal.
CHICAGO CUBS-SAN FRANCISCO
RAPID FIRE
Madison Bumgarner +0.5 strikeouts vs. Yu Darvish – A couple of veterans that can miss bats. Bumgarner is averaging 6.3 strikeouts per home start this year and Darvish is sitting at 6.4 strikeouts per road start. Close enough to like the underdog.
TEXAS-SEATTLE
OVER/UNDERS
Domingo Santana OVER 1.5 TOTAL BASES – It's not an easy touch here, but Santana is slugging .458 at home and the Rangers are going with an opener so there should be opportunities to put up a couple of bases.
L.A. ANGELS-L.A. DODGERS
OVER/UNDERS
Cody Bellinger +0.5 total bases vs. Mike Trout – Isn't this just about grabbing the underdog when two of the game's very best sluggers meet for a head-to-head match-up. Also, Bellinger is slugging .740 at home this year so that's tough to beat, even for Trout.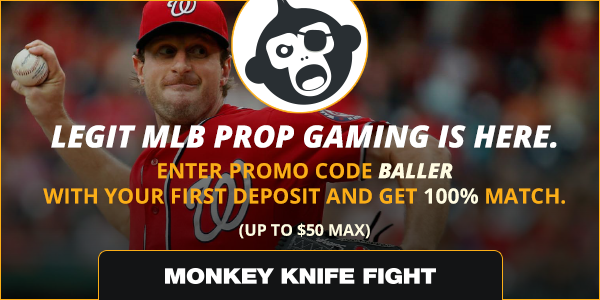 More 2019 Fantasy Baseball Advice