As if preseason rankings and projections weren't fickle enough already... Now, we are presented with a delayed, shortened season that has already seen several players opt out while others are uncertain to return after testing positive for COVID-19. For that reason, you won't see David Price or Felix Hernandez in these rankings and others are subject to change as news breaks daily.
Despite the challenges of playing ball in 2020, MLB is giving it a go. That means the fantasy baseball season will finally get underway as well. As always, RotoBaller is here to provide you with the most up-to-date player news and rankings. With our recently updated mixed-league rankings based on a 60-game season comes a position-by-position breakdown of the top risers, fallers, and outliers. First up is the crucial starting pitcher position.
Do aces still hold the same appeal as they did pre-pandemic when we assumed something closer to a full season? ATC projections guru Ariel Cohen thinks so and I certainly agree. Although starting pitcher is technically the deepest position in fantasy baseball, it still comes off as top-heavy in terms of value. A total of 55 SP are projected to bring a positive return of value. While some lower-tier pitchers could emerge as pleasant surprises, there is just as good a chance that hurlers drafted within the top-100 overall players will disappoint.
Editor's Note: Love the strategy of season-long fantasy sports? Live for the short term gratification of DFS? Try Weekly Fantasy Sports on OwnersBox - a new weekly DFS platform. Sign up today for a FREE $50 Deposit Match. Offer expires Thursday night!
Sign Up Now!
Starting Pitcher Ranks - 5x5 Mixed (July)
In case you missed it, our very own "Big Pick Nick" Mariano was named the #1 overall most accurate industry expert ranker for the 2018 season.
Tier One
A few weeks ago, I was the sole ranker who had Cole, deGrom, and Buehler all as first-rounders in 12-team leagues. Now, it appears we are all valuing aces more during a short season. Most notably, Gerrit Cole is a top-five pick for all but one of our rankers. For my part, he isn't just my top SP - I've got him over Mike Trout in my final draft rankings now that there is legitimate concern that the best hitter in the game may miss a week or more for paternity leave and is even considering sitting out the 2020 season. I don't expect Cole to go seven innings every time out, but the strikeout category will be yours to own if you select him. He looks game-ready based on early Summer Camp results, striking out nine in 5 2/3 scoreless innings during an intrasquad game, for what that's worth.
Just when you thought there was no more of a sure thing than Jacob deGrom... The reigning two-time Cy Young award winner left his most recent outing after one inning with back tightness. As of this writing, the severity is unknown, but it can't go ignored if his season debut is delayed.
Tier Two
Walker Buehler has been the third SP off the board throughout most of the preseason, but he's recently been passed over in favor of veterans Justin Verlander and Max Scherzer. The long delay gave Verlander enough time to recover from his groin injury and the 60-game schedule inspires confidence that both pitchers over the age of 35 will make it through unscathed. ATC projections have Buehler trailing both vets in strikeouts while posting similar ratios.
I had no issue projecting Buehler to keep pace with the K leaders and taking another step to lowering his walk rate, keeping a tidy WHIP that could stay under 1.00. That was until today when I saw this:
First time out once the season starts, Walker Buehler might only pitch 3-4 innings, and build up from therehttps://t.co/qZUtjD4HZZ

— Eric Stephen (@ericstephen) July 15, 2020

If Buehler is going to have a hard time reaching his projected 69 IP, then 80 K and five wins might be out of reach. Every plate appearance and batter faced will make a difference in 2020, so Buehler must be knocked down a couple of spots.
As a previous Yu Darvish loyalist, it's easy to have trust issues. His superb second-half numbers from 2019 (2.76 ERA, .119 BAA, 118 K, seven BB in 81 2/3 IP) propel him to SP12 in our draft rankings, but if he gets off to a slow start like last season (5.01 ERA, 73 K, 41 BB in his first 61 IP) then this will be a massive draft bust. The stuff has always been there; it's just a matter of where his head is at.
Tier Three
When comparing the top of the third tier, Luis Castillo and Blake Snell are neck-and-neck in our rankings but I've got a 40-spot gap between the two! The Snell justification is easy. He's saying all the right things now, but when a player spends more time focusing on money than game preparation, it's a red flag for me. Then there are the elbow issues he had last year and the fact that the Rays are notorious for bullpen hijinx, so I'm taking a more cautious approach with him.
Castillo's ranking may be aggressive, but I'm looking to lock in high-strikeout options early on and he fits the bill. Plus, if Castillo was able to notch 15 wins with last year's version of the Reds, he can do better this year (prorated to 5-6 wins, of course). He's entering the prime of his career at age 27 on a rising team that gets a favorable Centralized schedule. What's not to like, especially with all the red in his Statcast profile?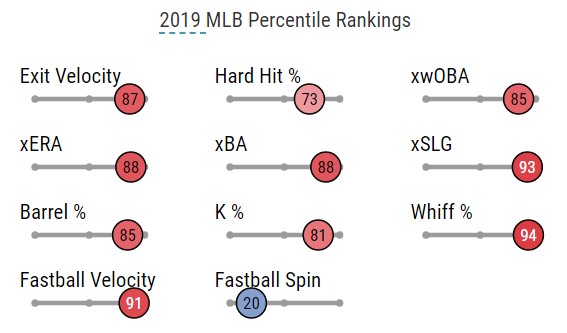 The 10% walk rate is something not to like, I'll admit, but I view 2019 as more of an outlier in that regard than a growing trend. His Zone% was over 50% the previous two seasons before falling to 41.6% last year. His Whiff rate jumped to 36% and he didn't see his WHIP rise despite walking more batters. Add in the fact that Castillo has been throwing bullpen sessions in Cincy for a while and claimed that he is ready to go 6-7 innings right now, I'm all in.
My esteemed WPC+ co-host Nick Gaut must be tired of all the Zack Greinke stories on his feed. That and the fact he outperformed his SIERA by a full run last year. For they reason, he has Greinke outside the top 100 overall, while I have him inside the top 50. In a way, he is the opposite of the aforementioned Castillo - an older pitcher with waning velocity and an underwhelming strikeout rate.
Still, I view Greinke being nearly as valuable because he has a high floor and can stabilize your ratios all season. Aside from Greinke, only four qualified starters posted a WHIP below 1.00. Two of them went home with a Cy Young award and all four (Verlander, Cole, Flaherty, deGrom) have an ADP inside the top 25. Why should Greinke fall so far in a year where playing it safe with top-tier starters should be the rule? I'll take the bet that he stays closer to 3.00 on his ERA along with an immaculate walk rate that keeps him as a top-20 SP with no real reason to worry.
Tier Four
Trevor Bauer is another starter in flux right now. He is away from the team while he waits for a test result. If we assume the best-case scenario, he is a reliable starter who has tossed at least 150 innings for six straight seasons culminating with a career-high 213 IP last year. That doesn't mean so much in a shortened season, but he's a safe bet to run deep in games and, as shown above, is projected by ATC to have the fourth-highest strikeout total in the majors.
He's also helped by the schedule itself. The realignment to regional matchups will favor NL Central pitchers most. In Cincinnati's case, this includes six matchups with the Tigers, four with the Royals, and three with the potent but strikeout-prone White Sox. Don't forget that the Pirates are in their division and provide another 10 favorable matchups. Bauer won't lead the league in ERA, but he is a good bet to anchor a fantasy staff as a second arm.
Speaking of AL-NL Central matchups, Jose Berrios is another solid rotation option that doesn't always get the proper due. He was one of 15 pitchers to reach the 200-inning mark last year and still has the backing of one of the best offenses in the league, promising a safe floor for counting stats. He also gets intra-divisional foes like Detroit, KC, and Chicago on the slate along with the Brewers, Reds, and Cubs, who all finished in the bottom-12 in K-rate against right-handed pitching in 2019.
I've never been a huge Paxton guy, but I get why his draft stock is rising. The delay helped him more than any starting pitcher in allowing him to get fully healthy and shake off concerns of an innings limit. The Yanks are all-in for a pennant run (as usual) and will be without Luis Severino and now Aroldis Chapman, so Paxton won't get the luxury of skipping starts. That's better for those who invested in him late in February/March drafts. The increased emphasis on divisional opponents helps him as well. As Riley Mrack pointed out in his excellent SP Risers article, "Paxton went a perfect 6-0 over his final six starts versus the AL East, while owning a 1.73 ERA and 26.6% K-rate in this span... The Red Sox were the only team in the division to have across the board success versus lefties last season, but the loss of Mookie Betts will undoubtedly impact their offense in 2020." Paxton isn't the ADP value he used to be and I'm not spending a top-100 pick like others of my ilk, but if he's still available after pick 120 then I am comfortable pulling the trigger.
Tier Five
Mike Soroka has gotten enough air time on our overvalued pitchers podcast and overachiever articles, so it's best to simply hear and read what has already been said about him by Nick G and myself. He doesn't possess the K upside to offset likely regression in his ratios, he doesn't have the friendliest home park for pitchers, and now has a DH to contend with for intra-division battles. Pass.
Recurring theme alert: MadBum is a veteran arm who should be among the NL leaders in innings pitched and therefore could finish among the top 20 in strikeouts and wins while providing a solid ERA with little risk. It seems as if he's been around forever but Bumgarner is just 30 years old and how has the motivation of starting with a new team.
The move to Chase Field won't hurt as much as speculated. It ranked 16th in runs and 20th in home runs for Park Factors last year. As it turns out, he should still get two turns to pitch in his old home as the D-backs will play at San Francisco seven times. Petco and Dodger Stadium are still on the slate, as is Oakland Coliseum and Angel Stadium. Let's just hope his turn in the rotation is missed during the three-game series at Coors from August 10-12.
Schedule aside, Bumgarner gets a bump from me this season because of the reliability factor and the fact he checks the box in one of the most telling stats: K-BB%. Even with a rise in Barrels and ERA, he finished with a 19% K-BB%, which ranked 21st among qualified starters. He's not losing velocity either, as his four-seamer clocked an average of 91.4 MPH - the highest since 2015. I'm not talking myself into thinking we'll get vintage MadBum, but I'm not shying away from him either.
Tier Six
I'm by far the most bullish on Mike Minor, ranking him 119th while the next closest is Riley at 156. We're so used to thinking of Minor as injured that we must have collectively forgotten how outstanding he was in 2019 before tailing off in the second half. If he can get off to a strong start again,
All preseason I wondered aloud why Jesus Luzardo was trending toward a top-100 ADP while former top prospect A.J. Puk sat around pick 245. The gap has closed slightly, as Puk is now going around 213 overall in NFBC leagues. The decision has been essentially made for us now that Luzardo has been diagnosed with COVID and remains quarantined. Puk is all but guaranteed a rotation spot now and is a high-ceiling arm to target in the later rounds. His RP eligibility is an added bonus.
Another risk-reward pick is Pittsburgh's top prospect, Mitch Keller. The Bucs haven't done the best job developing young talent lately, with Keller's 7.13 ERA last year a prime example, but supposedly the team has finally decided to embrace a 21st-century approach to the game. New pitching coach Oscar Marin and manager Derek Shelton will do their best to develop Keller's natural ability. Still, it's hard to say if Keller will be ready to perform near ace level or if he needs more seasoning to be dependable in fantasy circles. I'm willing to gamble on the talent.
Tier Seven and Lower
Garrett Richards is a bargain starter available past pick 200 who could pay off handsomely. Paul Sporer recently picked him as a dark horse candidate to lead the league in strikeouts. He could start the year as the #2 arm in San Diego's rotation and now appears to have no innings restriction in place due to the shortened season.
Tingler says this shortened season likely puts the guys coming off Tommy John, Lamet and Richards, without limitations.

Assuming all goes well the next three weeks.

Paddack was already trending that way.

— Jeff Sanders (@sdutSanders) June 24, 2020

I don't doubt his ability, but the fact that he's only pitched 142 innings over the past four seasons combined leaves me hesitant to spend a draft pick on him during this "sprint" of a season (had to work it in somewhere). As a late-round flier, the reward might be worth the risk but I'm more likely to abandon risky pitchers of any sort in 2020.
We probably won't see the 2017 version of Alex Wood now that he's back in L.A. but the 2018 version wouldn't be too bad. An ERA in the mid-threes and WHIP around 1.20 with a handful of wins would make him a solid back-end fantasy starter. Others are higher on Ross Stripling, but he's got a looser grip on a rotation spot and doesn't offer anything more than Wood in terms of roto categories.
Don't save a spot for me on the Dylan Bundy rebound hype train. In fact, there isn't a rebound to happen. In four MLB seasons, he's never held an ERA under 4.00 or a WHIP under 1.20. Sure, moving out of Baltimore has to help, but it can only do so much. It's not as if there's a high-end K-rate to hang your hat onto or a magical new pitch he's unleashed. I'll take my chances elsewhere.
Jordan Montgomery appears to have a rotation spot locked up after posting a 16-1 K-BB rate in spring training. A developing sinker could be the key to success so monitor his first couple of starts closely to see if he's worth hanging onto.
My sweet Griffin Canning... we should get to see him for close to 10 starts, assuming the Halos roll with a six-man rotation mixing in Ohtani. His elbow inflammation doesn't seem to be an issue, so he could be a bargain last-round pick. Canning posted fairly strong peripherals last year and would have come out looking better if not for a pair of rough July starts that raised his ERA by a full run.
Win Big With RotoBaller
Be sure to also check out all of our other daily fantasy baseball articles and analysis to help you set those winning lineups, including this new RotoBaller YouTube video:



More 2020 Fantasy Baseball Advice