Just when we thought we going go make it, Oakland and Anaheim get erased off of Sunday's schedule due to a COVID postive test by the A's. We'll we actually go a whole week without this happening? Stay tuned.
We're over halfway through the season and it's getting down to the nitty-gritty. Bigger and bigger names are going to be worth cutting as their struggles continue and you might need to find their replacement on the wire. To keep an eye on who is running the hottest, this week's chars include the season-long average platform rankings, as well as the average ranks over the past 15 days.
We'll be doing this roundup of point league happenings every week here at RotoBaller, with waiver-wire targets and streaming pitchers being evaluated in terms of the different scoring systems of ESPN, Yahoo, CBS, and Fantrax. Player values can vary wildly from platform to platform, so we'll make sure to highlight where players are the best and worst fit at. We know point players get neglected and we're here to help. Let's get to Week 6.
Editor's Note: Love the strategy of season-long fantasy sports? Live for the short term gratification of DFS? Try Weekly Fantasy Sports on OwnersBox - a new weekly DFS platform. Sign up today for a FREE $50 Deposit Match. Offer expires Thursday night!
Sign Up Now!
Playing For Points Through a Pandemic
While the number of games has changed, the way that points are scored on each platform has not. You must account for, as precisely as possible, how a player performs under your particular scoring system. Don't be fooled into believing you can just make rough adjustments in your head, bumping up guys with high on-base percentages and low strikeout-rates. Every point, in every category, counts. For example, ESPN and Fantrax are virtually identical in their scoring for hitters and roster size. The only difference is that stolen bases are worth one more point on Fantrax and ESPN subtracts one point per strikeout. That's the difference over Ronald Acuna Jr. being a top-five batter versus a top-25 batter.
If your league uses standard settings, then great! Turn to page 94 and you can skip ahead to the leaderboards. If you play with custom settings, it'll still be fine. Go back to page 43 and look below at the scoring systems of the four major platforms. I bet there's a chance that you'll find that your league's scoring is very similar to one of the four (well, not Yahoo's), even if it's not the platform you actually play on. For example, my home league started on a now-defunct platform before moving first to ESPN and is now at Fantrax. But our scoring is basically ESPN standard but with two points for stolen bases and a handful of other minor adjustments.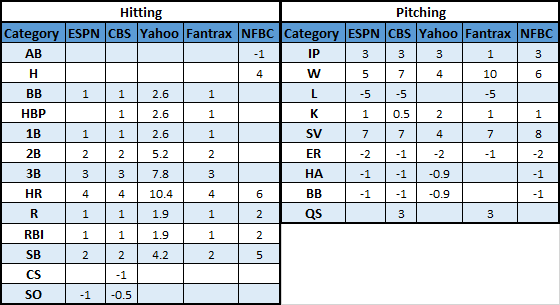 If you look above, you'll likely find a suitable mirror to your own system. While every point counts, as long as they aren't seismic changes you can get away with some "close enough". IE. If everything is the same except for HBP (or something similar), you're probably fine.
All of the following charts are updated prior to Saturday's games, on stats and ownerships. Clicking on a chart will open a new page with a magnified version.
First Base Leaderboard
First Base Waiver Wire
Add in 12-Team Leagues
Mitch Moreland, BOS - He's still a strong-side platooner (with 79 PA on the year) but Moreland's year needs to be acknowledged, as he has an average platform ranking of 8.6 on the season and 12.6 over the last 15 days. Moreland is slashing .328/.430/.746, with a .479 wOBA and 203 wRC+ overall, and a .398 wOBA versus RHP. You won't be able to play him often if you're in a weekly league but he should certainly be added in daily leagues.
Other Adds: Brandon Belt, Evan White, Justin Smoak, Jesus Aguilar, Rowdy Tellez
Deeper Pulls: Miguel Cabrera, Ji-Man Choi, Matt Beaty, Ryan O'Hearn
Second Base Leaderboard
Second Base Waiver Wire
Add in 12-Team Leagues
Jonathan Schoop (DET) - Is this finally the last week that Schoop appears here? He hit his 8th home run on Sunday afternoon and is batting .296, with 19 RBI and 19 runs scored. He has a 7.4 average platform ranking on the season and 8.8 over the past 15 days. Schoop is pretty clearly a top-10 second baseman, even if he's available in over half of leagues.
Brad Miller (STL) - Miller is playing every day for the Cardinals and is now batting cleanup. With a 24.1% BB% and .441 wOBA, he's a must-add in all leagues.
Third Base Leaderboard
Third Base Waiver Wire
Add in 12-Team Leagues
Evan Longoria (SF) - Longoria blew up last week, slashing .474/.524/.737, with a .531 wOBA and 245 wRC+. He's a borderline starter in most leagues and has two games in Colorado this week as a nice little bonus.
Shortstop Leaderboard
Shortstop Waiver Wire
Add in 12-Team Leagues 
Jake Cronenworth (SD) - The forgotten player in the infamous Tommy Pham trade that Blake Snell didn't care much for, Cronenworth just keeps on raking, slashing .348/.408/.587, with a 168 wRC+. And his Statcast numbers are a beauty: .392 xBA (top-1%), .710 xSLG (top-1%), .410 xwOBA (top-1%), .555 xwOBAcon (top-1%).
Outfielder Leaderboard
Outfielder Waiver Wire 
Add in 12-Team Leagues
Brandon Nimmo (NYM) - I wasn't joking; I'm going to keep on yammering as long as Nimmo's available. Nimmo has "only" been a top-40 outfielder over the past 15 days but still has an average platform ranking of 26.1. Yammer, yammer, yammer.
Catcher Leaderboard
Catcher Waiver Wire
Add in 12-Team Leagues
Chance Sisco (BAL) - Catcher as a whole is just such a dumpster this season and the waiver wire is no different. Sisco has actually been pretty good when he plays, though, with a .399 wOBA and 152 wRC+ over 68 PA. And besides a game in Buffalo on Monday, Baltimore plays the rest of their games this week at a local Baltimore high school park.
Other Adds: Martin Maldonado (HOU), Jacob Stalling (PIT)
Relief Pitcher Leaderboard
Relief Pitcher Waiver Wire
Add in 12-Team Leagues
James Karinchak (CLE) - How Karinchak is still available in even 50% of leagues, is mind-bottling. Through 17.2 innings, Karinchak has 34 strikeouts, a 1.02 ERA, 0.79 WHIP. When you're that dominant, you're useful, whether getting saves, or not.
Other Adds: Gregory Soto (DET), Aaron Bummer (CHW), Peter Fairbanks (TB), Buck Farmer (DET)
Starting Pitcher Leaderboard
Starting Pitcher Waiver Wire
Two-Start Streamer Options
Other Streamers
Win Big With RotoBaller
Be sure to also check out all of our other daily
fantasy baseball articles
and analysis to help you set those winning lineups, including this new RotoBaller YouTube video:
More Points Leagues Analysis